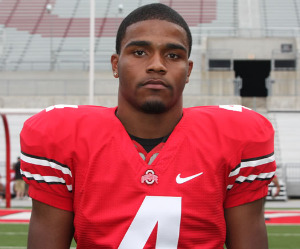 [Ed: Kyle Rowland has joined the team to help boost our coverage of OSU press events. He'll cover Jim Tressel's press conferences for us, but don't be surprised to see him posting on other topics. He has a background working in OSU's sports information office from 2007-2010 and brings a wealth of Buckeye knowledge.]
Coming off a dominating victory over the Miami Hurricanes, Ohio State has solidified itself as the clear No. 2 team in the nation. Staying in the moment and fighting off complacency is the most important task for the Buckeyes the next couple weeks. Ohio University and Eastern Michigan visit Ohio Stadium on consecutive weekends, not exactly the cream of the crop. As we've seen from Ole Miss and Virginia Tech, any team can lose on any given Saturday. Ohio State must continue to show up each weekend. That being said, it will still take a miracle for either the Bobcats or Eagles to knock off OSU in the Horseshoe. 
Two areas of concern for Ohio State is the injury to C.J. Barnett and the suspect play of the special teams unit. Jim Tressel discussed these issues, the Buckeyes upcoming game against Ohio, as well as looking back at Saturday's win vs. Miami Tuesday at his weekly press luncheon.  
Tressel on the injury report:
We unfortunately lost C. J. Barnett probably for the season, and C. J. was really playing well. He took advantage of an opportunity in preseason to get a lot of reps when Orhian Johnson had a calf pull and really did well and we thought played very well through the first game and three quarters. Unfortunately, I think today he'll be having surgery and probably won't have him the rest of the year. Other than that, we should get everyone back. 

He (Johnson) and Aaron Gant, I'm trying to think, Zach Domicone, that would probably be the three guys that would figure in on trying to fill the gap for C.J. 
The secondary has looked extremely shaky at times the first two games, so it will be interesting to see how they respond to losing a starter. Even Chimdi Chekwa, who had two interceptions Saturday, did not have as outstanding a performance as one would think. Overall, the Buckeyes are 55th-nationally in pass defense (193.5 YPG). OU and Eastern Michigan are No. 111 and No. 103, respectively, in passing offense. It is a welcome relief and should boost the secondary's confidence before the start of the Big Ten schedule. 
Barnett's absence will certainly be felt. Although he wasn't a world beater at strong safety, he was a starter for a reason. Orhian Johnson should fill in nicely, though. He started in place of a suspended Kurt Coleman at Indiana last season (three tackles) and also played well at Penn State. Aaron Gant was another mention. Gant, a redshirt senior, has battled injuries his entire career. He missed all of last season with a left knee injury and part of 2007 with a foot injury. He is very physical, though, and has the ability to be a play maker. Zach Domicone will also try to fill the void. A good special teams player, this will be the first time Domicone has seen significant playing time in the secondary. One would figure Johnson will see a significant amount of the snaps since he is somewhat seasoned. 
Tressel on improving the kick coverage unit:
Well, the thing about special teams, not unlike offense and defense, is you need all 11 guys doing exactly what needs to be done. The difficulty of special teams is the field is so large and if you err on the offensive line as a right guard, there's only about a two-foot, three-foot issue. If you err on the line as a kickoff coverage guy, there's a 10-yard issue, and if there's a fast guy running through that 10-yard issue, everyone else is in trouble. So we've got to understand what the fundamentals are at every stage, and that's where I think special teams sometimes become difficult. I'm sure Randy's down at Miami having the same discussions with his guys about kickoff coverage because interestingly enough, if you looked at the drive start analysis, after kickoffs, we won that statistic. Now, one wouldn't think that, you know, but there are different spots on the field where technique has to change. The first half of the kickoff, for instance, you can avoid and get back in your lane. When you get to the second half of the kickoff, you can't avoid and in all three long kickoff returns, our two and their one, there were people in the second half of the play going around blocks, avoiding as opposed to taking on blocks and holding gap integrity and so forth. So what can you do? You can do it right, just like any other play, but it's really magnified in the special teams.
Classic Tressel. I agree that the fundamentals of the coverage unit is what makes it click. Apparently their fundamentals are poor. Whether it's staying in lanes or missing tackles, it is completely baffling as to how bad they have been. There is no question they have the athletes to make plays. Unfortunately, I don't see them making any vast improvement this season. The kick/punt coverage units have struggled for a few years now, and this season appears to be the worst of all. Obviously, they aren't going to give up touchdowns every week. They might not give up another one all season to tell you the truth, but the big returns are going to happen. When you've struggled at a particular spot for a period of time, you don't miraculous fix everything at once. It is going to be a process. The most important thing is to limit the number of big plays. They may have gotten away with some miscues against Miami, but you don't want to play with fire again at Wisconsin or Iowa. 
Tressel on the red zone offense:
Well, the first one that pops up in my mind is when we get a holding call and get a touchdown called back. I think that's an emotional flip. I think it takes a little emotion out of you and adds a little emotion to the defense when all of a sudden they get to end up getting a stop and make us kick a field goal. From a play-calling standpoint, I've grown to believe that the only play call that's a good one is the one that worked. And so then you ask the question why didn't it work. Sometimes it's because we didn't execute it, sometimes because it probably wasn't the best thing based on what they came out and decided to do defensively. So like on any things, I think you have to be willing to understand that it's a combination of how well we did, how well they did, what we decided to do and what they decided to do scheme-wise and it certainly would have been a better deal for us if we'd have scored some more touchdowns. But fortunately we scored enough, I don't know, two or three along with all those field goals to come up with a win.
Tressel is right that both play-calling and execution are the culprits in the lack of Red Zone touchdowns. However, you can talk about the reasons all you want, the bottom line is - you can't field goal teams, like Miami (i.e. Wisconsin and Iowa), to death all season. There was a decent amount of groaning in regards to the play-calling Saturday, but overall it seemed adequate. Execution and Pryor's decision making were most of the drawbacks. There were several broken plays, including Pryor's touchdown in the third quarter. The season is only two games old, so I don't think people should be panicking, but it is certainly something to ponder. The Buckeyes won handily Saturday, but you don't necessarily want five FGs in Madison or Iowa City. 
Tressel on the Posey Bros. going against one another this Saturday: 
I think Julian and DeVier worked out a little bit against each other and they'll be talking trash. Those guys talk trash to people they don't even know, I can't even imagine what they'll be doing when they face one another. I feel bad for their mom sitting there. I asked her if she was going to get a jersey made half scarlet and half green and she said, no, she was just going to go with, I don't know, a T-shirt with one and a cap with the other, but it's going to be fun because he's a good player and he knows his brother as well as anyone, so I told DeVier, I said, if big brother shuts you down, it's going to be a long lifetime for you.
This will be a great match up to watch. Not only are they brothers, they are both really good players. Julian, a two-star recruit out of high school, has grown tremendously as a player during his four years in Athens. Draft experts have pegged him in the middle-to-late rounds for next April's NFL Draft. They will go at each other most of the day, being the No. 1 player at their respective units. And, like Tressel stated, they will be talking trash all afternoon. DeVier was chatting with Miami's Brandon Harris and Ray Ray Armstrong on nearly every offensive play last week. 
Tressel on playing in-state schools:
It's something that began in the mid to late '90s and it's a special opportunity for people to play in the Horseshoe and it's a financial game for sister institutions. It's probably not the easiest thing for the home team because as Rusty brings up annually, you don't want to not do well against your in-state brethren. It's been a real part of the last few years of Ohio State football and I think it's been a positive thing. I think every state school has played in here and they all can have those memories and those moments and they typically have a lot of players from Ohio on their roster who are anxious to play there and really anyone that comes into our stadium, Miami, Florida, included, they love the atmosphere and that raises them up as well as ourselves.
Fans and analysts harp all the time about playing the MAC schools. It will never change, though, and people should understand that. It's good to keep the money in the state and it gives schools, who have a majority of Ohio guys on their rosters, the opportunity to play in Ohio Stadium. Plus, you need at least one or two cupcakes on your schedule.