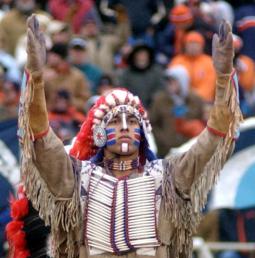 Ohio State enters Big Ten play coming off its convincing, 73-20, beat down of hapless Eastern Michigan. As you've probably heard by now, the 73 points scored was the most by OSU since they defeated Iowa, 83-21, in 1950 when Wes Fesler patrolled the sideline.
Most people, whether it is the fans or media, are of the thought that this weekend's game against Illinois will be a cakewalk. If the team shares that opinion, they could be in for a rude awakening. The Fighting Illini are still a work in progress and Ron Zook is still their head coach, but this team certainly has the capability of beating Ohio State.
Jim Tressel looked back at the Buckeyes big win over EMU and discussed this week's match up with Illinois at his weekly luncheon.
Well, the Big Ten season is finally here. I thought our guys, game four of the nonconference schedule, worked as hard as they could to concentrate all week in practice and not look ahead and I thought we came out in pretty good focus and concentration on things that we needed to get better at. I thought we got better at some things. I thought once we got the lead, we slipped a little, but the good news was we got a chance to get a lot of guys valuable snaps. 

I think our second line got over 20 snaps and had third and fourth team backs and quarterbacks and defensive players get a lot of good snaps, which you're going to need those guys at some point when you get into the ruggedness of the Big Ten schedule.
It was extremely important for the back ups to get valuable playing time. Tressel was spot on in his assessment of the situation. The experience will pay off in a big way during the second half of the season and the Big Ten season in general. There will certainly be moments and game where injuries take a toll.
If the second or third stringer(s) can't pick up the slack, Ohio State will struggle. The conference schedule is always physical, so you don't want your reserves first playing experience to be a crucial down in the Penn State game. As for as the actual play, the back ups have done a commendable job. 
Tressel on the weekly grade reports:
Didn't have a whole bunch of winning performances. Defensively we only had one. Offensively I think we had four or five. Didn't have a whole bunch of extraordinary performances from a grade standpoint. Our special units player of the week was Drew Basil, he got a whole bunch of chances. He got to kick it down there 12 or 13 times and I think he's coming along. He's going to be a very good kicker and he hit about three or four of them deep in the end zone and did a lot better job on his coverage. In fact, I think he had a couple tackles, which you don't always like that to happen, but he was up in there, it wasn't like he was dragging them down after they'd gone 60 yards. He was the special units player of the week.

John Simon was the defensive player and Dane Sanzenbacher the offensive player. Justin Boren was the offensive player of the week, graded very, very well and is playing very well. The attack force player was Jermale Hines who had a very solid game. So there weren't tons of winning performances out there, but our guys did what they needed to do and I know they're excited to get started in the Big Ten.
I understand why the team does these weekly reports, but they are useless for fans or media. Terrelle Pryor didn't have a winning performance if that tells you anything. They are purely for coaching reasons and shouldn't worry fans. Obviously there were a number of good performance by offensive players. A "non-winning performance" shouldn't nullify or lessen that. I would like to know if Sanzenbacher's grade was an all-time high, though. 
Tressel on the Illinois game:
It's exciting to go on the road. We lose many of the advantages we've had for the last four games of the home crowd and our band being with us and the comforts of home, but our guys like challenges and I think they're anxious to get on the road.

Illinois had a week off, so it gives you a little bit of question as to what they might come out with from a difference standpoint. They have two new coordinators, so they're going to be a little different than they've been in the past, not totally different, but I'm sure we have not seen some of the favorite things that those new coordinators like to do. We've gone back and looked at film from whence they came and those kinds of things, but you don't really know how they're going to do that and especially with an open date the week before, I'm sure they'll be healthier than they've been and anxious to open the Big Ten schedule like we all are.

And interesting thing, the guys in our locker room who were ages 18 to 22 or whatever, in their lifetimes, we've played Illinois 19 times. There was a point in time where it was our longest running rivalry until, I think, 2003 or 4. 2003 was the last time, we didn't play them for many, many years, but we've played them many times in our guys' lifetimes and the record is 10-9. So in our guys' lifetime, they've known full well that the Ohio State-Illinois game is a big deal and there have been battles and they know we're heading on the road. They know we have to get to work this afternoon to prepare.
Every season and every opponent is different, but Tressel is 6-3 at Ohio State in conference openers. That is not exactly a sterling record. I think the road factor will play a role in the game. Champaign is not an easy place to play. Ohio State always seems to have close calls there, whether it was 2000, 2002 or 2008, the game is usually close and almost always competitive.
Tressel brings up a good point with the new coordinators. You'd think the Illinois coaches would throw some wrinkles at OSU, stuff they've never seen before, etc. Paul Petrino (Bobby's brother), the new offensive coordinator, will have some tricks up his sleeves for the Buckeye D. Even though OSU hasn't allowed a 100-yard rusher in 27 games, the Illini are sure to use running back Mikel Leshoure often Satuday. Leshoure has rushed for 100 yards in four-consecutive games, dating back to the 2009 season.
The record the past 19 years is sure to surprise Ohio State fans, but not too long ago (early to mid '90s), Illinois owned Ohio State. You know that stat is hanging in the locker room. 
On the injury report:
I think from a health standpoint we're, after four games, in pretty good shape. We should get Travis Howard back. Dorian Bell should be back. Jake Stoneburner, I'm expecting that we'll know a lot more Wednesday or Thursday. He claims he'll be fine. Sometimes when you roll those ankles, you can either get back quickly or not, and so we'll just have to see how he works. And knowing our trainers, it will be a progressive thing though. They'll have him doing certain drill things today and tomorrow, if he can do it all, they'll give him the green light. Chimdi Chekwa missed some time with some back spasms. Nate Oliver's got a little bit of a hamstring, so he's a question mark. Yeah, he's a question mark. Those are more aggravating and chronic than most injuries.
Nothing too earth shattering on the injury front. I would assume Stoneburner will play, and if he doesn't, Ohio State will be fine. He has definitely become a big contributor, but Reid Fragel showed he can play that role, too. Also, Nate Oliver sitting out should have zero affect on the outcome of the game.
Tressel on Illinois quarterback Nathan Scheelhasse:
REPORTER: I want to ask you about Scheelhaase, I know you focus on what the quarterback is doing.

COACH TRESSEL: A lot of them.

REPORTER: They seem to put a lot of decision making on him and he seems to have responded pretty good.

COACH TRESSEL: You can tell he's a passionate guy about becoming a good quarterback. He's a fearless runner. He's coming along like every young guy. Every time he steps on the field he understands a little bit more about the coverage and the routes and the protections and so forth. He was highly thought of going there and I don't think he's disappointed anyone. He's going to be a good quarterback.
This could be classic Coach Speak or Tressel might be serious. Who knows? Regardless, Scheelhasse is the key to Illinois' success or lack thereof in this game
Scheelhasse has shown his dual-threat abilities through three games, rushing for 204 yards (second on team) on 40 carries and passing for 380 yards. He has also completed just over 54 percent of his passes. Scheelhasse was named Big Ten Freshman of the Week after his performance against Southern Illinois. Against the Salukis, he was 14-of-18 for 229 yards, two touchdowns and no interceptions. He ran for 115 yards on 15 carries against Northern Illinois, the seventh-best rushing game by an Illini quarterback.
OK, enough with the stats. I feel like I'm the president of the Nathan Scheelhasse for Heisman campaign. All I'm trying to point out, though, is Illinois can play big boy football. Yes, most of his stats came against lesser competition,  but so as most of Ohio State's. Do we discount that? No.
Tressel on Terrelle Pryor:
REPORTER: Jim, how close is Terrelle Pryor to being that consummate quarterback maybe you envisioned him being three years ago when you recruited him out of high school developing as a passer, when you watch the tape and stuff now, how close is he to sort of the of the idea of what he would develop into?

COACH TRESSEL: I think he's making significant steps. You knew that that year two was going to be a big one, but you also knew it wasn't going to be perfect and that there would be some great lessons. And if we would learn them and internalize them, then maybe we could get close to reaching that potential that we all feel that he can be special. I think he's taking a step all the time, but the steps get higher starting this week and the one thing that Illinois has always given, in my mind, is because they do just a little bit different coverage concept, we really didn't have to face that last year because it was just a monsoon and it wasn't so much the throwing, but the catching was hard. So we ended up throwing the ball, I think, 13 times. We only threw it twice in the first half because, shoot, it wasn't worth trying. And then we kind of felt like, man, we've got to get some throwing in. You can't go a game without throwing the football. And so we threw it a whopping 11 times in the second half, but this will be a good challenge for him to face conceptually a little bit something different and it will be another good lesson.
I don't think there is any doubt Tressel has a boat load of confidence in Pryor. The easiest way to know how much Tressel trusts his quarterbacks is by his play-calling. The Buckeyes aren't quite to the 2005 and 2006 level with Troy Smith behind center, but they are getting there. Terrelle keeps improving with his play and decision making. Soon, the shackles will be totally off. And when that happens, look out. 
REPORTER: After Saturday's game, Ron English kind of implied that he thought perhaps Ohio State passed a little more when the lead had gotten to be 30 or 40 points more than it should have. Is that anything that you review? Do you think at all that you piled on or --

COACH TRESSEL: Well, I'll say this, we did take the opportunity for our second team quarterback to get some throws, which we have to make decisions based upon what is best for our team. Did I wish for us to hit a 67-yard touchdown run, probably would have gotten more use out of a nine-play drive averaging five yards a play as far as numbers of reps and all those things. But it happened the way it happened. I think when the score got up there pretty high, there was 9:35 left in the game and to me it would be more insulting to take a knee at that point in time, but again, I'll say this, I think Eastern Michigan is coming along. I think they're going to be a much better football team. You can see some good, young guys and do I like the fact that the score ended up what it did? No. Am I disappointed that we let our second and third team guys go in there and try? No. I mean, that's what they're allowed to do. It just unfortunately unfolded that way.
First off, Ron English needs to stop his boo-hooing. Secondly, He has been in the coaching business for years and knows how things work. Anyone who watched that game knows Ohio State didn't run up the score. Like Tressel eluded to, they had back ups (in some cases third and fourth stringers) in a majority of the second half. It's not Ohio State's fault they busted a 67-yard run. Quite frankly, it also isn't Ohio State's fault that Eastern Michigan had absolutely no answer on defense. If you can't handle it, Ron, stop coaching or get better players. 
As you can see, though, Tressel took the high road and complimented Eastern Michigan. 
The "and so forth" count: Three. Tress is clearly slacking in this department. Very unfortunate.