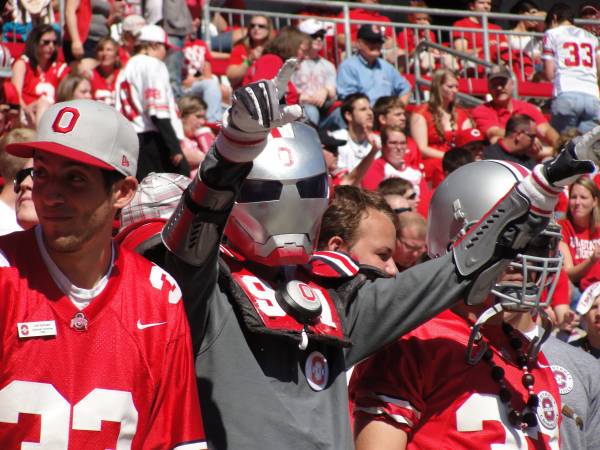 ...Do you like points? Well, of course you like points! Who the hell don't?!
It was most definitely an extremely beautiful day in the neighborhood; the air was crisp, the sun was shining, the students were back, and the Ohio State Buckeyes scored so many points that if you were playing a drinking game with Uncle Jemima's Pure Mash Liquor you and your friends would be deader than dead. Beyond dead. The deadest. 73 points, my friends, is a lot of points. It should go without saying that those were the most points scored in the Jim Tressel era, but it was also the most points scored since Woody Hayes shuffled off to that great stadium in the sky. Not even Coop, with some of the most high flying offenses OSU has ever seen, managed 73 points.
The game started a lot like the last one did, with the Buckeyes having their way with the opposing team's defense. Almost immediately Pryor went for a little stretch of the legs for a 53 yard TD run, which was followed up by a 31 yard TD pass to Sanzenbacher. Finally a drive ended up stalling, forcing a Barclay field goal, but six minutes later Boom Herron scored on a 7 yard run and at the end of the first quarter it was 24-0 Ohio State.
Eastern Michigan, however, was not going to simply take their $850,000 check and go home. In the second quarter they came out firing and took advantage of some injuries that occurred with the cornerbacks; I think at this point it should be clear that we have two pretty good corners and maybe four not so good ones. Chimdi Chekwa missed time in two quarters due to back spasms, and while he was out, Dominic Clarke was victimized repeatedly by the EMU quarterbacks, although Torrence also was badly out of position (and was given a bit of a talking to after the game) on a 46 yard pass that eventually led to a TD. In fact, EMU managed to put up 14 points during the second quarter, both touchdowns coming on sustained drives that included some big passes over the top.
Not that it mattered. Terrelle Pryor was firing bullets and running around dudes all game long, and in the second quarter TP threw for two more touchdowns, both to Sanzo. Both of these guys had huge days. Sanzo would tie a team record with 4 TD catches, which now means you can say the names Dane Sanzenbacher and Terry Glenn in the same sentence totally unironically. After the game center Mike Brewster would say that sometimes he feels that Sanzo is "underappreciated" and "deserves the recognition" he's going to get from his day. He's absolutely right. The Buckeyes have an amazing weapon in number 12, but if we could keep that on the down low that would be great.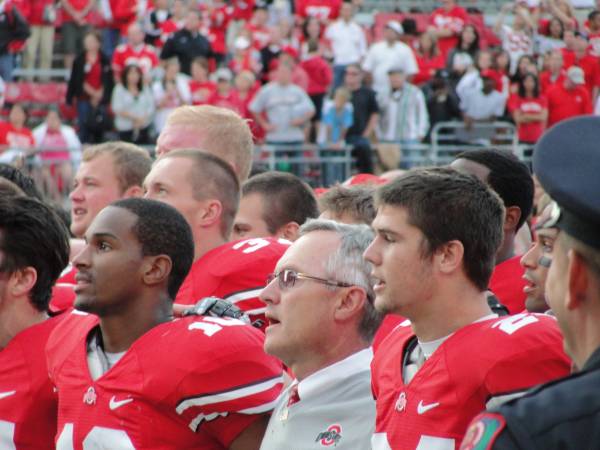 At the half the score was 38-14, but after that things started to get really ridiculous. EMU would score again, this time victimizing Corey Brown, who was in for the absent Chekwa, but not before Sanzo caught another TD and quickly afterward Tressel twirled his mustache, yelled "Buwahahahah!" and dialed up a ridiculous play whereupon Pryor lateraled to Jordan Hall, who then fired a perfect pass back to Pryor, who had been steaking down the sideline, for an easy 6 points.
Later on, instead of saying this...
"...(EMU) always played the similar coverage [that Miami did] and so we thought we were going to catch them then... so it worked out as we hoped."
...Tressel should've just put on some shades and yelled DEAL WITH IT. At this point it was 52-20 OSU and the game would continue in this incredibly evil fashion. EMU would get no more points, but Bauserman would throw a TD to Hall, Jamaal Berry would rumble 67 yards for another, and everyone's favorite little dude Kenny Guiton finished things up with a 15 yard run and holy crap really? 73 points! I'm an Ohio State fan. This is like watching man land on the moon. Who could not be happy with this game?
Oh, right. The defense.
No smiles on defense. Heyward was mad, deflected the struggles of the secondary back on the d-line (because he's a good captain). Rolle was mad. Homan was mad. After the game Larimore would tell me that the problem wasn't preparing during the week; the seniors stepped up and got the team ready. The problem was that "...during the course of the game is when it hits you... that any team can score." In other words, it doesn't matter if it's EMU or Miami or USC, if you lose focus, any team will take advantage of that.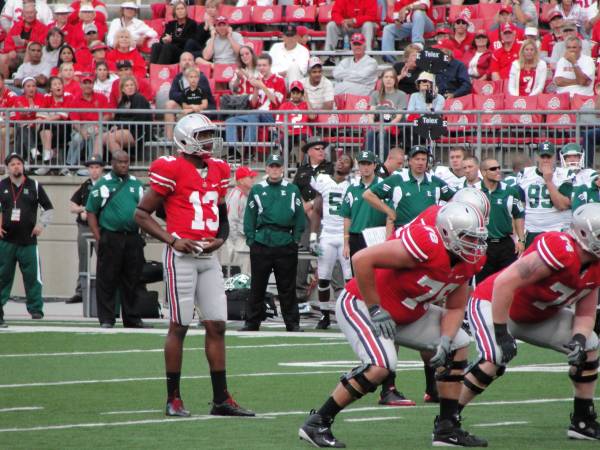 From big Cam himself (whose voice Devon Torrence would say is like "a shadow coming out of nowhere"): "...We didn't play Buckeye football in the first quarter or second quarter" and Rolle would later add that "this is the first time I feel we didn't get a win on the defense this season."
I guess that's fair. EMU did score 3 touchdowns and had five plays of 15 yards or more. But guys. 73 points. Pryor threw for 224 yards and 4 touchdown passes (he's now fifth all time at OSU in that category). Sanzo caught them. The team rushed for 342 yards and passed for another 303. Big time stuff.
"...As an offense, we don't come into the game planning on 73 points... but sometimes you're in the right place at the right time." Sanzo might be underselling the performance a bit, but in a sense, he's right. This did not come against a Big Ten team, or a ranked team, or even a halfway decent team.
It's still totally awesome though.