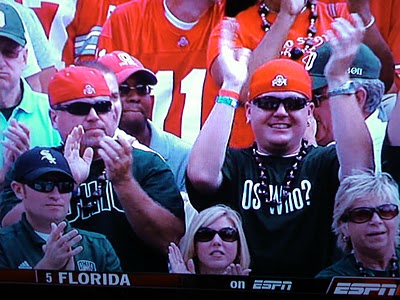 If you're wondering what's obstructing forward progress on a nine-game conference slate in the brand new, 12-team Big Ten, here's your (painfully obvious) answer: $$$$$$$$. As anyone who follows the money in college football knows, athletic departments make bank on home games, and in the proposed new schedule, each Big Ten team would play five conference road dates. That leaves seven games on the schedule at home, if - and only if - each non-conference game is at home. This will frequently not be the case for teams like Ohio State, Michigan, and Michigan State, among others; the Buckeyes have home-and-homes lined up with heavy hitters like Oklahoma, Tennessee and Virginia Tech, while Michigan et al. have newly-dry ink on lucrative home-and-home contracts with Notre Dame.
 While we wring our hands over our 2nd-ranked Buckeyes' lackluster special teams play, Michigan may be starting a kid Rich Rodriguez met in the parking lot after a game in the very near future. Kicker, of course, isn't actually one of many positions that lack depth on Michigan's present roster, but with starting K Brendan Gibbons' obvious raw nature and yet another walk-on, Seth Broekhuizen, struggling, the Wolverines are getting desperate. Yet another transfer on the defensive side of the ball, Anthony LaLota, certainly doesn't help matters.
 In the interest of fairness, Michigan and Ohio State are not alone in special teams suckitude, as Adam Rittenberg details:
Iowa had a punt blocked deep in its own territory, setting up an Arizona touchdown. The Hawkeyes later allowed a 100-yard kick return for another Wildcats touchdown.
Wisconsin surrendered a 97-yard kick return for a touchdown against Arizona State and nearly gave up another before Shelton Johnson tripped up return man Kyle Middlebrooks at the 1-yard line as the second quarter expired.
Minnesota claimed a 14-13 lead against USC midway through the third quarter, only to relinquish it 12 seconds later when USC's Robert Woods raced 97 yards to the end zone on the ensuing kickoff.
Michigan had a punt blocked and missed a field goal, making the Wolverines 1 for 5 on field goal attempts this season.
Ohio State crushed Ohio but still had a punt blocked. It was the latest special-teams error for the Buckeyes, who had a field goal blocked and returned for a touchdown in the opener against Marshall and surrendered both a kick return touchdown and a punt return touchdown against Miami in Week 2.
Why is special teams play so dangerously inept across the conference? Is it really just a lack of good kickers? Put your thoughts in the comments. 
 The Dispatch's Ken Gordon's last look at the Ohio game yields some rather interesting conclusions, including this one:
For the most part, when OSU's backs struggled Saturday, it seemed to be because Ohio had more defenders in the box than OSU had blockers. Clearly, OU was daring Pryor to beat them (and he did). I saw maybe two or three plays in which I thought the back chose the wrong hole. To those of you who read my TOTTs (Ed note: Tales of the Tape) last year, when I charted offensive line play all season, it should be no surprise to hear I also thought the OSU line pass-blocked much better than run-blocked. I rated the line effective on 61 percent of the run plays Saturday, and 80 percent on pass plays. Conclusion: You can say OSU should have been able to pound it down OU's throat no matter what the Bobcats did, but I say unblocked players are tough to avoid. Let's wait until the meat of the Big Ten season to form an opinion on this one, shall we? I'm guessing better numbers are ahead for Saine and Herron.
Lots of people have been pointing fingers at the running game as, alongside the special teams, the area of the team that needs the most work prior the Big Ten schedule. Those people are right, though I imagine the coaching staff is feeling an acute sense of deja vu: last season, the running game also got off to an underwhelming start against Navy and USC, averaging just over 3 yards/attempt heading into the game against Toledo. The third game ended up being the charm, as the running game seemingly got over the hump, with the Buckeyes racking up 247 yards on the ground at 5.7 YPC. A similar performance against Eastern Michigan won't (and shouldn't) assuage doubts, but it'll at least provide a way forward for a ground game that should be far more potent than it has been.
 Quick Hits. In less explicitly-Buckeye-related news: Butch Davis states the obvious re: agents, ex-Buckeye Bo Pelini knows defensive excellence when he sees it, and believes his defense has earned the hallowed "Blackshirts" in practice, MGoBrian goes over the Michigan defense's performance against UMass, and if one word could describe the unit's immediate future, it would be "doom", a Q&A session with MSU interim head coach (and former Tressel assistant at Youngstown State) Don Treadwell, and there are two Buckeye opponents - Marshall and Eastern Michigan - on ESPN's Bottom 10, which labels this weekend's game a "free win" for the Buckeyes. Yep, sounds about right.