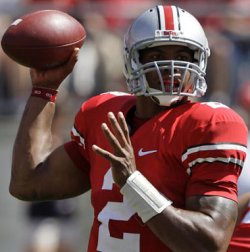 Pryor's Record Setting Day
I know. Those two interceptions were horrendous but I personally don't have too much of a problem looking past them considering the timing. The Buckeyes were in front 34-0 with :14 left in the half when Pryor tossed his first pick of the year, a totally haphazard lob into heavy traffic intended for Taurian Washington. The throw capped three straight poor plays by Pryor. The first came when TP missed badly attempting to find a wide open Dane Sanzenbacher for an easy six. Facing 2nd and 10 from the OU 22 on the next play, Pryor inexcusably took an 8 yard sack setting up the INT to close the half. The line collapsed but it happened right in front of him and he failed to scramble or throw the ball away. Again, poor decisions and execution all around but up 34-0 against a team that had mustered about 43 yards of offense to that point, I can see why Pryor got a little sloppy. I personally felt that should've been the end of the day for TP but he played four more series in the 2nd half featuring an underthrown double clutch toss to DeVier Posey on 3rd and 7 to kill the first drive. Two possessions later, Pryor's second INT came by way of another underthrown ball, this time intended for Dane, although I'm still confused as to how Dane, Saine and Posey were in the same 10 yards of space. Pryor noted in the post game that he failed to look off the safety but with three Buckeyes running routes in the vacinity, the play was junk to begin with. I still say we should all feel safe knowing Pryor's mindset would've likely been different if in a dogfight against a legit opponent. And this is coming from a guy that took a full two years to finally embrace Pryor as a quarterback. I mean, dude went 104 plays (rush or pass) before his first turnover this year. I'll take it.
In between those few shenanigans, Pryor was busy completing 16 straight passes to set the school record helping him to a gaudy 17/20 in the first half. Now, trust me in that I saw the same laughinstock of a secondary as you did but he got the job done. Though he completed most of them, he's still a little shaky when throwing the short to intermediate routes, especially over the middle. Some of that is a lack of touch that will hopefully come over time while another factor is Tressel pretty much disallowed TP from throwing anything over the middle - except the bomb - during his first two years.
Pryor again looked to checkdowns consistently (maybe even a little too much) and he scrambled with a purpose to the tune of 5 first half carries for 36 yards and a score. I came away very impressed with a couple throws, specifically a 2nd and 7 connection to Stoneburner for 12 yards while rolling left on the drive that would put OSU in front 10-0. On the next offensive series facing 1st and 10 at the OU 48, Pryor hit Posey in stride on what became a 35 yard reception after calmly standing in the pocket and scanning the field. Finally, on 2nd and 7 from the OU 30, Pryor again used his feet to create space by rolling left then stepping up and into a perfect 21 yard strike to Dane setting up the Stoneburner's first collegiate TD reception two plays later to make it 27-0 good guys.
Pryor also moved up on the school's all-time total offense list passing Archie for eighth place. Pryor recorded 270 yards of total offense and now stands at 5,695 and counting and he's now 22-3 as a starter. For good measure, Pryor's 14th game with at least 200 yards total offense moves him into a tie for 5th place all-time.
Not all is rosey, however, on the Offensive side of the ball
Despite Pryor's big day, the offense still has some areas of opportunity. The offensive line has been somewhat under the radar this year as the Buckeyes have blown out two opponents in between the sound beating delivered to the 'Canes however there are some issues that need repaired. The line surrendered an unacceptable three sacks against a bad Ohio team with both Adams and Shugarts showing up in my notes. The rushing attack was also somewhat stifled as OSU managed just 3.9 per carry with 41 carries going for 158 yards. This after averaging just 3.7 against the 'Canes. First down carries by the RB's also seem to be struggling a bit. It's a small sample size but on the five 1st down carries in the first half, OSU tailbacks managed just 7 yards. Against Miami, the RB's had 18 1st down carries for 55 yards, good for a paltry 3.27 per tote.
Adding to the concern is the rushing-disappearance of Brandon Saine. He followed up a 12 carry, 17 yard performance against Miami in which he went 8 for -5 on 1st down with a pedestrian 12 carry, 48 yard showing against the Bobcats. Is the line just not blocking as well for Saine? Or, is it more likely that there aren't gaping holes on most snaps and Saine is more susceptible to dance behind the line looking for the 'big one' whereas Boom is more of a grinder who spends less time in the backfield when the line hasn't produced a large seam yet doesn't present the same home run threat? For now, it appears to be the latter but the bottom line is that the big boys up front need to more consistently create room for the RB's to run.
Silver Bullets continue to dominate
The defense did what it should do against outmanned opponents - destroy them. In the decisive first half, the Bullets were unstoppable causing Bobcat drives to unfold this way:
2 and out (Moeller INT)
3 and out (5 yards)
3 and out (-11 yards)
3 and out (6 yards)
2 and out (Fumble: Williams/Homan combo)
2 and out (Fumble: Cam)
4 and out (Hey, a 1st down!)
4 and out (Turnover on downs)
Nathan Williams and Ross Homan were particularly filthy early on. Williams made a stop on the first play of the game setting up Moeller's INT then the pair accounted for all three tackles on OU's second possession. Homan then ended Ohio's third possession stopping a QB draw on 3rd and 22 for -1 yard. The next OU series saw Williams stop a 2nd down run for 2 yards before Homan straight blew up a screen forcing a punt. Then, on the fifth series, Williams and Homan combined to cause/recover an OU fumble on 2nd down setting up a TP to Stoney connection for a 27-0 lead. They had plenty of help with Cameron Heyward recording a fumble recovery and a safety and Moeller's aforementioned INT to go along with three stops, a forced fumble and 1/5 TFL's.
For the game, the Bullets held Ohio to seven first downs, 2.5 yards per carry, 9/17 through the air with two picks, 158 total yards (3.3 per play) and 2/10 3rd down conversions.
Broken record that is poor special teams
There's no question that Posey-bro's kickoff return for a TD was correctly called back due to a block in the back but the play still served as a microcosm of what's wrong with the KO coverage. First, Basil's kick was a line drive although I give him some credit for finally getting the ball inside the five yard line. Once Dorian Bell was illegally blocked, Aaron Gant still had a clear shot at Posey but he took a circular route and ended up whiffing badly allowing Posey to scamper the rest of the way untouched. Maybe Rolle and Hines need to become full time special teamers again to stop the bleeding. Basil did put the next two KO's near the goal line but again they were line drives. Following those two deeper kicks, the next two only reached the seven and 14 yard lines, respectively. There's no question Ohio State is having issues maintaining lane integrity, shedding blocks and making tackles but there's no denying the problems are starting from kickoffs being too low and too short.
Since we're apparently not suffering enough watching KO coverage, the special teams god added a new wrinkle this week as the Buckeyes had a punt blocked. The pathetic display saw OSU line up with seven men spread out on the line of scrimmage with three men stationed in front of Buchanan. First, the line blocked absolutely nobody allowing five Bobcats to approach the three-man back line. The problem was compounded when, with five rushers to choose from, both Garrett Goebel and Adam Bellamy blocked no one. That's not even a sarcastic comment. I've watched the tape five times and to see both Goebel and Bellamy strike out is painful. But, it all starts up front and my thought is if none of your front seven are going to block anyone, it might be wise to at least bunch them together instead of spreading them out laterally over roughly 30 yards. Unbelievable. When will the madness end?
Injuries Challenge Depth and Experience
As of this writing Sunday night, I've yet to see anything definitive from the university but Devon Torrence, Travis Howard and Donnie Evege were all injured to varying degrees. Torrence came back in the game and appeared fine. Howard is rumored to be the most severely injured and he clearly looked to have something wrong with his shoulder. He was holding it like a separation or maybe a busted collarbone but I guess we'll have to wait and see. The message boards claim it's not that serious. Let's hope. Howard would be a notable loss in the secondary as he served as the primary backup to Torrence and saw time in the nickel. The loss of Howard should mean we'll see more of redshirt freshman Corey Brown and maybe sophmore Zach Domicone and/or freshman Christian Bryant.
Already without C.J. Barnett for the year, the Howard injury was further compounded by a dislocated elbow suffered by Evege. Papa Evege said Donnie could be out several weeks which is a blow for the already limited KO coverage team.