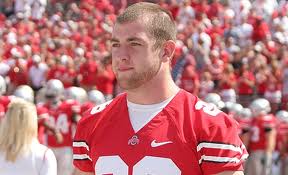 Just after midnight July 26th, 2009, there were reasons to celebrate. A 21 year old was visiting relatives in Tampa, Florida to commemorate a wedding anniversary. The young man and several relatives visited a bar called Gator's in the Treasure Island area right on the water front. Celebratory spirits were to be had with family the small group hadn't seen in some time when the evening took a turn for the worse. A 27 year old named Ralph Decker, allegedly after learning Tyler Moeller played linebacker for Ohio State, made the brash, incalculable decision to cold clock the senior to be sending him flying backwards to the concrete surface below.
The back of Moeller's head struck the concrete below, causing him to lose consciousness. Moeller spent the weekend fighting for his life in a local intensive care unit, only to suffer a violent seizure a week later upon dismissal necessitating further hospitalization. Moeller ultimately would have brain surgery alleviate recurring intra-cranial bleeding causing him to miss the entire 2009 season.
Some questioned whether in lieu of the serious head injury whether Moeller would ever truly be the same player he once was; whether the physical limitations of having suffered such a severe operation would inhibit his ability even to play football ever again. After a lengthy rehabilitation, Moeller put the skepticism to bed by returning to the practice field last Spring, and then finally this Summer was allowed to participate in full-contact drills. Moeller told coaches in the early part of August something to the effect of "if I survive that first hit, I'll be good to go full speed." After bracing through initial contact with no complications, the now 22-year old found the reassurance he needed to return to full game speed.
Fast forward to Thursday night, and Tyler Moeller's entire Ohio State experience seemed to pick up on the developmental arch almost exactly where it left off. That year lost (which may not be so lost after all if Moeller is successful as is expected in petitioning the NCAA for a sixth year of eligibility) seeming inconsequential and the man who occupies Ohio State's "star" hybrid defensive back/linebacker position looking like the dominant, impact player many thought he would be going into 2009. Moeller finished the game with a team leading six tackles, two shot-from-a-gun tackles for a loss, a sack, and a forced fumble en route to the 45-7 victory over Marshall. Afterwards, he reflected on the journey:
"I feel like I have something to prove out there and I think I proved it tonight. After that first hit, everything else felt natural." 
The culmination of hard work and a long road to recovery was fully realized Monday when the Big Ten Conference named Moeller their Week 1 defensive player of the week. His contributions in assisting the defense in keeping the Marshall offense from scoring so much as a single point were recognized accordingly and the 5th year Buckeye can now get back to doing precisely what made him such a force for the Buckeyes in the first play: playing the game with truly reckless abandon.
If you're of the age where it's still age appropriate to rock a jersey on game days (and given the some 50,000+ circling the Shoe Saturdays in the fall, I'd say it's far more socially acceptable for the more veteran amongst us than at other schools), if you hadn't purchased one for this fall, the decision really shouldn't be that difficult. Congratulations to Tyler; we can't wait to see what you have in store for the encore.