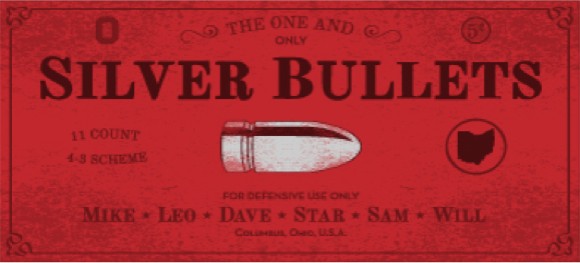 With all of the excitement of relaunching the site on a new platform Sunday, we thought it would be fun to introduce some new t-shirts to our shop.  We're pleased to announce we've partnered with (the incredibly talented) artist Walt Keys to ratchet things up a bit. Boom! We have added five new designs and have refreshed many of our older shirts just in time for football season and we think you're really going to like what we have to offer. Below are the new designs. We've invited Walt to provide a little bit of "director commentary" and you can find his comments included.
Silver Bullets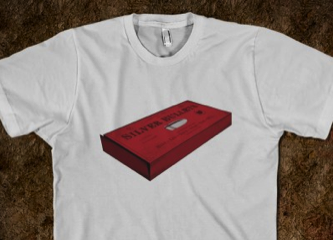 One of our favorites internally, this shirt represents everything that is cherished about the Buckeye defense, a perennial top-ten unit. Manufactured in Columbus, Ohio, the 11-count, 4-3 scheme case is sure to satisfy the hunter or non-hunter in your family.
Walt's take: The inspiration for this guy took a little research and in the end I based it heavily on a package of Winchester 1873 Ammo (not that I have any real idea what that means). And the bullet itself owes a hat tip to a certain Italian plumber.
Carmen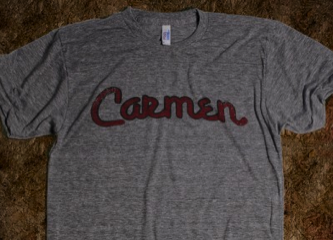 Oh come let's sing Ohio's praise...
You know it. You love it. Cie Grant perfected it. Represent the 107-year-old classic because Orton Hall would want it no other way.
Walt: A design for those who get goose bumps every time they hear the bells chime and the hush falls over Ohio Stadium for the alma mater. A classic script take on the Carmen to complement the timeless Script Ohio.
For Ohio
You don't have to be in the band to rock this statement tee. Nope, all that's required is a love and pride of where you're from or where you spent the best 4+ years of your life.
Walt: A tradition so time-tested and glorious, it can make the friggin' Sousaphone player the coolest kid on campus. Sure Delany might try and move the performance up from pre-kickoff to the Thursday prior to turn a quick buck, but some things are sacred.
The Connection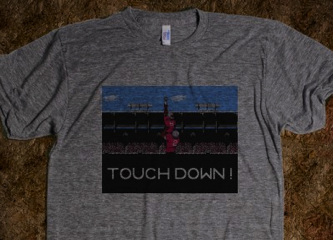 This scene is sure to be repeated many times this fall, but you can capture and display it anytime in all of its 8-bit glory. And make no mistake, 8-bit does mean glory.
Walt: Before Madden, before XBOX, before Super Nintendo there was Tecmo. A classic scene, made relevant for the kids of today. Placing each of those pixels gave me carpel tunnel though.
The Pennant
Wikipedia: "It is the only American state flag that is non-rectangular, and one of only a few non-rectangular official jurisdictional flags, at the state level or above, in the world." Uniquely awesome. We don't know about you, but we get a special glee whenever we see the pennant rocked at an opponent's stadium and now you can take that feeling with you everywhere. But with more Buckeye.
Walt: Wave that flag. A classically quirky design, updated to show the great state of Ohio's true colors.
---
If you order in the next few days, you will be sure of getting your new shirt before the season opener and please note that a few of the shirts are configured with the American Apparel Unisex Athletic Tee, which is the softest t-shirt in America. Of course, if you'd like to save a few bucks, you can put the design on a cheaper shirt before you checkout, but we can't promise it will feel as good against your skin.