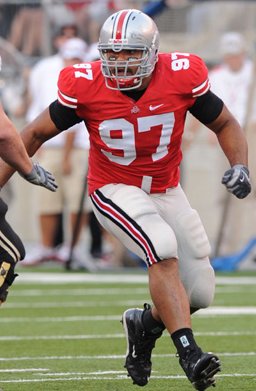 Yesterday, Johnny scoped out the top 11 individual players OSU will face this season and today brings the Buckeye version of the power rankings. While this list will never be certified by Bill Nye, the loose criteria is basically how dominant each player projects to be at their individual position. Obviously, there will be plenty of debate over such a subjective list so chime in with your thoughts on the list below and/or give us your own Top 11 Buckeyes. Without further adieu...
11. Nathan Williams
Leo starter Nathan Williams kicks off our list thanks to a solid 2009 campaign in which he registered 26 tackles, eight TFL and 3.5 sacks. The junior is crucial to the Buckeye defensive line providing a solid bookend opposite Cameron Heyward. Dangerous off the edge, Williams plays with his hair on fire. Nursing a slighty strained knee, his health will go a long way in determining how effective the pass rush will be in 2010. Phil Steele projects Williams as 3rd team all conference.
10. Dane Sanzenbacher
One of the true leaders on this team, Dane is probably the most under-appreciated guy on the roster. The senior finished 2nd on the team a year ago in receptions (36) and receiving yards (570), 3rd in touchdowns and he led the squad with 15.8 yards per catch. Not bad for a team that didn't exactly light it up through the air. Sanzenbacher won the Paul Warfield Award last year as given by the coaches to the team's outstanding receiver. Dependable and not afraid to go over the middle, Dane is also an excellent downfield blocker. Dude is as gritty as they come and will make an excellent captain. He's coming off a nine catch effort in the Rose Bowl.
9. Jermale Hines
A senior out of Glenville, the starting free safety finished 4th on the team in tackles a season ago (57). Hines stepped up in key games including a career high 11 stops and a 32 yard pick-six in the win over Wisconsin and nine tackles (2 TFL) in the regular season finale at Michigan. The Buckeye D will continue to benefit from his versatility and experience in the secondary as he's lethal in run support and can more than hold his own in coverage. Pre-season accolades include Phil Steele 1st team all conference and a Jim Thorpe Award watch list nod.
8. Brian Rolle
Another well spoken leader in the locker room, B-Rolle is a favorite thanks to legit production and an intensity level far surpassing his slight (for a LB) 5'11", 218 lb. frame. Rolle was a beast last year in big games saving the day with a 98 yard INT return for two points in the Navy scare, posting eight stops against USC, a career high 14 tackles against Wisconsin, 10 stops against both Purdue and Penn State, and nine more including three TFL in Ann Arbor. Rolle appears on the Butkus Award watch list and is poised to have a huge 2010 campaign.
7. Mike Brewster
Ringleader of the Brew Crew, Mike co-achored the line a year ago with Justin Boren, starting every game at center. Aware of the criticism of offensive lines past, Brewster has confidence this is the year he and his fellow hogs put it together saying recently, "We're expecting a lot of ourselves. We all know the plays very well and the blitzes and everything. We're definitely going to demand a much higher (level of) play this year." If the line is to consistently dominate, the 6'5", 293 pounder recently named to the Outland Trophy watch list will be front and 'center'.
6. Brandon Saine
Zoom had a breakout 2009 season finishing as the team's 2nd leading rusher and 3rd leading receiver. Headlining a three headed rushing monster with Terrelle Pryor and Boom Herron, Saine amassed 739 yards on the ground (4 TD) thanks to a steady 5.1 ypc and chipped in another 224 yards through the air with two scores. He overtook Boom as the primary tailback and had big games against Indiana (113 rush yards), Iowa (103 rush yards, 2 TD), Michigan (84 rush yards, TD) and Oregon (104 total yards, TD). Saine picked up the Rex Kern award, given to the team's outstanding back by the coaches and he's a preseason Phil Steele 2nd team all conference selection.
5. DeVier Posey
Though the aerial attack left a lot to be desired in 2009, it wasn't the fault of Posey as he led the Buckeyes with 60 grabs for 828 yards (13.8 avg) and eight touchdowns. He did suffer from a case of the dropsies here and there but there's no questioning the talent #8 possesses. Posey had his share of big plays last season including a 32 yard TD grab against Wisconsin, TD catches of 57 and 62 yards over Minnesota, another 62 yard strike against Penn State and a crucial back shoulder fade for a 17 yard score, part of his 101 receiving yards, in the Rose Bowl victory. He will again serve as Pryor's primary target down the field. Phil Steele lists Posey as a pre-season 2nd team All-American and first team all conference.
4. Ross Homan
A 6'0", 227 lb. senior out of Coldwater, Homan was the most productive Buckeye defender a season ago leading the team in tackles (108), interceptions (5), passes defensed (10) and fumble recoveries (2). Like Rolle, Homan was large when it mattered most notching an INT and nine stops against USC, a career high 15 tackles, two sacks and a forced fumble versus Wisconsin, 10 tackles and a pick against PSU, a team high eight stops and a key INT in Rose Bowl clinching win over Iowa, 12 tackles at Michigan and another dozen stops and a huge pick against Oregon. Homan is on every applicable major defensive award watch list including the Nagurski, Lott, Lombardi and Butkus.
3. Justin Boren
A transfer from the That Travesty Up North, the 6'3", 320 lb. senior from Pickerington was a force at left guard in his first year at OSU, starting 11 games and earning first team all conference honors. Boren keyed the offensive line's second half resurgence bringing a no-excuses attitude to a group looking to gain an identity. This year, Boren is again expected to co-anchor the group and finds himself on the watch list for the Outland and Lombardi awards.
2. Terrelle Pryor
The straw that stirs the drink, Pryor was OSU's leading rusher a season ago (779 yards, 4.8 ypc, 7 TD) in addition to throwing for 2,094 yards with 18 TD and 11 INT. Pryor didn't throw much down the homestretch of the regular season but he won Rose Bowl MVP honors completing 23/37 passes for 266 yards and two TD to go along with another 72 yards on the ground in the win over Oregon. If all goes well, the passing numbers will swell dramatically in 2010 after another off-season of work in the film room and on mechanics. Sporting a 19-3 record as a starter, Pryor owns two of the three games in OSU history in which the QB has rushed for 100 and passed for 200 yards. Only a junior, Pryor ranks 11th on the schools career total offense list (4,808).
1. Cameron Heyward
Heyward emerged as a dominant defensive line force last season despite limited snaps as Jim Heacock used a deep rotation. The 6'5", 288 lb. senior still managed to lead the defensive line in tackles (46) and sacks (6.5) while placing 2nd in TFL with 10. This year, Heyward will see his playing time increase dramatically so expect his production to follow suit. A sure fire top 10 pick in next year's NFL Draft, Cam has earned a boat load of pre-season hype including watch list nods for the Nagurski, Lombardi, Lott and Ted Hendricks awards in addition to being named to Playboy and Sporting News All-American squads. The big fella is ready to straight blow up this fall and will undoubtedly be a defensive captain.