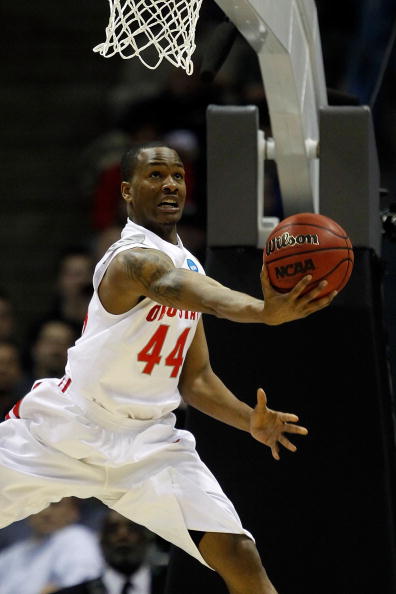 With the footballers closing in on the start of fall camp and the impending onslaught of coverage to be found at this here corner of the blogosphere and elsewhere, I wanted to spend a few words on the other Buckeyes you should care about year round - Thad Matta's basketballers - thanks to a recent flurry of news coming from The Schott.
News from the infirmary continues to be at the forefront. Matta was dealt a significant blow when incoming guard Lenzelle Smith underwent wrist surgery last month costing him 3-6 months of court time. The significance of the loss is real in that Smith was expected to challenge Aaron Craft for minutes at the point, a position currently without an incumbent upon the Villain's move the the league. Even if Smith makes it back by the start of the season, he'll be way behind his fellow freshmen when it comes to transitioning from high school to big time college hoops, cutting into Ohio State's depth early on.
While it's fair to say nobody expects Nikola Kecman to see meaningful minutes this season, it's also worth nothing that the Serbian recently had a second surgery to "repair" the same right ACL that torn five years ago. So, apparently, he didn't tear this ACL again but with two surgeries on the same ligament that was previously torn, combined with his already limited movement and skill set, it's hard to imagine Kecman will have any meaningful role during his time at OSU.
The good news on the injury front is that David Lighty has graduated to a walking cast and expects to be back in action sometime in August. He'll need plenty of rehab on his broken foot and extensive conditioning to get back in game shape after the third season ending injury of his career but doctors see no reason to expect anything but a full recovery. With early off season talk of Lighty potentially playing some point, you have to wonder if that's permanently put to bed based on summer hoops time lost in which he could've possibly worked on point skills. Personally, I think that's a good thing as Lighty's best value on this team is not at point guard.
Speaking of which, Craft, who is a born point guard, has impressed the likes of Diebler and Buford with the WB going so far as to liken the defensive minded Craft to perennial pain the ass Chris Kramer of Purdue. On a team with plenty of scorers, a guy that prefers to distribute the rock and do the dirty work at the other end of the floor would be a huge boon for Matta's squad. I continue to think it is very plausible that Craft is the starting PG on this team by the end of December, if not sooner. He's got to be soaking up valuable knowledge competing against Mike Conley Jr. all summer. Craft, Diebler, Buford, Lighty and Sullinger sounds like a formidable starting five to me although Thad will likely pair Sullinger and Lauderdale together as opposing personnel dictates.
As for Buford, he's all smiles over being selected to participate on the USA Basketball Select Team competing in scrimmages and drills against NBA players hoping to earn a final spot on the next USA Men's National Team leading to an Olympic nod. The camp, held in Vegas, began yesterday with a team meeting and includes four days of 3-hour training sessions and ends with a "2010 USA Basketball Showcase" this Saturday night.
Going against guys like Durant, Rose, Westbrook, Rondo, Tyreke Evans and Stephen Curry should be great for Buford as he not only becomes OSU's go to scorer but continues to improve a defensive game that took major strides a year ago, especially on the glass.
Somewhat shockingly, seven footer Zisis Sarikopoulos helped Greece to a 2nd place finish at the under-20 Euro Championships averaging 19.6 minutes, 7.8 points and 3.8 boards in eight games. Zisis shot 60.5% (20/43) from the floor and hit double digits twice during the tourney although with Sullinger and Lauderdale giving OSU some big man depth for the first time in forever, it's likely Z won't take 43 shots all season in Columbus.
Finally, Evan Turner wrapped up a tough summer league debut in which he shot just 33% and averaged more turnovers than dimes. One summary tabbed him as the most disappointing player in the Orlando event although much of his struggles can be attributed to poor conditioning. The fact he stunk it up wasn't lost on the determined Turner who owned up to his showing:
I know I have to be in shape to compete with this type of competition. It's a lot more competition, and everybody down here is playing so hard. They're playing to get or keep a job and put food on the table, and I got my butt kicked. It's the first time in a long time I've gotten my butt kicked. I'm glad it happened now instead of in November, December or January...It was a good week, something that I needed to go through. Now, I'll go back to the laboratory and drawing board and get things done. Everything starts a little slow. It happened to me in college. I just have to go back and work on certain things...I have to have a high motor. One of the things I prided myself on in college was being able to outlast everybody. When games were done, I could have gone 10 more minutes. I have to get back to that. I'll be fine. I think this was the best thing for me. Getting my butt kicked might have been a good thing.
Sounds like a Buckeye determined to prove he's worth the #2 pick. History says it's wise to stick with him.