Okay, okay. So we've more than covered Bill Nebrasky1 2, who once drank a full glass of liquid LSD with his eggs, slept for 8 months straight, and when he woke he rubbed his eyes and said, "all in all, I prefer gin", and his recent invitation/addition to the Big Ten conference.
We've also touched base on the fact that by doing so, the league is opening all kinds of platinum handled doors which will inevitably lead to Scrooge McDuck sized piles of football championship money for Jim Delany to swim around in. While trying not to think of the fact that Big Ten has twelve teams and the Big 12 has ten teams, it dawned on me that perhaps their men's basketball team will, or perhaps more commonly asserted won't, be contributing much to the Big T12n play when they officially start in the Fall of 2011.
The initial reaction to the shooty hoops version of the Cornhuskers was an emphatic, universally resounding "meh" -- except of course from our faux new-Ivy brethren from Evanston, who may at long last have that victory (or two) their resume needs to play their way into a 12/13 seed and that first ever NCAA tournament loss. Basing opinion solely on the 2009-10 body of work, the 15-18 (2-14 in the Big X2) Huskers leave little to get excited about. Their "best" victories were against a still learning what they had USC team in Los Angeles and only slightly above mediocre Texas Tech. Perhaps the governor of Missouri Jay Nixon can shed some light on what the Huskers meant to the Big XII(-2):
Nixon on Tuesday called the departing [Nebraska and Colorado] "the two weakest basketball programs" in the Big 12. The Missouri governor says the remaining Big 12 schools could have a better shot of making the NCAA tournament. He said poor win-loss records and weaker schedules by Nebraska and Colorado were dragging down the rankings of other Big 12 schools.
Lest we forget this was the same freewheeling politician who stated last December that Missouri should strongly consider joining the Big Ten because it had stronger academics than its Big 12 peers.
Nixon's superficial assessment of the two wasn't entirely far off, however. According to Math God Ken Pomeroy, Nebraska and Colorado were in fact college basketball's strongest conference's two weakest links, ranking 85th and 86th out of the 347 Division 1 basketball schools. While hardly any real consolation, this was still better than 97th ranked Penn State, 173rd ranked Iowa, and last, but certainly not least, 183rd ranked Indiana. Nebraska's peers in Pomeroy's set rate somewhere around woebegone South Carolina, Keno Davis' embattled Providence Friars, and the Houston Cougars, who needed a miracle to make the tournament only to fire their coach (who's basketball camps I attended as a child. HA HA! SYNERGY!)
Pomeroy's pace metrics do the Huskers even less favors in terms of brand appeal. Nebraska's adjusted tempo/pace checks in as the 290th/347, implying a molasses making offense to which some filibusters blush. Northwestern and all its Princetony goodness check in just below at 64.1, with Penn State next at 63.6, Michigan at 62.8, the snorepocalypse that was Lickliter ball at Iowa at 62.6, and naturally Wisconsin's offensive short bus dance party trailing the fast break with Cavaliers-era Shaquille O'Neal like swiftness. Needless to say you probably won't plan too many evenings of pizza and brewskis entirely around the 27-seconds-or-more offense.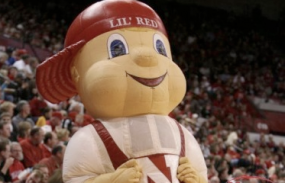 So lousy last season? Check. So boring? Probably. How non-competitive will this club be going forward? That's more challenging to say, although likely not too removed from the Penn State/Northwestern neck of the conference, particularly in the early going. Soon-to-be-fifth year year Nebraska Head Coach Doc Sadler picked up for Barry Collier, the man in part responsible for the baby that would grow up to be Butler basketball, fairly admirably early on. In his first three season, the Huskers went 17-14, 20-12, and 18-13 respectively, garnering 2 NIT berths. Sadler had previously taken over at UTEP for Billy Gillispie when he departed for Texas A&M at, leading the Miners to a 27-7 season and an NCAA tournament berth in his inaugural year and a 20-9 NIT invite garnering second season before heading to Lincoln. However given how Nebraska faired in '09/'10 after the previous 3 seasons made it seem like the program was headed in an upswing, it's completely within reason to assume that if the Cornhuskers' final season in the Big 12 resembles that one more so than the previous 3, the university may elect to usher in a new era in a new conference with new leadership.
It's also worth spending a second to consider how the potential for divisional alignment in the conference could affect basketball conference play. First and foremost, would the league even have divisions in basketball play? The ACC, Big 12, and Conference USA all have 2 division setups for football, but don't observe the same for hoops. The SEC and the MAC, on the other hand, schedule more along the lines of their football programs and also seed their post season tournaments along divisional lines. Should the league go with the Big 12/ACC approach, the post season tournament would feature the 4 top seeds all getting first round byes, the 8 playing the 9 seed, the 5 against the 12, the 7 versus the 10, and the 6 paired to play the 11th with the winners facing the appropriate seed the winners of an NCAA tournament would (assuming seeds 1-4 advance as they usually do). The SEC doesn't swing that way, and instead gives the 2 best records per division byes, and pairs up the lower seeds by putting them against cross divisional opponents. It's easier to show than explain:
I'm no fan, but perhaps there's a logic there I'm not seeing. What say you? How do the Cornhuskers impact Big Ten basketball and what divisional model makes the most sense for the league (from a basketball standpoint)?
1 To be fair, Nebrasky was ranked #18th in the AP College Football Poll.
2 He also makes every woman that sleeps with him refer to him as Bear Bryant.