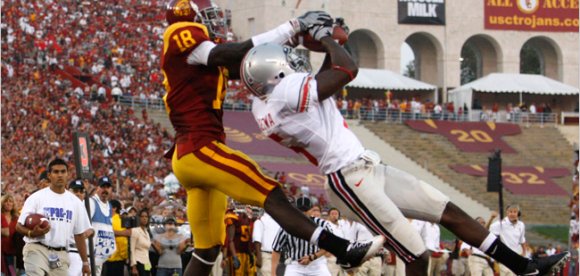 Amidst the national title chatter swirling about the water cooler, there are still three legit question marks causing some consternation amongst the Buckeye faithful - special teams, offensive line and the secondary.
Knowing the value Tressel places on special teams, it's hard not to worry about a kicking game returning Devin Barclay but lacking a long man unless Drew Basil matures in a hurry. At punter, Ben Buchanan will get his turn but there's no track record making us comfortable. The same goes for the KO and punt return teams where a host of athletes will get their shot but none have yet to prove their mettle.
Wary of fool's gold, grounded fans are cautiously optimistic about an offensive line ripe with talented experience yet led by a position coach plagued by past big game failures and questions about his ability to develop players. We've been there one two three too many times to fully believe in this unit until they control the line of scrimmage against elite talent. As much as we all loved the late charge from this group, I'm not sure they faced enough elite talent to put the questions to bed completely. Still, in talking with and observing the fan base, it seems most think this unit will turn the corner this season which brings us to the secondary.
Of course, the secondary has burnt the fan base before in big games too, and after a spring game lacking much in the way of pass defense, it's easy to see why the secondary could be the number one reason to pass the Pepto as you play out the 2010 season in your head. But should it? Ohio State ranked 13th in Pass Efficiency Defense last year and there's no doubt the defensive line and linebackers will again positively influence just how effective this secondary will be.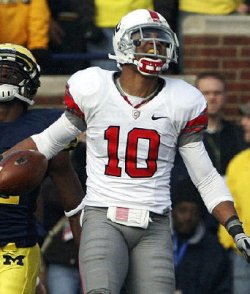 I hear you. Losing a captain and experienced leader like KC4 will have an impact but don't forget the Buckeyes return three experienced starters. Devon Torrence showed flashes last season including an INT in the endzone to lock up the Michigan win and with another year fully devoted to football instead of sharing time with baseball, I want to believe Torrence can take that next step. Already willing to support the run, his summer will be spent improving technique and ball skills which brings us to fellow cornerback, Chimdi Chekwa. The senior with tons of experience led the team with seven pass breakups a season ago. He has shown the ability to blanket a defender but he's also displayed questionable ball skills and as we've lamented many times before, it's hard to buy into whether or not that skill can truly be learned.
Jermale Hines returns at safety after ranking 4th in tackles last year and there's no reason to believe he won't improve into a potential all conference performer. Orhian Johnson is the lone newcomer but is known to be a vocal guy in practice and as a former QB, insiders say grasping the defensive schemes hasn't been troublesome. A nickel needs to emerge from a pack of hungry young guns and the Tyler Moeller factor is also in play.
I also look at the Fickell and Heacock and can't help but have more faith in their ability to improve the skills of the secondary in addition to being able to more effectively hide their deficiencies through schemes. Throw in the aforementioned abilities of the defensive line and linebackers to get pressure plus create obvious passing situations and I can only come to the conclusion that the secondary will not be most responsible for elevating our collective blood pressure this fall.
All that being said, do you agree? Weighing out the question marks for the offensive line, special teams and secondary, along with the other factors that can positively or negatively impact each unit, which group has you least concerned and why?