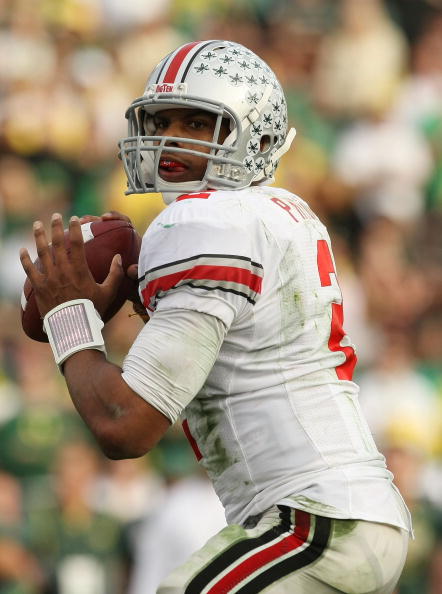 With Jake Stoneburner's growing legend combined with a slew of capable pass catching RB's comes the annual exercise of discussing how dangerous it would be if the OSU passing attack further diversifies this fall. Through the early stages of Pryor's development, we've seen Tressel limit the aerial attack to predominantly safe routes including quick hitters, sideline out routes and deep balls to wide receivers with a sprinkle of dump off's to RB's mixed in between. Now that Pryor seems to have a better grasp on reading defenses - so much so that Tressel is allowing him to check at the line of scrimmage - might 2010 be the year in which Ohio State more efficiently exploits the middle of the field with a big time tight end and two reliable wideouts? And with dangerous RB's in space like Saine, Hall and (one day) Berry, will Tressel devise more throws to get those guys matched up against LB's in the open field? Don't forget about Boren, either. Catching the defense napping with a dumpoff to the FB can also chew up big yardage and Boren has shown he can deliver.
We talkin' 'bout weapons, man
. Weapons. Not scrubs. I mean listen, we talkin' bout weapons, man. Not, not, not scrubs, man. Weapons. So what does sharing the sugar mean in real terms? Just how much should we hope for from an aerial diversification perspective? To understand, let's examine what the offense looked like a year ago:
2009 Play Distribution

| Play | Attempts | % of Plays |
| --- | --- | --- |
| Rush | 563 | 64.05% |
| Pass | 316 | 35.94% |
I don't know about you, but before looking at the numbers I figured the run/pass split would've been closer to 70/30 considering the lack of passing in the last few regular season games. Double checking the
stats
, Pryor threw it just 17 times in each of the final three regular season games and only 13 times in the 30-0 shutout of the Illini back in week 4. The stage setter for 2010, however, is the 37 attempts in the Rose Bowl as OSU carved up the exponentially over hyped parolees of Oregon. Anyhoo, knowing the run/pass ratio stood at just shy of 2:1, let's take a look at which positions were hauling in the 174 total completed passes:
2009 Receptions Breakout by Position

| Pos | Receptions | % of Receptions |
| --- | --- | --- |
| WR | 125 | 71.83% |
| RB | 29 | 16.67% |
| TE | 16 | 9.19% |
| FB | 4 | 2.30% |
As you can see, the WR's were the primary targets, as they should be on any team, however the TE's combined for just 9.19% of the completions. Now, I have no idea what the right balance should be as it's largely dictated by play calling and personnel but what kind of spread would you like to see this season? To further examine the completions, here's a snapshot of how each receiver figured into the offense:
2009 Receptions Breakout By Player

| Player | Receptions | % of Total Receptions |
| --- | --- | --- |
| Posey | 60 | 34.48% |
| Sanzenbacher | 36 | 20.68% |
| Saine | 17 | 9.77% |
| Small | 15 | 8.62% |
| Ballard | 14 | 8.05% |
| Carter | 13 | 7.47% |
| Herron | 11 | 6.32% |
| Boren | 4 | 2.30% |
| Stoneburner | 2 | 1.15% |
| Thomas | 1 | 0.57% |
| Hall | 1 | 0.57% |
Pryor clearly has a solid chemistry with Posey and when you combine Posey's ability to get open and the '09 Pryor sometimes struggling to get through his progressions, Posey easily led the team in receptions accounting for nearly 35% of the completions. On the flip, the tight ends combined to haul in just 9.2% of the catches. With Stoneburner's talent, Pryor's evolution and what seems to be the staff's desire to attack the middle of the field more frequently in '10, what percentage of completions do you want to see the TE's account for come fall? In the backfield, will Saine see more balls thrown his way this season? I tend to believe so, especially with no true third receiver yet to emerge. Sure, Taurian had his annual huge spring game but it's never translated to games and with Duron struggling to earn Tressel's permission to play, that leaves a bunch of unknown's vying for third WR minutes. Then again, Tressel might decide to utilize Stoneburner in formations in which he lines out wide hoping to create some mismatches in man to man coverage to make up for a lack of a legit third WR. Either way, it's exciting to ponder what the 2010 passing attack might look like thanks to the apparent maturation of Pryor and the number of weapons at his disposal. Regardless of which players become TP's favorite targets, I expect this team to light up the scoreboard at a prolific pace in their quest for a national title.