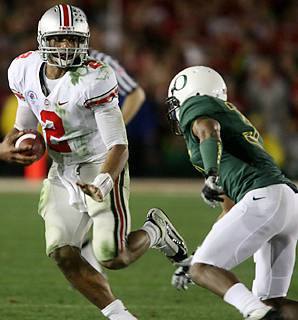 In the interminable void between the end of the spring football game and the start of fall practice, it can sometimes be difficult to fend off withdrawal symptoms that result from your football addiction. Being a long-time sufferer myself, I found that last year I was able to cope with the off-season by going back and watching some of the games that I saved on the DVR from the prior season. The games that got me through the 2009 void were Northwestern (high-scoring bounce back from that impotent loss to PSU), Illinois (revenge against the Zooker for the 2007 choke), and of course, Michigan (42-7, boo-yah).
The 2009 season was a winner in most respects, and so picking a few "feed my addiction" games might be difficult. Here's my choices for the top DVR games from last year.
ROSE BOWL: PRYOR TORCHES DUCKS
This is an obvious choice, if for no other reason than the most surprising stat of the season: 37 pass attempts. Coach Tressell fearlessly turned his QB loose, to the amazement of the Oregon defense. There are several great plays to remember as well: the game-clinching TD catch by Devier Posey, the long reception by Brandon Saine, several great runs by Terrelle Pryor, and one really great reception by Jake Ballard. When it comes to satisfaction, this game is like a Thurman Burger for your football appetite.
PENN STATE: REVENGE IN UNHAPPY VALLEY
This one was extra-special due to the pain inflicted by the aforementioned impotent loss the prior season. Penn State fans had taunted the Buckeye faithful for almost a year with endless reproductions of a picture showing Pryor looking downcast after the loss. Some of them even went so far as to create a T-shirt with the image of Pryor being consoled by the Nittany Lion mascot with a box of tissues. Well now, things changed a bit after OSU administered a 24-7 beating in front of over 110,000 shocked fans. Our own Jason summed up the feeling with one simple phrase: "Arm punts to all of you."
IOWA: BARCLAY COMES UP BIG
The game that turned out to be the de facto Big Ten championship game came in a very close 3rd in my estimation. This one had all the makings of an instant classic: a "cinderella story" involving a back-up QB who plays beyond his experience, a team rallying from behind in a hostile environment, long scoring passes, a kickoff return for a TD, and a thrilling finish in overtime as walk-on kicker Devin Barclay boots his way into Ohio State lore. In the end, the good guys prevailed. A great game, a great finish, and a great win. The only downside was that the game should have been well in hand prior to overtime. Perhaps when you are watching the DVR version, you can see if Nathan Williams was really offside on that pick-6 that would have given OSU a 31-17 lead.
There were other memorable contests in 2010 as well, including a rather routine victory over some endangered rodents up North. Did I leave anything out? What's your favorite game to re-watch in the off-season?