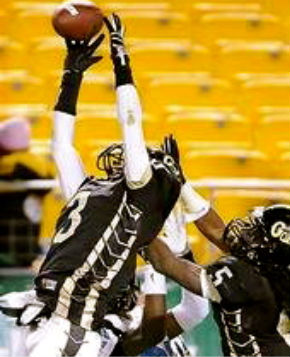 Gateway High School has given Dorian Bell and Corey Brown (2009 version) to Ohio State and puts out Division I players year after year around the nation. The Buckeyes know the Monroeville, Pennsylvania high school is a hot bed for recruiting and has taken an interest in a few of the Gators' top players in the recruiting class of 2011. One of the players high on OSU's list is Dondi Kirby, a 6-3/190 defensive back who can play either safety or cornerback at the next level. As a junior last season Kirby notched 43 tackles (5.5 for loss), 4 interceptions, 5 pass break-ups, and a forced fumble, while also playing a little bit of receiver for Terry Smith's team. While he was a little late on to the recruiting scene, Kirby has gained a lot of interest in the last few months and now holds scholarship offers from Ohio State, Iowa, Michigan, Pittsburgh, UNC, Wisconsin, West Virginia, and Illinois among others. Kirby, who won't decide on a school until later in the recruiting process, is sure to pick up more interest from top schools across the nation as he hits the summer camp circuit. We got a chance to catch up with Dondi and hear the latest on when he will make his college decision, what Dorian Bell and Corey Brown have told him, what he is looking for in a school, and more.
How many offers do you currently have? Have you narrowed your list down to a group of favorites?
Right now I have about 17 offers. I have no favorite as of now. I'm just soaking the recruiting process in and getting ready for next year.
What is the timetable of your recruitment? When do you want to make a decision?
I'm going to wait things out and probably decide on National Signing Day.
Will you take all 5 official visits? Do you know where your visits will be to yet?
Yes, I'm going to take all my visits, but I'm not sure where they will be to yet.
What do you like most about Ohio State?
What I look most about Ohio State is their urgency to win a championship every single year.
Have you spoken to Dorian Bell or Corey Brown about OSU? What have they told you?
I spoke to both Dorian and Corey. They told me it is a great school and that if you are good enough to play the coaches will get you onto the field.
What position do you think you'll play in college?
I would like to play corner back in college, but my size is great for a lot of positions.
What do you feel are the strengths of your game and what do you feel you need to work on during your senior season?
My strengths are my size, speed, hands, and power. I feel I need to work on my education in order to be more of a student of the game.
What is important to you when deciding on what school you will attend?
Tradition and a chance for playing time is what I will be making my decision on.
What is your summer schedule in regards to football and recruiting (camps, visits, etc.)?
I will be going around the country taking unofficial visits to a bunch of different schools, but that is all I know for now.
If you can give one message to Buckeye Nation what would it be?
MY one message to the nation would be thanks for the support and go Buckeyes!