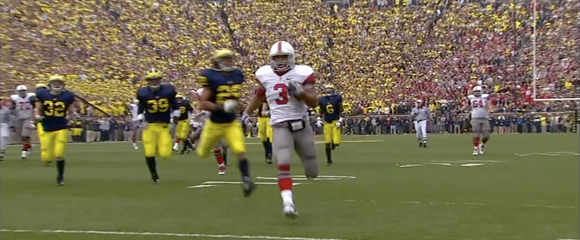 The team may be off today, but we're certainly not. With spring ball in full swing, we got together to debate some of the burning issues facing the Buckeyes heading into this season.
What do you make of the RB situation. Are there going to be enough carries to go around?
Chris: I think there's more than enough carries for the guys that deserve playing time. Admittedly, Saine surprised me big time with his performance last season and I still see Boom as a solid complementary back. The bottom line remains Saine and Pryor are the two best running backs on this team with Boom expected to get his totes to keep Saine healthy and fresh. Even with all the nagging injuries last year, only 17 total carries separated Saine (145), Boom (153) and Pryor (162). No matter how much TP has evolved as a passer, he'll always be a difference maker in both designed runs and scrambles. Maybe I'm refusing to learn from how I shaped my former opinion of Saine, but until Berry actually stays healthy long enough to see the field, I refuse to get excited or demand he get his look. I'd much prefer Jordan Hall seize some of Boom's carries because he's shown flashes of what he can do, especially in space.
Alex: I think Saine will step up as the #1 and the rest of the reps will be taken by Herron first. Boom better watch his tail though, as Berry, Hall, and Hyde will all be creeping up on him come spring. Don't forget Jermil Martin who had some good runs against Minnesota this past year. I say you see Saine get 65% of the touches, Herron get 25%, Berry get 10%, and Hyde get 10% (short yardage). I think Hall will red-shirt to save a year.
Joe: Since I wrote about this on Monday I've been meaning to add my thoughts. The carries will be divided up as follows: Saine and Herron - Will be 1 and 2 in the fall, with Saine getting the bulk of the time. Hall and Berry - One of them will win the "small back" reserve slot and the other will transfer. Hyde and Smith - One of them will win the "big back" reserve slot and the other will redshirt. Martin - will move back to fullback and send Adam Homan back to the scout team.
Jason: It's certainly a nice problem to have, that's for sure. If nothing else, Tressel is loyal and he'll ride the two experienced horses for much of the season. Saine showed late last year that he has what it takes to be a very good college running back and he'll be running behind an experienced and talented line. I'm not as high on Boom based on how he finished last season, but 2010 is a new year and he's shown flashes in the past. As for the youngsters, I agree with Joe: we'll see some carries out of a smaller and larger back depending on the package.
Keith: There won't be enough carries to make everyone happy but that's not a bad thing. Who really wants to see five different running backs get significant carries? I don't and I don't think the staff does either. But, the situation is a great one if you're an Ohio State fan because the glut of talent will make for an intense battle this spring and fall. The depth will almost assuredly breed production and my money is Brandon Saine getting the nod as the top back. However, Saine isn't immune to having some funky games so Boom Herron will still play a large role and I look for both Jordan Hall and Jaamal Berry to be our change of pace carriers. I don't foresee much work from the others aside from garbage time unless one of the above comes down with an injury.
Luke: Has the situation really deviated all that drastically from last year? I expect much of the same. Health permitting, it will primarily be a two back show, with maybe a third younger guy creating some excitement or dancing around and getting tackled for a one yard loss here and there.
Should we be worried about Pryor's knee? Or the ESPN Insider article speculating some of his teammates were fed up with his act?
Keith: We probably should be worried insomuch we don't want to rush him through rehab during the spring. I know he has recently said his knee feels great which is positive but the return to full-tilt action should be on the cautious side. Let's face it, he is the franchise. Come September, though, I doubt I'll be thinking much of the injury as he turns the corner for another first down or throws dart to Dane for six.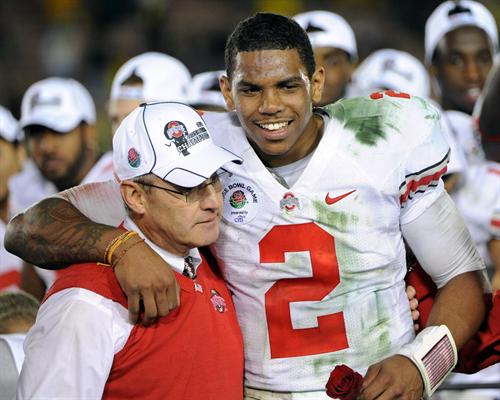 How can you be sick of this act?
Luke: Not at all. TP's work ethic to rehab will only be matched by that of his on the field hustle. If he was that filthy on good wheel, I shudder to think how filthy he'll be with the spare tire replaced with a Yokohama. I thought that was a Bucknuts "rumor", no? I think it's unrealistic to assume there's aren't some sentiments in any locker with a guy of TP's profile like this, but this also isn't this coaching staff's rodeo. I'd be shocked if this was a legitimate issue or there were any playmakers amongst the jealous (assuming of course that's even true).
Alex: I think Pryor's knee is definitely worse then we all thought, but they will be cautious this spring. There is no way JT is putting this fall in jeopardy and TP will be fine when it matters most.
Chris: Although it's clear TP's knee issue wasn't as innocuous as we were initially led to believe, I can't say I'm worried about a recurrence. From what we saw and read from the 6am conditioning, he was full tilt. That's good enough for me. Plus, I can't imagine Tressel allowing him to endure much spring contact - it'll mostly be about establishing timing with the receiving corps.
Joe: Pryor was hurt but he had surgery and by all accounts he is doing fine. If Willis McGahee can come back strong from that gruesome injury in the Fiesta Bowl, then surely Pryor will be able to come back strong from an injury that didn't even keep him off the field. As for the teammate speculation, I will start worrying when I see guys drop passes like Robiskie did in 2008.
Jason: It's your franchise, so you always have to be worry about knees going bad, but I've heard rumblings that the surgery was completely voluntary and even caught some members of the staff by surprise. Even if it is a slight concern, outside of scrimmages, he's not going to get touched this spring. And even in the scrimmages, taps to the shoulder pads will bring a quick whistle when #2 is back there.
Is this finally Mike Adams time?
Joe: Between Adams and Hall, one of them is going to step up and have a great season. It would be nice to see both of them do it, but perhaps that is too much to ask for. Since Shugarts mostly played well last year, I will be satisfied when one of the other two lives up to his billing.
Keith: Unfortunately, I don't think we'll know until maybe late in the season. I can see this as another tackle by committee situation until someone finally takes control and owns the spot. It could be Adams but he has yet to show the toughness and ability needed to be a full time starter.
Alex: Mike Adams just needs to stay off the reefer and he will be fine. My theory on all OSU recruits is that if they work hard enough they will play and get a shot at the league. I don't think Adams has worked hard enough and until he does I don't see him sniffing the first team. I like Shugarts/Hall to start at the tackle spots and if Miller or Adams can give them a run that would be great.
Chris: Until Adams proves he wants it as much as we want it for him, I'm content with Shugarts and Hall. Something tells me Mike's best shot is to share time with Shugarts as I expect Hall to really solidify his spot leading up to the opener.
Jason: Adams is a big piece of how far this team goes. Though he hasn't done a lot in the past two years to lead me to believe he seizes the position, the mere thought of him doing that and playing up to his huge potential has me dreaming about crystal footballs. Of course Hall could step in and be the same force if things go according to plan, but you all things being equal from a talent and effort perspective, I'll take the upperclassmen every time.
Luke: I was unclear whether we were on puff, puff, or pass?
How worried are you about the lack of experience at safety?
Alex: I'm not too worried, as I've heard for a year and a half now that Orhian Johnson is ready to step in. I think Jermale Hines will be a solid strong safety and with Barnett, Oliver, Wood, and company backing up, I think OSU is in a good position. If Tyler Moeller is playing safety that makes me less worried and if he is playing the STAR, I think our secondary might be better then last year's.
Chris: Losing a leader and playmaker like Coleman will hurt early on but I have full confidence in Hines and blind confidence in Johnson. I like his size and from what we were able to see in practices and scrimmages, I saw a physical kid that just needed to fully understand the defense and his role in it, which comes with practice and experience. As Alex said, if Moeller can come back, that's a huge boost to the pass rush which would take some pressure off the secondary is passing situations. There's also a long list of young guys - we just need one to emerge as a contributor. Oh, and Russell is finally out of eligibility so there's that.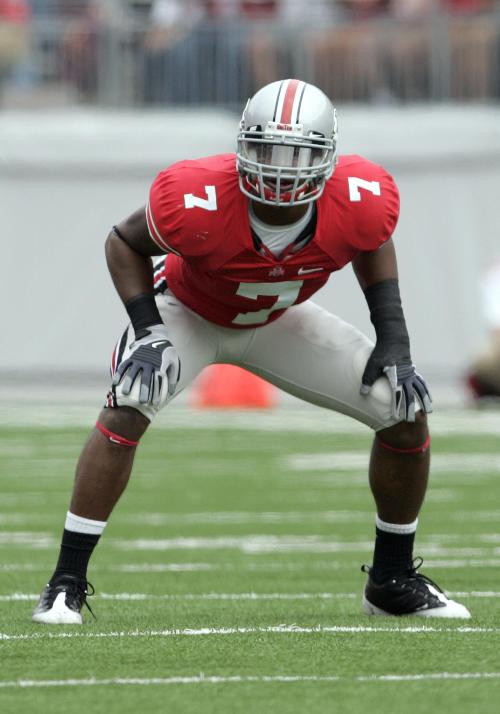 DESTROYER
Jason: As Brian Cook would freely admit, the Buckeyes have a habit of turning three stars into dominant players at the safety position (while the Wolverines typically turn four and five stars into open field turnstiles). Hines already has a ton of PT under his belt and as Alex mentioned, people close to the program have been raving about Johnson for quite some time. Add in Moeller, if he's a go, and that's a pretty solid unit.
Joe: At safety I don't have a ton of concern. This has been a position of strength for most of coach T's tenure, and I expect it will continue to be so. Jermale Hines has certainly shown his worth in the last two years and I think he will do well as a full-time starter at safety. Orhian Johnson and Nate Oliver have played a lot on special teams and so I think they are as prepared as they can be for full-time duty, whoever wins the job. I also look for Jamie Wood to contribute some here.
Keith: I'm a little more uncertain than the others. I'm not losing sleep over the position but we have traditionally been fairly zone-heavy at times with our defenses and having experienced, disciplined safeties is key. I love the potential of Orhian Johnson and we know what Jermale Hines can do already (Moeller, too) but they are largely haven't been full time starters. In Johnson's case, he hasn't played much at all but does seem to have a high-end abilities and Hines has been more of run support-type defender. But, as Luke says, it's hard to worry too much about the group when Heacock and company have really turned out fine defenses year after year.
Luke: Every time in the last decade or so i've been worried about an area of weakness, inexplicably that group has turned into an area of opportunity (the 2007 interior line aside *PTSD shiver*). JT and Heacock have been collecting a mean war chest of talent during the last couple of years, and I assume some cats (potentially some we haven't heard of with respect to their on the field actions) will be making plays as per usual when it matters in October and November.
Who will win the Childress award this spring?
Keith: I'm going to go with defensive end, Solomon Thomas. He was a buzzsaw last year when he had a great spring and registered seven, yes seven, sacks in the jersey scrimmage. In tremendous Childress form, we really didn't hear a peep from him during the season. Then again, maybe has a great spring again and actually carries it over to the season.
Chris: Wasn't that renamed in honor of Mr. April himself, T-Wash?
Luke: Chris is 100% spot-on, gotta be T-Wash.
Joe: In order to earn the Bam Childress award (a.k.a. Mr. April), you need to have a huge spring and then disappear in the fall. Solomon Thomas put in a strong bid last April, only to see T. Wash come and steal it away at the last minute. Maybe this year Thomas will go the distance and take the Childress award for himself.
Jason: Don't sleep on Berry. I say that not because I think he'll disappear on the field, but because I don't think he'll get the touches he'll need to backup what I expect to be a spring in which he generates some serious buzz.