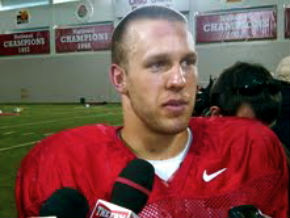 It's been just over a week since the Buckeyes opened up their spring practice sessions that will commence on April 24th with the annual Scarlet and Gray Spring Game. While the players are still getting the rust off from the lull between their Rose Bowl victory and the beginning of April, this period is giving the coaches some good opportunity to work in a lot of fundamentals and evaluate players in some early position battles.
We were on hand for today's practice and were not disappointed in what we saw out of the Buckeyes. There are certainly going to be some good battles to the end for open positions, especially at left tackle, strong-side linebacker, and at receiver (after Posey and Dane), but most of the two-deep is looking pretty solid and the team looked very comfortable playing together, even for it being so early into the spring.
Here are some notes from today's practice, as well as some video of Brian Rolle, Luke Fickell, and Ross Homan taken after practice:
Practice tempo has been much faster this spring and both coaches and players attribute that to the staff's trip down south to LSU, Oklahoma, and Alabama.
Terrelle Pryor looked more comfortable then we have ever seen him. He really seemed to go through all of his progressions and made the right throws. You can tell he's reacting more to what he sees, rather than doing more thinking when the ball is in his hands.
Jordan Hall, who switched him number from 29 to 7, looked very good. The coaches had him running short routes out of the backfield and he seemed very fluid when catching the ball on the run. Doc Tressel said yesterday that Hall will not red-shirt this year, and if he keeps the performance of today up, he will be on the field quite often.
Unlike Hall, Jaamal Berry didn't have a great day. He had a big fumble (caused by Jordan Whiting) when the first teams squared off and didn't stand out in any drills. Him and Hall were back receiving kick-offs though, so his speed and athleticism may at least be used in that capacity this year.
I'm going to regret writing the next sentence, but here it goes: There were a lot of balls thrown Jake Stoneburner's way. Seeing is believing so don't get too excited, as we write about balls going to the tight ends every spring and fall camp, but never see results in actual games. If Stoney's number is called this fall, the line won't be left without help, as Reid Fragel was working with the ones. Many think Fragel will eventually be a lineman, but if today's practice was any indication, I think he's going to be a pretty good tight end at OSU.
DeVier Posey looks just outstanding and don't be surprised if this is his last spring in Columbus. If Posey leaves after this year, the future is bright, as we were very impressed with Chris Fields. The speedster excelled in 1-on-1 drills with the corners and made some nice catches in the corner of the end-zone.
JB Shugarts got most of the reps with the first team at right tackle and Mike Adams and Andy Miller split time as his counterpart on the left side. It looks like the members of Block-O have the leg up on those two positions and as long as they perform well and stay healthy, they should lead for the starting gigs as the team heads into summer. Miller is persistent though and will fight to the end for a spot.
On defense, Ohrian Johnson is playing free safety and looks comfortable calling things out that he sees when the offense lines up, as well as playing in space. He is a very smooth athlete and has deceptive speed in the secondary that should help in coverage.
One secondary player who did surprise many observers was Donnie Evege. Evege is most known for his emergence on special teams last year where he filled in valiantly for Shaun Lane, but is a serious player to get some minutes as the nickelback. Chimdi Chekwa is out of practice with an injury right now, so Evege has been getting reps with the first team and looks impressive.
With Andrew Sweat out, Etienne Sabino is filling in at the SAM position and appears to have finally got things together. While we won't know for sure until full pads go on and live action is happening, Sabino looks really good both in coverage and in rushing the quarterback and seems to have a better grasp on what the defense is doing as a whole. Sweat will give him a run for his money in fall camp, but until then, the SAM is Sabino's job to lose.
Corey Brown was made a corner back only last year when he arrived from Gateway High School as a two-way star. While there is no questioning his athleticism, Brown seems to be facing some road bumps in the transition and as of now, doesn't appear ready to see the field this year other than in a special teams tole. In 1-on-1 drills with the receiver, Brown repeatedly got beat and even fell down on a Grant Schwartz juke move. When Grant Schwartz is breaking your ankles you know you've got some work to do.
The team did some special teams work at the end of practice with kick-offs and Drew Basil got the majority of the reps. The only member of the class of 2010 who enrolled in time for spring practice looked strong kicking the ball and could push Devin Barclay for kick-off duty. All three players, Barclay, Ben Buchanan, and Basil were seen kicking at some point during practice and will compete for the position through the fall.
Players in yellow jerseys (limited action/no contact) were Brandon Saine, Carlos Hyde, Chimdi Chekwa, Andrew Sweat, Travis Howard, and James Jackson. Jermil Martin was in a blue jersey and was working with trainers on the side.
Columbus Eastmoor Academy DB Ron Tanner and Greenwood (IN) DL Joel Hale were in attendance today. The Buckeyes are in pretty good shape with Tanner and could get a commitment by the end of spring ball. Hale was just offered and was really getting his first real look at OSU (although it was his second visit). Jim and Doc Tressel both took some time out of practice to speak with Hale and his father. Other reports had New Jersey lineman Angelo Mangiro in town today, but we did not spot him at practice. A 2012 recruit was in attendance as Columbus St. Francis DeSales RB/DB Warren Ball dropped by with some guests. At 6-1/200 Ball has pretty good size to go along with electrifying playmaking ability, and could be in line for a Buckeye offer not too far down the road.
Marcus Freeman, who recently retired due to a heart issue, was working with the linebackers. Freeman is finishing his Master's degree in Sport Management this fall and will be an assistant with the team.
Connor Smith and Jack Mewhort got into it a bit upon coming inside the WHAC from the outside field. The cause of the verbal fight is unknown, but we do know that John Peterson and Mike Adams did their part to break the two up. Good to see Big Mike taking on a leadership role this spring.