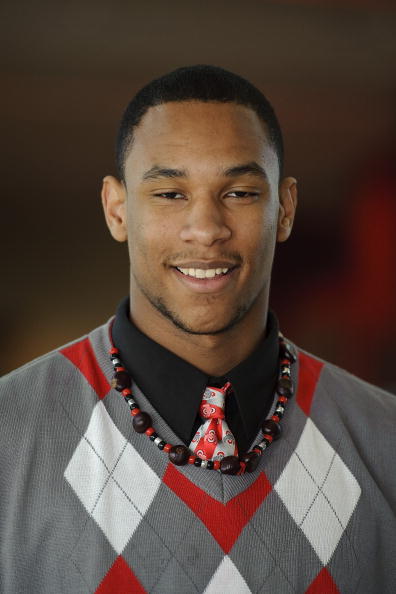 The man has style.
As if playing in your home town wasn't enough pressure, how is playing in you future home arena against some of your best peers? Oh yeah, and you were just released from the hospital a few hours ago. It sounds like a tall order, but Columbus Northland C Jared Sullinger did just that while also garnering MVP honors in the McDonald's High School All-American game.
After being hospitalized earlier in the day for dehydration, Sullinger was released hours before the game amid swirling rumors that the main attraction of the top high school basketball showcase might not play. But, apparently, nothing was keeping the Ohio State signee off the court.
"I don't know what got into me," he said after the game. "I just got so excited."
Sullinger finished with 22 points and seven rebounds as he led all scorers despite the West knocking off the East squad 107-104. Fort Wayne (Ind.) Bishop Luers forward DeShaun Thomas chipped in 11 for the East as the only other Buckeye signee, though he definitely had some rough spurts in the game (including getting blocked a couple of times).
Sullinger and Thomas are both looking forward to getting things going for the Buckeyes, but know that there is more work to be done. Both need to retake the ACT. Sullinger did not mention a specific goal, however, Thomas needs to improve his score one point to 17.
After recovering from what is being called food-poisoning, Sullinger delivered a star performance after being injected with an IV at the hospital. One would have had no idea watching him dominate this game, giving the home crowd "ooh" and "ah" moments, especially after he teamed with Thomas to provide the last seven points of the game for the East squad.
For a guy his size, he has soft hands and amazing footwork. Further, he can run the court and appears to enjoy triggering the break after snatching a rebound and looking up court.
ESPN had the following to say about his performance:
No one has ever doubted Sullinger's skills. He has the best hands, feet and feel for the game of any player in this class and it's not even close. At the college level, he has a chance to be an All-American from Day 1 at Ohio State. He's not a great athlete but that's the only thing that's missing from his package. People fixate on Sullinger's marginal athletic ability, but they shouldn't. Most coaches would rather have a guy who can play than an athlete who is still developing.
We like.