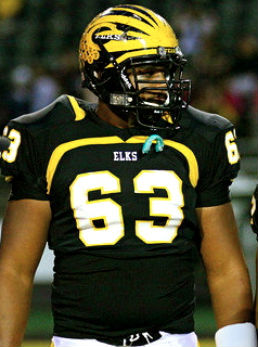 AJ Hawk, Mike Nugent, and Kirk Herbstreit are some of the greats to have come from Centerville High School to go on to play for the Ohio State Buckeyes. Michael Bennett could be next as the Elks star lineman is high on the Buckeyes' wish list and has mutual interest in the Scarlet and Gray. Bennett, a 6-3/270 two-way lineman at Centerville, is being recruited by some of the best schools in the country to play on either side of the ball. The Buckeyes want Bennett to play defensive tackle and it's convenient that that's where the
Army All-American
wants to end up at the next level. Besides OSU, Bennett holds offers from Northwestern, Notre Dame, USC, Nebraska, Michigan, Alabama, Florida, West Virginia, and many others. We caught up with Bennett to discuss the latest on his recruitment, what he needs to work on before he gets to college, what is important to him in his search for a school, and more. Also, be sure to check out Bennett's highlight video following the interview to see why Jim Tressel wants him in Scarlet and Gray so badly.
What is the current status of your recruitment? Do you have a list of favorites? What visits do you have planned in the near future?
Right now I'm leaning strongly towards both Northwestern and Ohio State. I just did a two day visit to Northwestern and I'm just visited Ohio State on Tuesday.
Have you spoken to any of the current players who have committed to OSU or any of the players OSU is currently recruiting?
I haven't spoken to anyone that has commited to OSU or any of the players they are currently recruiting.
What are you looking for in the school you will attend?
I'm looking for solid academics, a great medical program, and competitive football.
On the field, what are your strengths? What do you feel you need to work on during your senior season?
My strengths on the field are that I'm very explosive and aggressive, and I can pick up on how to beat the man over me pretty quickly. I still need to work on being relentless and using my hands more on defense.
What current/former college player do you compare to? What current/former NFL player does your skill set compare to?
I don't really follow college football or the NFL closely enough to know who I compare to.
What position do you think you'll play in college, Defensive Line or Offensive Line?
I'm going to play defensive line in college. Some schools are recruiting me for just offensive line, some just defensive line, and others are saying I can choose.
Who else is recruiting you hard other than Ohio State?
Northwestern, UC, and others are recruiting me pretty hard. Most of the people that are recruiting me are putting forth a large amount of effort.
If you could tell Buckeye Nation and your fans one thing, what would it be?
I'd tell Buckeye Nation that I am very interested in Ohio State, but nothing is a guaranteed move. Ohio State and Northwestern are both very high on my list. Also I want to let them know that it's nice to be supported.
HIGHLIGHTS