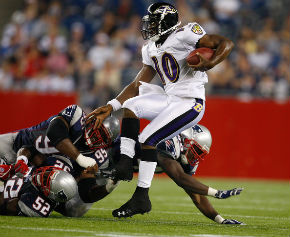 There has been plenty of debate following the 2007 National Championship Game of whether Troy Smith can be a starting quarterback in the National Football League. After defying all odds at the college level and going from kick returner/athlete earlier in his career to Heisman Trophy winning quarterback during his senior season, Smith looked poised to be a first day draft selection, most likely in the third round of the draft (of course back when the draft was two, not three days, and the first three rounds were on the first day). That thought suddenly collapsed though after a horrid MNC performance in which Derrick Harvey and company ate the Buckeye offensive line apart, Roy Hall felt the need to jump on Ted Ginn's foot, and JT decided running the football wasn't a focal point of the Buckeye offense. Troy Smith was then labeled as a player whose 6-foot frame would not be able to succeed against the aggressive defensive lines of the NFL and fell to the fifth round of the 2007 NFL Draft.
The Ravens brought in Smith to play behind Kyle Boller and hoped that he would develop over time into an eventual success story. In his rookie season, Troy played in four games, throwing for 452 yards and 2 TDs against 0 interceptions, while completing 40-76 (52.6%) of his passes. He also rushed 12 times for 54 yards (4.5 avg) for a touchdown, showing off the talents of using his arm and legs to beat teams that so many coveted during his glory years in Columbus. With this short performance people started to believe Smith could actually have a future in the league and he entered training camp in summer of 2008 with a legitimate shot at the Ravens starting job.
In the spring of 2008, the Ravens drafted Joe Flacco out of Delaware and while it was regarded that he would be the team's franchise quarterback of the future, Smith was still the front-runner to be the starter for the 2008-2009 campaign. Things were looking good for Troy through fall camp, but right before the pre-season he developed tonsillitis and a blood clot in his neck that caused him to miss extensive time and lose 20 pounds. The time he missed severely stunted his development and ascent to the starting position, as during his absence, Joe Flacco played so well that he was able to claim the job as a rookie and never turned back after that. Troy was able to get healthy enough during that season to see some meaningful snaps as a wildcat-type quarterback, as well as play in mop-up time. He appeared in six games that season, but only threw four passes, completing three for a total of 82 yards and a one touchdown against zero interceptions. Troy ran for just 24 yards on only 9 carries, but despite his lack of play-making opportunities, it became clear that the Ravens coveted Smith as a high-valued quarterback on their roster and made it known they had no intentions to trade him in the off-season.
This past season, Troy appeared in four games and went 5-9 for 24 yards with one interception, while rushing eight times for 31 yards and a touchdown. It became very apparent that the Ravens still liked Troy, but it also became clear that he was getting frustrated sitting on the bench behind Flacco. Flacco and Smith have a great relationship, but he felt he was ready to be a starter in the NFL and right before 2010 struck, Troy and his agent requested a trade from the Ravens for the upcoming season. The team said at the time they would grant his request after the season, but recently John Harbaugh has not hid his desire to keep Smith on the Ravens roster going forward. Things have been quiet since Harbaugh spoke in February until recently when free agency began and teams started evaluating talent for this year's draft in April.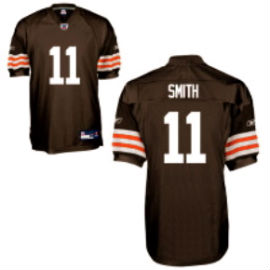 This past weekend Troy Smith made it clear not only does he want a trade, but he wants to come home to the Buckeye State and become the starting quarterback for the Cleveland Browns. Apparently he wants to take over behind center for his hometown team so bad that he's "willing to crawl from Baltimore right now". At first glance this was a scenario that Browns fans have thought about since draft day in April of 2007, but now it actually may seem to have a very realistic chance of happening, even with the team's recent acquisition of the versatile Seneca Wallace.
The Browns are in a bind as Derek Anderson has not lived up to expectations since signing a mega deal a few years ago and Brady Quinn has either been battling injury or playing Jekyll and Hyde with the Browns starting gig. Wallace is certainly a sensational athlete, but his throwing ability is average at best, with his value possibly coming in the form of trick formations where he would line up out wide or in the wildcat formation. There are options in the draft, as the Browns hold the #7 pick in April and either Jimmy Claussen or Sam Bradford should be available when they pick. Do the Browns really want to sit back and develop another rookie though? I don't think so, as Mike Holmgren didn't come to Cleveland to sit around and wait. He wants to win now and although Troy Smith is by no means proven as an NFL starter, the move makes sense to bring him in to compete for the position. Troy is a restricted free-agent who was offered the original draft tender, meaning if the Browns wanted to straight up sign him to an offer-sheet that they would only have to give up a fifth round pick if the Ravens chose not to match. The team also has the option to work out a trade with the Ravens and the price tag on that trade at worst would be a fourth round pick.
I think either of these moves would certainly be worth it for the Browns as they would get a player who has ties to the team and its history, would draw a ton of Buckeye fans' attention to the team, and would give them a player who could possibly blossom into an extremely effective NFL signal caller. Troy comes at a low cost to the Browns in both trade/tender parts as well as salary needs and when given the chance to play significant minutes during his career has more than held his own. I think he clearly showed during his time at Ohio State and during the time I have watched him in the NFL that his 6-foot "disadvantage" is insignificant, and I know it's a pretty repetitive argument, but I'm pretty sure the Super Bowl winning quarterback possibly stands a smidgen below Troy's height. The weapoons he posseses by being able to beat defenses with both his arms and his legs are not too common in the professional ranks, and if you're a Browns fan you can't tell me you wouldn't want to see this, this, this, this or this happen in an orange helmet.
So, what do you think? Is Troy Smith and NFL starting quarterback? Should the Browns try and get Troy Smith? If the Browns acquired Troy, would he be the frontrunner to start?