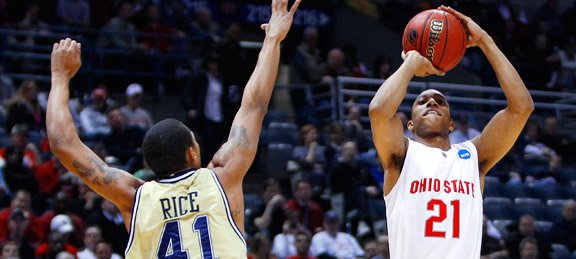 Release. Rotation. Splash.
Jon Diebler scored 17 points in the 2nd half on 6/9 shooting, including five points during a key 14-2 spurt, pushing Ohio State up front 46-32 before the Buckeyes held off a late Georgia Tech run to win 75-66 this afternoon in Milwaukee.
The victory sets up a Sweet 16 rematch (Holy '07)with Tennessee Friday night in St. Louis.
In what evolved into a balanced attack, it was mostly Evan Turner early as he led the Buckeyes with 16 points in the opening half - a half that set basketball back a few years - though OSU still managed to take a 28-26 lead to the locker room thanks to Turner, seven points from David Lighty and Tech's mix of sloppy play and foul trouble to bigs Derrick Favors and Gani Lawal.
Turner's bounce back effort consisted of 24 points (8/19 FG), nine boards, nine dimes and nine turnovers. He and Lighty were able to stave off the late Tech rally hitting 4/6 and 4/5 from the stripe in the closing 1:39.
Meanwhile, Diebler kept OSU comfortably in front much of the second half hitting four triples and converting a 3-point play from the 12 to five minute mark.
David Lighty also had a stellar day with 18 points, three boards and three assists while frustrating Favors and Lawal in support of Dallas Lauderdale's four points, four boards and three swats in 31 minutes of physical play.
Wil Buford never really got in the flow offensively with ET, Diebs and Lighty dominating the basketball but he still managed an active nine points (all in 2nd half), eight rips and three assists.
The zone gave what played like a poorly coached Yellow Jacket squad fits all night as they continuously rushed deep looks from the perimeter while committing an upset-killing 21 turnovers leading to 13 Buckeye points. I'm not saying I've seen enough of Hewitt to know, but there's no question GT struggled with decision making and fundamentals in a game where that could've been the difference considering OSU's 18 turnovers.
The Buckeye D also held Tech to 41% from the floor and a dismal 20% from distance (4/20) working in tandem with the non-stop turnovers.
Offensively, OSU shot 49% overall and 38% from deep.
It looked like this one could be close early as the Tech defense forced OSU into 3/13 from the floor in building a 16-12 lead. The foul prone Jackets couldn't sustain, however, as the Buckeyes took advantage of the early bonus hitting 8/8 free throws after two early misses from Lauderdale and Turner (12) and Lighty (7) scored OSU's last 19 points of the half.
Lawal led Tech with 11 points in only 21 minutes of action (4 fouls) while fellow big Derrick Favors was also saddled with foul trouble playing just 24 minutes.