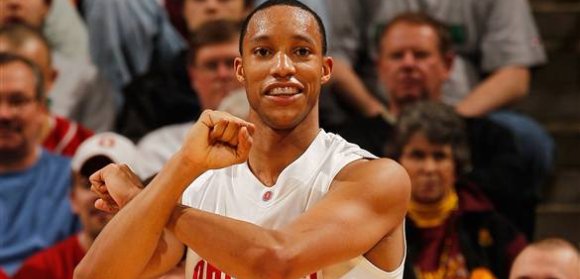 Get your brooms out.
Ohio State clinched a sweep of the regular and postseason conference championships with a 90-61 soul stealing against the overmatched Minnesota Golden Gophers this afternoon in Indianapolis. The win still probably doesn't land the Buckeyes a #1 seed in the Dance but it assures a #2.
Evan Turner wrapped up MVP honors with a 31 point, 12 rebound, six assist performance giving him back to back 31 point games. Turner had plenty of help as David Lighty played a fantastic game finishing with 20 points, eight boards and fve dimes and Jon Diebler stood out recording 19 points and playing some excellent defense on Minnesota's three point bomber, Blake Hoffarber (0/3, 0 pts).
Leading just 42-40 at the 13:42 mark, Ohio State unleashed one of their patented runs, this time a 20-5 blitz, pushing the Buckeyes to a 65-45 lead with 7:12 remaining. The run was the ET, D-Light and Diebs show. Turner scored the first five points with a baseline j and a triple from the top of the circle then Lighty took a turn scoring six straight on an array of determined drives to the rack. Diebler then hit a trey and Lighty added one of his own before Diebs drained another to complete the onslaught.
Not getting the desired camera time, Ed Hightower then T'd up Buford but it didn't slow down the Buckeyes as they ran off a couple more buckets, hitting 12 straight shots at one point. Sick.
Ohio State held a 33-30 lead at the break in what can only be described as a sloppy effort from both teams. The Buckeyes committed eight turnovers and Minnesota nine, most were unforced, not the product of insane defense. That said, Diebler did a nice job limiting Hoffarber's touches - he took just one shot in a scoreless half. The Gophers also shot a less than impressive 39%. Diebler paced the OSU attack with 10 points (3/6) while Wil Buford and David Lighty added six apiece. Turner put up a pretty stat line of nine points and eight boards but he also turned it over three times and took some ill advised shots. In the post, Dallas struggled once again adding just two points and zero rebounds in the first half before picking up two fouls. Kyle Madsen completely outplayed the big fella on the weekend.
For the game, OSU shot 59% from the field and 57% from distance. Defensively, they won the glass 33-22 and held Minnesota to 42% shooting.
Now, we wait for the brackets...