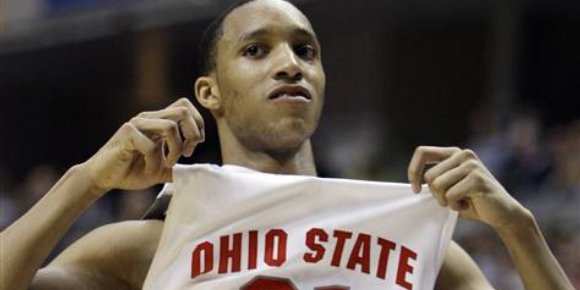 Survive and advance. In another thrilling game in the Big Ten Tournament, Ohio State got 31/10 from Evan Turner, 22/10 from Wil Buford and big shots from David Lighty in the waning moments to capture an 88-81 2OT victory this afternoon in Indianapolis. The win means OSU plays the winner of Purdue/Minnesota for a chance to sweep the regular and post-season conference titles.
Ohio State looked like they might be running out of mojo after a 13-4 run to start the 2nd half paced by nine straight points from Demetri McCamey gave Illinois a 50-39 lead with 12:58 to play but the Buckeyes responded with a blistering 20-0 spurt. The unbelievable turn of events saw OSU shoot 7/11 getting eight points from Jon Diebler, seven from Turner and six from Buford. The WB got it started with a circus shot in the lane and capped it with a triple while the defense held Illinois scoreless or five minutes (0/7 FG). The result was a stout 59-50 lead with 8:01 left but McCamey wouldn't go down without a fight leading what became a 16-7 blitz capped by two free throws giving Illinois a 66-64 lead with :31 remaining. Thankfully, Turner responded with a tip-toe drive along the baseline before hitting a tricky lefty scoop to tie it at 66-66 with :15 left. Following a timeout, the OSU defense held strong to force overtime.
Illinois took a 75-71 lead after a Bill Cole tip in with 1:25 left but Turner would get convert two free throws and after a missed three from D.J. Richardson, The Villain would score off another driving layup with :27 on the clock giving him seven of the nine OSU overtime points. Again, the OSU defense stood tall keeping Illinois from getting a shot off to force the second overtime.
Finally, Ohio State took control on the second OT as Jon Diebler buried a triple on the opening possession for a 78-75 lead they wouldn't surrender. Illy would stay close thanks to answers to Turner layups (one a nasty spin starting from the right elbow resulting in a lefty finish) from Richardson and Tyler Griffey. Wil Buford responded with an aggressive drive down the middle for an 84-80 edge at the 2:09 mark but Turner fouled out just over a minute later sending Griffey to the stripe. The big boy hit only one of two free throws cutting the lead to 84-81 but Lighty made sure there wouldn't be a third OT, taking over for Turner with two determined drives in between an Illini turnover sending the Buckeyes to the title game tomorrow at 3:30pm.
On the day, Ohio State placed four in double figures with Diebler's 14 and Lighty's 12 complementing the big nights from Turner and Buford. It sounds almost silly to say it after a 31 point, 10 board, six dime performance from ET but he really struggled at times leading to 10 turnovers and a few ill advised shots as he became frustrated in spells similar to yesterday. Still, he was clutch when it mattered hitting 10/12 from the line and 10/18 from the floor plus the already mentioned seven of nine points in the first OT.
Though Illinois had likely already earned a Dance card they battled all day putting four in double figures led by McCamey's 22. Mike Davis also had a huge game with 13 points and 18 boards.
Interestingly, Thad Matta chose not to rely on the 1-3-1 zone that stifled Illinois in the two regular season matchups however his decision to unveil the full court press after Buford's circus shot was a big reason the Buckeyes went on the 20-0 surge.
The bench also played a role today as Kyle Madsen was forced into 32 minutes due to Dallas Lauderdale taking an elbow to the temple just over two minutes into the game. Terwilliger-Lite responded with four points and seven boards while Jeremie Simmons logged 10 minutes (3 pts, 1 asst) after Diebler picked up his 2nd foul midway through the first half.
For the game, OSU shot 48% from the floor including 36% from deep (9/25) and had a sloppy 18 turnovers. Defensively, the Buckeyes held Illy to 41% overall and 33% from distance (10/30) while losing the glass 42-37.
Ohio State started strong racing out to a 15-7 advantage before surrendering a 12-0 run giving Illinois a 21-15 lead with 7:34 left in the half. The blitz was made possible by zero offensive execution as OSU went 0/6 from the floor with four turnovers during the six minute drought. Buford would finally stop the bleeding with a triple from the right wing, one of the many big shots he would hit as his 11 first half points (4/8) helped keep the halftime deficit to six at 37-31.
Turner scored 10 points (3/6) but he was largely to blame for the poor offensive half as he committed five turnovers thanks to a combo of forced passes and attempted steamroller drives into the lane when there was really nothing there. The more he drove with his head down and didn't get any relief from the refs (not that it was deserved) the more frustrated he became in one of the worst 20 minutes we've seen from the best player in college basketball.
Of course, Turner wasn't alone in his struggles as Diebler was a non-factor after picking up a nickel-dimer, his 2nd, with 10:14 left in the half and Lighty couldn't pick up any slack hitting just 1/5 shots (2pts). Wasted possessions simply killed OSU as their nine turnovers led to 14 Illini points.