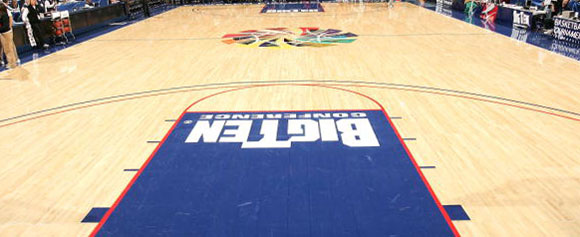 If you are into mediocre, yet desperate basketball, you're in luck this afternoon as the bottom-feeders of the conference kick-off the 2010 Big Ten Men's Basketball Tournament.
First up, and of special interest to Buckeye fans is #8 Michigan and #9 Iowa, tipping off on ESPN2 at 2:30PM ET. The Wolverines swept the season series, winning large at home and by two in Iowa City three weeks ago.
#7 Northwestern and #10 Indiana take the court 25 minutes after the conclusion of the first game in a rematch of the season finale won by the Hoosiers in Bloomington. The Wildcats are 19-12 and will need a tournament championship to lift the stigma of being the only BCS conference member never to have made the NCAA tournament. Bet they'd like to have back the losses to Penn State (twice!), Iowa and Indiana right about now.
Finally, in the nightcap slot, #6 Minnesota takes on #11 Penn State at 7:30PM ET on the Big Ten Network. The Gophers swept the season series, winning by less than five each time, so this one could go either way -- especially with the Nittany Lions showing some signs of life on the basketball court after that 0-12 conference start.
Remember kids, watching awful basketball is traumatizing. Your support group is here.