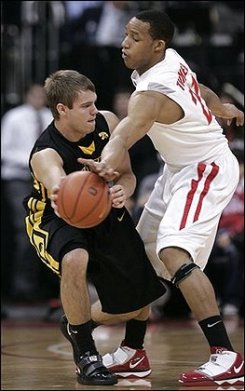 Another game, another Magical display from Evan Turner. The all-purpose pimp had another POY effort tying his career high with 32 points along with seven boards, five assists and four steals against zero turnovers in 68-58 victory over the Hawkeyes bringing the Buckeyes (7-3) to within one game of the first place Spartans.
While this one never materialized into a blowout, OSU didn't allow Iowa to hang around as long as they did 12 days ago using a 15-6 start to the second half to build a 47-33 lead with 12:55 left. Iowa chipped away cutting the lead to a eight a few times but Turner would not be denied scoring 14 of OSU's final 17 points and 20 in the second half to secure the win.
Besides Turner's domination, the defense had its moments picking up six steals in the first half alone leading to 14 points off turnovers as OSU built a 32-27 halftime lead. To their credit, Iowa hung around for a half shooting 52% from the floor including 4/5 from downtown but the Buckeye D would kick into a higher gear after halftime holding Iowa to 36% shooting (8/22 FG, 4/15 3FG) erasing any chance of an upset.
Turner hit 12/22 from the floor unleashing his usual array of pull up jumpers and driving layups as he moved past Luke Witte, John Havlicek and Larry Siegfried on the OSU all time scoring list. At this point, I advise the fringe fans to make more of an effort to turn on the TV because time is running out to watch one of the greatest Buckeye ballers of all time.
Considering Turner scored nearly half of OSU's points today, there weren't many other buckets to go round as evidenced by only Jon Diebler complimenting ET in double figures. Deebs had 12 points (5/10) and even chipped in at the defensive end with four boards and three swipes.
Wil Buford never got going offensively today posting just nine points (3/10) but the evolution of his game is still on track as he pitched in nine boards and two assists. David Lighty also struggled from the floor today (0/4) but he put on a shocking display from the line connecting on 9/10 while adding four boards and two blocks, one a highlight reel job in defensive transition.
The big four logged 40 minutes each as Thad clearly has no intention of playing anyone on the pine not named Kyle Madsen unless absolutely necessary. Madsen logged a season high 22 minutes today (4 pts, 4 reb) after Dallas Lauderdale picked up his 3rd and 4th fouls in the first few minutes of the second half. Dallas was jobbed on the 3rd foul but never should've been on the floor when he picked up his fourth at the 17:41 mark. For whatever reason, Matta left him on the court for nearly two minutes after recording his 3rd and Dallas picked up the 4th near midcourt. It obviously didn't matter in this game but against less flacid competition, Matta needs to better manage substitution patterns dictated by fouls.
For the game, OSU shot just 45% (22/49) but cashed in at the stripe hitting 22/27 (81%) while the D held Iowa to 42% from the field. The Buckeyes also won the battle of the boards 29-26 while turning it over just seven times against 14 miscues for the Hawkeyes.
The seventh straight conference win allowed OSU to move to 15-0 at home this season. If Purdue can stop Sparty at home Tuesday night followed by a Buckeye victory over Indiana on Wednesday, OSU could move into a first place tie with Sparty, Purdue and the winner of Tuesday's Wisconsin v. Illinois battle.