The four Buckeyes headed to Indianapolis this week for the 2010 NFL Combine don't represent the smallest Buckeye contingent since Tressel arrived in Columbus (Barton, Gholston and Grant were the only three to attend the 2008 session), but pointing to the high expectations for the 2010 season, the group is by modern standards, pretty small.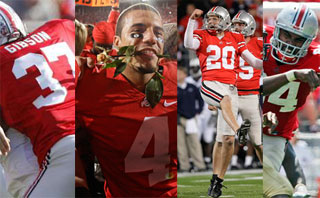 Still, for Aaron Pettrey, Doug Worthington, Thaddeus Gibson and Kurt Coleman, this weekend will be the most important of their young lives. We're all well aware of the lunacy that is the Combine and how good and bad measurables can give a scout or GM selective amnesia of a player's three or four year body of work, but it is what it is and a lot is riding on how well they perform in the bench press, shuttle runs, three cone drills and of course, the all-important 40-yard dash.
In the case of Coleman and Gibson, a good performance could mean a first-day selection and the accompanying cash and training camp mistake forgiveness that comes with being a high draft pick. Worthington will be looking to move into a second day choice, while Pettrey, being a kicker in a crowded market, will be looking to secure any type of selection in April's draft.
The players will begin arriving in Indy Tuesday and Wednesday and will be processed, measured for height and weight and given the infamous Wonderlic Test. Teams will interview players and GMs and players will conduct press conferences on Thursday and Friday and then the workouts begin in earnest Saturday morning when the offensive linemen and specialists kick off the training drills -- all delivered in beautiful Technicolor by the NFL network.
Pettrey, for his part, knows scouts could care less about what he puts up on the bench press. They'll be on hand to see him, and the two other kickers invited, the Longhorn's Hunter Lawrence and Michigan State's Brett Swenson, bang in 45-yarders and show good air on their kickoffs. Looking back to the blown knee he suffered against New Mexico State, it's really remarkable he was even invited in the first place (well, that and the flubbed extra points early in the season). He has a booming leg, though, and the 45 yard field goal he hit at the halftime buzzer of the Rose Bowl likely restored a lot of faith in scouts' eyes. He followed it up with a solid week of practice ahead of the Texas vs. USA game and NFLDraftScouts.com currently has him as the 2nd-best kicker, going in the 7th round.
After arriving in Columbus as a five-star recruit, Worthington leaves as a captain and an anchor of perhaps the best OSU defensive line since 2002. Along the way, he was extremely quotable, animated GIFable and more than clutch: his 10 yard, 3rd and 16 sack of Iowa quarterback James Brandenberg in overtime effectively sealed the school's first Rose Bowl trip in over a decade. Worthington had a solid, if under-the-radar week of practice ahead of the East/West Shrine Game and then followed it up with a key sack in the game. Pundits like McShay like his size and athleticism but think he's a day three selection. NFLDraftScouts.com sees to agree, pegging him as just the 24th-best defensive tackle and borderline 7th round selection/free agent pickup.
Gibson, leaves Ohio State early, one of just 53 juniors invited to the Combine. Despite massive talent, his career in Columbus got off to a rocky start, with an early incident with DC Jim Heacock leading to transfer rumors. He stuck around and bought into Heacock's way and leaves after starting 22 consecutive games and drawing some comparisons to Vernon Gholston, OSU's last dominant end. His high point in the season was his three sack outburst against the Gophers (he also recovered a fumble in the win) and he finished his career with 10 sacks and 25 TFLs. He's thought to be a bit larger than his listed 240 and knows he's probably looking at a career as an OLB in a 3-4. NFLDraftScout.com has him as the 7th-best OLB and a third round selection.
Finally, Kurt Coleman represents the biggest wildcard for OSU heading into the Combine and draft. The team MVP made the Sporting News first team All-American squad after a season in which he always seemed to be in the right place, at the right time for Ohio State. Any Buckeye fan will tell you the guy can play football and you can't put a price on the innate ball-hawking skills he sports, but scouts are concerned about his size (5-11/198). Which is weird, because the same concern doesn't exist for 5-11 Eric Berry. I'll be the first to admit that Coleman isn't Eric Berry, but he's not far off, either. As such, he's projecting anywhere from round three to round five. He seems to be concerned with getting his 40 time down -- he believes he can get close to 4.4 -- for looks at corner. NFLDraftScout.com lists him as the 6th-best strong safety available in a deep safety class. However things work out, one lucky NFL team is going to get a corner that can hit or a safety that can cover.
Beyond the four Buckeyes invited to Indy, seniors Jake Ballard, Anderson Russell, Austin Spitler, Jim Cordle, Todd Denlinger and Lawrence Wilson have been hard at work trying to get to the next level. They worked out for scouts at the WHAC last week and will get another chance to showcase their skills at OSU's "Pro Day" on March 12.
So how do you see the draft shaking out for Ohio State? What about your favorite NFL team? Bonus points if you can enumerate all of the help the Browns need.