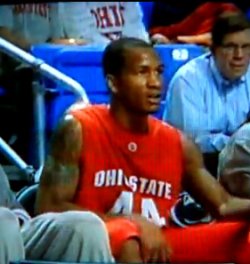 It wasn't exactly easy on the eyes but Ohio State accomplished the goal turning back Michigan 66-55 this afternoon in the Schott to stay in the league title hunt.
Once again, it was a game of runs as Ohio State raced out to a 9-0 lead with four starters hitting field goals but their focus and defensive intensity would wane from there as Michigan used a 12-2 run to take a 26-25 lead with 3:32 remaining in the half. OSU would regain the lead twice before the half behind a Buford tip in and later a nice assist to Turner for a 3 point play and a 32-29 lead with 1:47 left before intermission but back to back turnovers from Turner allowed Michigan to close on a 4-0 run taking a 33-32 lead into the locker room. Down just one, it was still a 'butterface' half as the Buckeyes shot 64% from the floor behind Buford (5/8, 12 pts) and Turner (5/5, 11 pts) but failed to take care of the ball turning it over seven times helping Michigan to a +10 in points off turnovers. Further, the defense lacked intensity forcing only two Michigan miscues (not counting Beilein's tie).
After a suspected tongue lashing by Matta at the break, the defensive fire returned in the second half as OSU went on a 15-4 charge out of the gate to take a 47-37 lead with 12:01 to play. Even with three fouls, Turner had two big swats leading to points at the other end and David Lighty had a highlight reel effort grabbing a defensive rebound and leading the break upcourt before hitting Buford in stride for a nifty deuce. Buford had six points during the run with Turner adding five and an assist to put the game out of reach.
Michigan cut the lead to seven on four different occasions in the final nine minutes but they would get no closer despite Dr. David Clankenstein bricking a dunk and 3/7 from the line including the front end of two 1-and-1 opportunities. Even the vision-free exploits of Ted Valentine and Ed Hightower couldn't get TSUN over the hump as Michigan registered exactly ONE field goal in the final seven minutes, a meaningless layup with :25 left by Darius Morris.
Wil Buford was the clear star today tallying 24 points (9/15) and nine boards along with four assists against zero turnovers while Evan Turner added 18 and 11 despite a ridiculously shaky eight turnovers. The Villain was hot from the floor hitting 8/11 but his handles were sloppy and he spent too much time jawing with two of the worst refs to ever draw breath. Still, ET's head was up and he dished out seven dimes plus a career high four blocks.
Somewhat quietly, Dallas added 14 points (7/9) with Lighty chipping in seven points (3/8 FT) and six boards. Jon Diebler was a non-factor offensively shooting 1/7 (3 pts) but he did manage five rips in another 40 minute outing.
For the game, OSU shot 59% from the floor but only 53% from the stripe (8/15) buoyed by Lighty's rim assault. Impressively, the Buckeyes dominated the glass (35-20) limiting Michigan to four o-boards and 36% from the floor though they forced a paltry six turnovers.
Bottom line, it wasn't pretty but it was effective. OSU has now beaten Michigan in 10 of the last 12 meetings. Kinda feels like football, doesn't it?