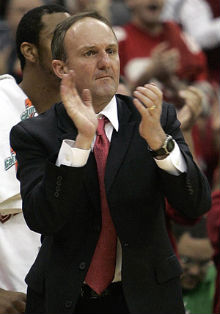 Much to the dismay of some of our readers, this is my favorite time of the year, when we get to ramp up the hoops coverage and sit back to enjoy another late season run by the Buckeyes under the brilliant leadership of Thad Matta, who with a win tonight secures the best record at OSU after 200 games.
Typically, we have always used the coaches rankings when it comes to the preview headline, but it looks much cooler to have it listed as a top ten clash in Columbus and I only hope the Schott proves it tonight.
Ohio State enters with a 9 game conference winning streak, while the Boilermakers bring in a streak of 7, after they lost 3 straight in mid-January. The winner keeps pace with Michigan State, who awaits the Bucks on Sunday in the Iz-Zone.
| # | Name | PTS | REB | ASST | POS | # | Name | PTS | REB | ASST |
| --- | --- | --- | --- | --- | --- | --- | --- | --- | --- | --- |
| 21 | Evan Turner | 19.0 | 9.3 | 5.8 | G | 12 | Kelsey Barlow | 4.0 | 2.4 | 1.8 |
| 33 | Jon Diebler | 12.7 | 3.0 | 1.7 | G | 3 | Chris Kramer | 5.9 | 3.2 | 2.5 |
| 44 | William Buford | 13.9 | 5.2 | 3.2 | F | 33 | E'Twaun Moore | 17.2 | 3.4 | 2.8 |
| 23 | David Lighty | 12.6 | 4.5 | 2.8 | F | 4 | Robbie Hummel | 16.1 | 7.1 | 2.3 |
| 52 | Dallas Lauderdale | 7.4 | 5.1 | 0.3 | C | 25 | JaJuan Johnson | 14.9 | 7.0 | 0.6 |
Opponent
If you missed the first matchup, then you missed one of the best games all season. As a hoops junkie, there is nothing more I love to see than a shooter in the zone (reminds me of my glory days) and Robbie Hummel was just that in the first half against the Buckeyes. Chris and I can't recall the last time we saw a college player go for 29 points in a half, hitting 8 bombs along the way, but that is exactly what Hummel did and it will be interesting to see how Thad combats that tonight.
Purdue leads the conference in scoring at 69.8 points per B10 contest, on 46.9 percent shooting. They are holding teams to 62.5 points a game, putting them fourth, but they lead the league in FG defense at 39.5 percent. If they have any weakness at all it's from behind the arc, where they connect on 32.2 percent, but they also only attempt about 15 a game. Instead, the Boilers take it to the line, leading the conference in FT makes (193) and attempts (264) despite playing one less game.
Matt Painter's starting five is arguably the best in the conference and he'll go eight deep. Senior Keaton Grant, who started earlier this season will lead off the pine, joined by sophomore's Lewis Jackson and John Hart. Grant averages about 20 minutes, down by 7 from last year and 8 as a sophomore, but he will do it all, scoring 5.8, to go along with 3 boards and 2 assists. Jackson is starting to get his legs back after sitting out the first 19 games and Hart has been inserted as a spark plug over the last 7 games, playing double digit minutes in all of them, after logging a total of 33 minutes over the first 17 games.
As for the starters, Johnson is your reigning POW, going for 20 and 8.5 in the 2 wins last week. Moore has scored double digits in 23 straight and ranks 5th in conference scoring at 18.6, while Hummel sits 7th at 17.2 and 3rd with 7.8 boards. Of course Kramer is the defensive stopper, but claimed Evan Turner was "the best player I ever guarded" after the game in Mackey and the freshman Barlow has taken a shot in 2 games.
Buckeye Breakdown:
The first concern for tonight is the health of Diebler and Buford, who were both a go as of post time. In case you missed it, Diebler practiced yesterday after suffering a right wrist injury late against Illinois, while Buford didn't return for the final 16 minutes after picking up his third foul and bumping legs with an Illini. Alex pointed out yesterday the importance of Diebler and this wrist injury isn't going to help his inconsistency, but he's shot enough 3's in the Schott to overcome some soreness and hopefully score more than the 6 he did in the first meeting.
Buford's injury didn't get as much pub., so he probably sat out due to a combination of Simmons being healthy and the Bucks nursing a 13+ point lead. The WB is a gamer and he'll be ready, he kept OSU in the game the first time around.
The first half effort by Hummel in West Layafette was overshadowed by the 23 second half points The Villian put up, scoring 14 of the last 18 and 32 for the game, erasing a 10-point deficit with 4 minutes to go. That game was just his third after his injury and it put him back on the POY map.
Turner's scoring dipped last week getting just 26 points, after foul trouble at Indiana and tough defense at Illinois, but still ranks 3rd in conference scoring at 19.5 per game. Though he has seem unstoppable all season, I have a feeling Painter has something up his sleeve to try and slow him down and if it's successful to start, ET will need to keep his composure and not get frustrated.
The Buckeyes won the glass battle 31-26 at Purdue, but have been outrebounded in each of the last 3 games, giving up 40 on the offensive end. That can't happen tonight. It will also be interesting to see if Thad comes out in man or zone. He has done a nice job of mixing things up recently and the percentages say play a little zone, but the Boilers are experienced and proved the first time around they can carve up a zone.
Another key will be the play of Dallas Lauderdale, who held Johnson to 4 points the first time and has been playing the best ball of his time here. He went for 23 and 12 last week, while registering 7 blocks, all in the Indiana game. BTW, is it just me or has Dallas worked out that hitch in his FT stroke? It looks smoother and he has made 5 of his last 6.
And the last key for tonight will be how the refs call the game. I think the officiating has been good this year, but I also don't remember Hightower at too many of them. If he or any other zebra tries to control this game tonight with ticky-tack BS, it could really affect the flow of OSU's offense. If the refs let them play, I think ET takes over again and the Buckeye offense keeps up their hot pace at home, keeping up with Sparty with a 75-66 win.
Etc
Tom Hamilton and Jim Jackson are calling the game.
Matta is 147-52 (73.9) and Fred Taylor was 147-53 (73.5).
A Purdue win would mark the first time they have beaten 4 AP top 10 teams in one season.