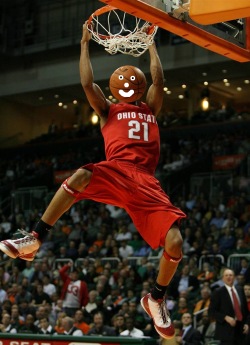 Intent on keeping pace for first place in the Big Ten, the Buckeyes used another balanced effort led by Jon Diebler's 18 points to dismantle Illinois 72-53 this afternoon in Champaign.
This one was only close for the first seven minutes. Leading 15-10, Ohio state unleashed a 15-2 blitz to take a 30-12 lead with 7:16 left in the half behind Diebler, who buried two triples while assisting on another. The Villain also got loose for two poetic assists, one on a breakout for a David Lighty throwdown and another off a whirling drive in the paint before kicking out to Kyle Madsen standing in his auto-spot on the baseline.
A stingy 1-3-1 zone defense was also crucial to the run holding Illinois to 1/9 form the floor with a turnover. The stand was a microcosm of the first half defensive domination as OSU harassed the Illini into 29% from the floor including 1/11 from downtown while holding Demetri McCamey to one point with six assists.
Lighty paced the 36-20 first half assault with 12 points as he continuously leaked out in transition while also rediscovering his three point stroke (2/4). Diebler's big first half read nine points and two assists while Turner pulled down eight boards to go along with four points and four assists. In fact, the ball movement was so tight that all the starters notched at least one dime in the half. Hell, Madsen even had one off the pine.
Complementing Diebler's 6/11 outburst from deep, Turner flirted with a triple-double finishing with 16 points, 11 boards and eight assists with the only knock being some questionable decision making triggering five turnovers. Besides the Diebs show, the great news today is Lighty's resurgence after a two game slump (2/15 FG). The slasher hit 6/8 shots to score 17 points including 3/5 from distance.
Wil Buford picked up his third foul just five minutes into the second half and may have gotten dinged limiting his minutes as the sophomore collected only five points and two boards. The foul trouble allowed Jeremie Simmons to see some meaningful minutes and he responded with five points and three assists against zero turnovers.
Dallas Lauderdale had his moments collecting nine points (3/3 FG, 3/4 FT) but he had just four boards as Illinois won the glass 36-28 including a ridiculous 15-2 edge in offensive caroms. Of course, some of that is due to the sheer number of O board chances as Illy shot a dismal 23/67 (34%) against a combo of zone and man they simply couldn't solve. Amazingly, the Illini hit a paltry 4/24 (17%) from three point land as zero players reached double figures. Conference POY runner up candidate McCamey had just nine points (4/12) though he picked up nine assists.
Meanwhile, the Buckeyes shot 53% overall and a blistering 11/22 on triple tries allowing them to pick up 20 assists on 26 field goals. Sure, some guys were in the zone today but a lot of that is due to the aforementioned ball movement that created some easy and/or wide open looks.
The win improved the first place Buckeyes to 10-3 in conference and 20-6 overall. Next up, the Buckeyes welcome Purdue to the Schott on Wednesday night. It's gettin' hot in herre!