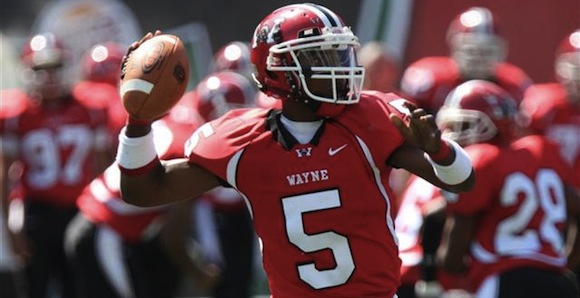 With two nights sleep on it, several rational appeals to reason making their way around, and 207 days until the Thundering Herd come to town to kick off the 2010 football season in the Shoe, it's only natural to begin mulling how the 2011 meat market will shape up.
A quick overview of the offensive players who will wrap up their eligibility following the 2010/11 season looks as follows:
POS.
NAME
QB
None
RB
Brandon Saine
FB
None
WR
Dane Sanzenbacher, Grant Schwartz*,
Taurian Washington
TE
None
OL
Justin Boren, Bryant Browning, Josh Kerr,
Andrew Miller, Connor Smith
*=Assuming the rumors of Schwartz' transfer don't come to fruition
This of course excludes the possible early defectors (Pryor, Posey, heck, even Herron in some circumstances) and transfers seeking the opportunity for fresh starts. Even being conservative in ballparking this all, given the 10 that have no choice but to move on to the next chapters in their lives, and assuming 2 early pro declarations and/or a transfer or two, and we're looking at (give or take) roughly 12-14 hypothetical offensive spots to fill. So where to go with the potential offers?
There's no mistaking the Buckeyes could use one quarterback commit (or potentially 2 if Pryor exits stage left or Bauserman gets tired of relaying signals into the huddle). Huber Heights product Braxton Miller (Rivals / Scout) would seem to be at the top of that wish list. The four star reminds many of a rawer, younger Terrelle Pryor and could potentially be groomed for a season under the man himself or potentially a caretaker for the offense until he's ready. Florida product Jerrard Randall (Rivals / Scout) is also said to possess a Buckeye offer.
The sudden girth of talent at the tailback position makes it unlikely an offer is made, unless of course a monster prospect makes their interests widely known/emerges through the camp circuits. Jamaal Berry, Carlos Hyde, and Roderick Smith should all have between 3 and 4 years of eligibility amongst them, and with Herron as a senior and Jordan Hall with the 3 in the bank, the need to go tailback becomes less of prerogative. It would seem unlikely a scholarship fullback gets the offer too, with Adam Holman and Zach Boren seemingly in it for the long haul.
Wide receiver is another position where the Buckeyes find themselves blessed with an abundance of long-term talent. With Duron Carter, James Louis, James Jackson, Tyrone Williams, and Bradley Roby all in the bullpen, it would take a phenomenal, one of a kind talent to necessitate another adding another stallion to the stable. Some feel Vernon Hills Ill. product Evan Spencer, son of former Buckeye great Tim Spencer (Rivals / Scout), could be just that player. Another Tarblooder, the diminutive speedster Shane Wynn (Rivals / Scout) could also find a way to earn an offer and contribute immediately on special teams. With just Jake Stoneburner and Nic DiLillo in fold, the Bucks would also largely benefit from adding some new blood at the tight end position to the '11 class.
With the much publicized exodus of linemen coming and just 1 finding their way into the '10 class, the Buckeyes will need a surplus of talented big uglies to fill in the gaps on the depth chart in the next class. Glenville lineman Aundrey Walker (Rivals / Scout), Centerville two way player Michael Bennett (Rivals) and New Jersey product Angelo Mangiro (Rivals / Scout) are said to be on the Buckeyes' shortlist to jump start things. Getting several more names in the mix and walking out with 3 or 4 faxes this time next year would unquestionably go a long way towards giving us all a little bit of extra peace of mind going into the '11 Football Campaign.
So what say you: Which offensive positions should the Buckeye key in on during the early tactical planning stages of the 2011 recruiting drive?