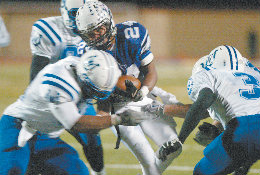 Unlike their southern brethren, the Buckeyes typically don't use their full allotment of schollies when signing a a new class, preferring to hold one or two to reward a walk-on that has put in hard work on the practice field.
In a slight variation to this, Jim Tressel and staff have offered a scholarship to running back Adam Griffin of St. Francis DeSales in Columbus, making him the 19th member of the class. A smallish (5-9/185) running back, Griffin helped lead the Stallions to the 2009 state championship game on the way to earning all-district honors. He's also a hero in the classroom, earning offers from all three service academies.
Perhaps most importantly, however, Adam is the son of the President and CEO of Ohio State University Alumni Association, or the guy we fondly remember as being the only two-time winner of the Heisman Trophy.
Tressel on the newest Buckeye:
"Adam Griffin has a passion to be an Ohio State Buckeye. He will add a great deal to our football family on the field, in the locker room and on our campus. Adam clearly understands the privilege of being an Ohio State Buckeye."
Welcome to the club, Adam. Make pops proud.
Updated: Now with highlights.