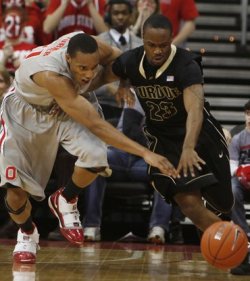 Hosting Purdue in front of a rare sellout crowd with first place on the line, Ohio State came out flat as Calista Flockhart and though they made a second half comeback they couldn't recover in a 60-57 loss tonight in the Schott.
Trailing 43-31 after an E'Twaun Moore jumper with 15:08 to play, the Buckeyes stormed back with a 15-5 run fueled by eight straight points from Evan Turner then seven in a row from Wil Buford cutting the deficit to 48-46 with with 9:49 remaining. The blitz showcased vintage Turner as he got it started with a hoop and harm off a spinning drive before hitting a triple and another layup in traffic. Four possessions later he drove the lane then dished to Buford for a triple as the defense collapsed on his penetration.
After Buford's final bucket of the run prompted a well-timed Boiler timeout, the Buckeyes appeared to have shot the wad during the furious comeback as their shot selection and execution over the next five minutes went AWOL allowing Purdue to rip off an 8-2 run increasing their lead to 56-48 with 4:06 to play. The decisive stretch saw the Buckeyes launch quick shots hitting just 1/6 including 0/4 from distance as Turner, Buford, Jon Diebler and David Lighty all rushed shots with Lighty adding a turnover. At the other end, Purdue got buckets from four different players including Robbie Hummel's first of the night pushing the deficit to eight.
Still, the Buckeyes showed some moxie with one last gasp after a pair of free throws from Moore gave the Boilers a 60-53 lead with 1:12 remaining. First, Dallas Lauderdale made his lone contribution of the night tipping in a Diebler miss then Chris Kramer gave OSU life clanking the front end of a one and one. Turner responded with a short shot off the bounce cutting the deficit to 60-57 with 50 ticks left. From there, Moore missed a layup with :15 left triggering an OSU breakout. Apparently unaware of the situation, Buford streaked up court and attempted a layup which Kramer swatted into the hands of Diebler. Following a quick ball exchange to Turner, Diebler dribbled to the top of the right circle and got a good look at a three but it caromed off the rim dropping the Buckeyes to 10-4 in conference. It was a spastic yet valiant effort to defend the home court but like the team, I refuse to be satisfied considering the pathetic first half, 14 turnovers, a horrendous performance from Lauderdale at both ends and only sporadic offensive help for Turner.
For the second time against the Boilers this season, OSU dug themselves a huge whole trailing 36-23 at the half. The opening 20 minutes unfolded like a horror show as Lauderdale got abused by JaJuan Johnson at the defensive end while Turner little help on the offensive side of the court. Lauderdale, coming in playing his best ball as a Buckeye, scored one point with 0 rebounds, assists and blocks while Johnson lit up the Buckeyes with a monster first half stat line reading 14 points (7/9 FG), 4 reb, 3 asst and a block. Meanwhile, even with Matt Painter rotating fresh bodies on Turner, the Villain managed 13 points (6/13) and five boards, albeit with four turnovers. Unfortunately, only Diebler offered help scoring seven points (2/3) meaning the rest of the Buckeyes scored three points on 1/8 shooting.
Diebler managed 10 points for the game and Buford pitched in with 11 second half points but shot just 4/12 on the night with four boards. After his struggles in the first Purdue tilt, I didn't expect much from Lighty and he delivered with just four points (1/6) and three turnovers to go along with four boards and three dimes. Regardless, the most disappointing effort belonged to Lauderdale as he produced three points and three rebounds in 31 minutes while Johnson blew up for 24 points and seven boards.
Feeling the weight of limited help, Turner actually looked tired for maybe the first time all season as the offense went through him virtually every time down the court in the second half. Naturally, the should-be-undisputed national player of the year answered the call with 29 points (11/21), seven boards and five assists. To his credit, he bounced back from a four turnover first half with just one in the second. How bad was his help tonight? Turner hit 11 of OSU's 20 field goals scoring 51% of the points while recording five of team's lowly six assists.
The defense certainly wasn't as sharp tonight as its been of late allowing Purdue to shoot 60% in the first half and 50% for the game but it wasn't as bad as the numbers indicate if you factor out Johnson's schooling of Dallas. The rest of the Boilers combined to shoot a more realistic 42% led by a solid night from Keaton Grant (13 pts, 5/8).
The loss drops the Bucks to one game behind the conference leading Spartans (11-3) who happen to host the Buckeyes this Sunday at Noon in the Breslin Center. My advice to Matta is tell the team to forget about this one and give them plenty of rest. Oh, and one last thing...While I don't think it particularly favored either team, that was some of the worst officiating I've seen this year. What a surprise, Ted Valentine was part of the crew. He is an absolute joke as the poster boy for refs that are more worried about being all demonstrative on TV than they are about officiating a legit game.