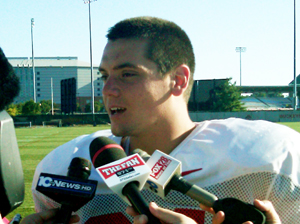 It was a busy senior season for Jim Cordle. He raised $18,000 for the Special Olympics in July, started the season at tackle before going down for a few weeks due to an ankle injury, returned as a utility guy that played everywhere on the line and finished strong with his mates by winning the Jim Parker Award.
And then, he popped the big one.
After returning from the East-West Shrine game, he was gracious enough to answer a few of our questions.
Were you surprised at all when the pass-heavy gameplan was introduced ahead of the Rose Bowl matchup with the Ducks?
I was surprised at first and part of the surprise was the timing of when we learned the game plan. Coach Bollman told us in our final meeting before the game that we were going to come out throwing the ball. Obviously a good call by the coaches and even better execution by our skill guys. We linemen knew that we could always rely on the run if we had to and were confident in everyone else.
We've often heard Coach Tressel will show a little emotion within the confines of the locker room. How true is that?
Coach Tressel is a very emotion driven coach. He stays within the "Senator Tressel" swagger but I always tell people that you can see his fire in his eyes. He lets us in on his frustrations at times and uses them to motivate in a speech.
The line and Coach Bollman have taken some heat from the fans over the past few seasons. What was the attitude within the group? How aware of the criticism were you guys and did it play a motivating role at all?
Yes we were all motivated by past failures and the media onslaught. The line played well in the USC game but not as well as we could have. Then we were hit with injuries and what not and could not show how far we had come until November. Our attitude all along was to play up to our potential and finally accomplishing that in the last few games was a great feeling.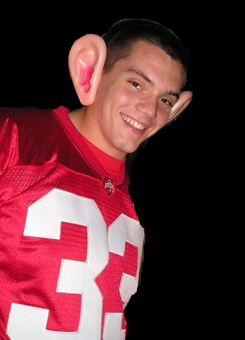 Which opposing defensive lineman gave you the toughest head-to-head matchup during your career? What teammate was the most difficult to go against?
Everson Griffin was good, Brandon Graham was better, but this year Adrian Clayborn was by far the toughest head-to-head matchup. Next year he will be this year's Suh. Last year I thought Mike Newkirk from Wisconsin was the best interior guy I faced despite weighing maybe 280lbs. I had fun battling my teammates as well. Dexter Larimore can bull rush anybody. Doug Worthington gave me trouble with his long arms, and Cam Heyward is just a big bull.
What Ohio State tradition will you miss the most?
I think I will miss the walk to the stadium and skull session the most.
You played quite a few positions on the offensive line. Do you think that helps or hurts your NFL prospects?
Playing many positions helps my NFL prospects in the long run. If I had remained at center I would have been higher ranked coming out of college but may have been considered only a C at the next level. Now that I have proven my play at other positions I can add a lot of value to an NFL team.
How would you like fans to remember you?
I would like fans to remember me as the local kid that represented himself, family, team, etc. with great integrity and respect on and off the field. The post game press conference after Iowa is a fun memory as well.
Can we have a pair of your gold pants?
No my gold pants are taken and I'm going to have to coach at OSU one day because five wasn't enough.