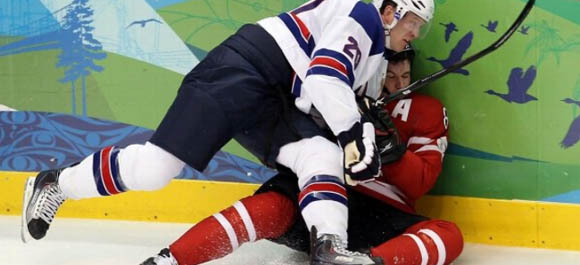 90% of Canada is calling in sick tomorrow and the Big Ten is a big part of why.
Goalie Ryan Miller (Michigan State) was the equalizer in a lopsided 45-23 shot advantage for Team Canada, stopping 42 of those shots as the good guys prevailed 5-3 in Vancouver. Wonder how those $1800 upper bowl seats were?
Miller got help from Brian Rafalski (Wisconsin) with his two goals and Ryan Suter (Wisconsin) and his two assists, but the play of the night came from a Buckeye. Ryan Kesler's lunge to salt away the game on an empty-netter with :45 to play has to be seen (and watched many times over).
It wasn't yet for the gold medal and Team USA has a lot of hockey to play, but these American games continue and for tonight, at least, it feels pretty sweet. And may this be a lesson: this is the payback for when you bury Loonies in our ice.