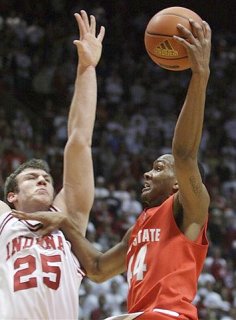 Ohio State met Illinois and Michigan State atop the Big Ten standings following a 69-52 annihilation of the talent deprived Indiana Hoosiers tonight in Bloomington.
Though a beat down was certainly expected, what wasn't was the way in which the Buckeyes disposed of Tom Crean's 9-14 squad. Instead of another episode of the Evan Turner show, Ohio State used a balanced attack placing four in double figures while getting contributions from not only the remaining starting four but also the top three reserves.
Wil Buford paced the onslaught with 21 points (9/17), seven boards, four assists and two steals including 12 big first half points after Turner was sent to the bench after picking up his second foul with 17:25 left. Four of WB's points and an assist on a Dallas Lauderdale throw down came during a decisive 12-0 run turning a close 22-20 affair into a 34-20 edge at intermission.
As Corey noted, Lauderdale was indeed a key player tonight and the big fella responded with 14 points (7/9), eight rips and seven swats while altering a half dozen other Indiana heaves. He blew up in the first half with seven caroms and four blocks as OSU turned up the defense in Turner's absence holding IU to 35% from the floor. During the game changing run over the final six minutes of the half, Matta's troops held the Hoosier's to 0/6 from the floor and forced seven turnovers. Indiana wouldn't threaten the rest of the way as OSU coasted to victory.
Chief reserve Kyle Madsen stepped up with a career high 11 points (4/5) in nine minutes while Jeremie Simmons logged double digit minutes (14) for just the second time in nine games thanks largely to an eye issue. P.J. Hill was first off the bench with ET in foul trouble though he did more hacking (3) than scoring (2) in 11 minutes.
Turner was limited to just two minutes and two points in the first half but responded with eight in the second to finish with 10 points, seven boards and six assists in just 21 minutes.
David Lighty and Jon Diebler had their struggles tonight as Lighty shot a dismal 2/11 (6 pts) but managed four dimes. Diebler found only four open looks in 38 minutes, hitting one (3 pts) but he did grab three boards and took two charges.
For the game, OSU shot 48% but hit only 2/10 from distance while stroking 13/16 from the stripe (81%) continuing a recent resurgence and you have to be happy with only six turnovers. Defensively, they held an outclassed IU team to 37% from the floor while forcing 13 turnovers. All in all, an impressively methodical road win considering Turner's limited minutes. With the cupcakes in the rearview for a bit, the chance at a conference crown hinges largely on the upcoming stretch of @Illinois, Purdue and @Michigan State. The fun begins this Sunday against Bruce Weber's boys at 1pm.