Roll out the red carpet. It's time for a very special black tie affair. Rest assured, I'm scribing this wearing a suit jacket -- just no pants, it's nature, y'all. It's my distinct honor and privilege to host this year's Houndies, the yearly award that honors individual achievement and accumulation of.. an award of the very same name.
During the course of the year we've been bringing you week after week of outstanding Buckeyes in the field of professional football excellence. Even the non-NFL inclined amongst us (FREEDOM HATERS!) can sympathize with some of the names on this list: Beanie, 'Toine, D-Whit, Little Animal, and of course, The Fresh Prince. The 2009 year was good one for many proud Ohio State alumnus, and unfortunately unable to join us due to prior obligations are Chris Wells, Will Smith, Antoine Winfield, and Malcolm Jenkins, who all have conflicts with their day jobs (allegedly).
While we spent the season giving you, the loyal 11W commentariat the gospel of NFL excellence, we're turning things around. We've taken the liberty of narrowing down a very qualified list of semi-finalists. The only pre-requisite being that each player must have been awarded plural Houndies during the regular season. After that, we open the choice up to you, the people. Just think: this will be as prestigious as the People's Choice Awards! Without further adieu, the nominees are…
Chris Wells - 3 Houndies, 793 rushing yards, 7 TDs
The lone offensive nominee, Beanie and his Stiff Arm to End All That You Love and Hold Dear (TM) broke into the NFL finishing as arguably the league's second best rookie tailback. Wells, like many rookies, struggled to find playing time behind a relatively established starter. After finding his way into the Cardinals' goal line sets, Wells eventually warmed Coach Ken Whisenhunt's heart to the point where Beanie often shares an even load of the action with Tim Hightower. The highlight of Wells' rookie endeavor came in his Week 15 performance against the lowly Lions, in which Wells rushed for 110 yards and a TD. Should Beanie become more proficient at pass blocking (and find some way to stay consistently healthy), it's frightening to think of what the ceiling could be for the young back.
Malcolm Jenkins - 2 Houndies, 55 tackles, 1 INT, 4 pass breakups
Despite seeing only limited time in the first half of the season, rookie Malcolm Jenkins capitalized on the misfortune others, put forth consistent effort, and now finds himself an established part of the one seed in the NFC Saints' secondary. Malcolm's biggest adjustment isn't dissimilar to most in his shoes; the speed and athleticism that let him get away with more at the collegiate level can no longer be a crutch. As a result, what once would have been dominion over the opposing receiver have sometimes found their way into teaching moments. None the less, Malcolm put together a very respectable rookie campaign, capped off with a 9 tackle effort against the Redskins.
Antoine Winfield - 2 Houndies, 55 tackles, 1 INT, 5 pass breakups
The elder statesmen of the bunch, one horrific evening against the Bears and a few injury plagued weeks aside, Winfield continued to prove his worth amongst the upper echelon of veteran DBs in The League. AW had his way with Green Bay receivers in the Vikes' week 4 win over the Pack, recording 10 tackles and a pick on the afternoon. While there's no questioning that the physical demands of a decade of professional football have taken a toll on the corner, Winfield continues to garner near weekly consideration for the title of top Buckeye in the professional ranks.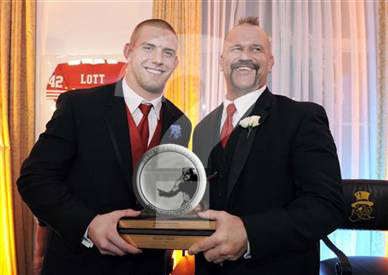 James Laurinaitis - 2 Houndies, 120 tackles, 1 forced fumble, 2 sacks
Despite receiving not so little as a single vote for Defensive Rookie of the Year, there's no questioning who would've garnered serious consideration had someone been foolish enough to give us a ballot. James Laurinaitis transitioned from been-around-so-long he provoked the lazy overrated barbs and digs to top 5 middle linebacker in his conference very nicely. While many of the rest of his Ram teammates left much to be desired, the Little Animal put together a number of mind boggling games including an unfathomable 16 tackle effort in a close loss to Beanie's Cards in Week 11. Given his meteoric rise, you can't pretend to be surprised when Mr. Laurinaitis is inevitably rocking pro bowl paraphernalia the weekend before the Super Bowl in the next several years.
Will Smith - 2 Houndies, 49 tackles, 3 forced fumbles, 13 sacks
Mr. Smith put a hurtin' on opposing QBs repeatedly throughout the '09 season. One particularly brutal afternoon saw him slam Panthers QB Jake Delhomme to Superdome field turf repeatedly to the tune of 2 sacks and tack on 4 suplemental tackles on the day. As arguably the most professionally successful Buckeyes end in the last two decade, Smith's continued to play at an all-pro level (though finds himself but an alternate in this year's Pro Bowl) during his 6 NFL seasons. Should he walk home with the most coveted award of them all, it's going to come on the shoulders of those 13 QB plummets. Kurt Warner would be well served to keep an eye on #91 during this weekend's clash with the Saints.