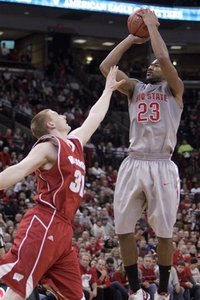 Looking to make up ground in the Big Ten race, the Buckeyes rode a stout defense en route to a 34-22 halftime lead and never looked back posting a 60-51 home win over #16 Wisconsin tonight in the Schott.
The D held Wisconsin to 40% from the floor and triggered a decisive 15-4 run giving the Buckeyes a commanding 49-34 lead with 8:42 to play after Wisconsin had cut OSU's 12 point halftime lead to 34-30 early in the second half. Evan Turner fueled the run with six of his 15 points and an assist on a Lighty layup while the Tenacious D forced the Badgers into 2/9 shooting with two turnovers.
Saddled with foul trouble, Turner played just six minutes in the first half after picking up a nickel-dimer with OSU trailing 10-9. Impressively, the rest of the Buckeyes picked up the slack, especially David Lighty, who tallied 12 first half points on his way to a game high 18 as OSU outscored Wisconsin 25-10 with Turner on the pine until halftime.
Lighty was a beast driving the lane against slower defenders leading to high percentage shots (7/10) and he also got it done at the line converting 3/4. Wil Buford had an off night from the floor (3/12) but he didn't let it effect his defense as illustrated by his 12 boards and two steals. Buford also had three dimes in what was a well rounded effort. Though he still sometimes has a problem with taking quick shots, the kid's basketball IQ is really developing.
Jon Diebler complemented Buford's seven points with eight of his own (2/5) but he didn't do much else, which is customary for him against that tough Badger man to man. Dallas Lauderdale finally showed up on the glass collecting six caroms while adding six points on the strength of an impressive 2/3 from the line. Kyle Madsen also played 13 key minutes and his baseline jumper continues to be a factor (3/3, 6 pts).
The win improves OSU to 3-3 in conference with Northwestern coming to town Tuesday night. That won't be the easy chore it usually is as evidenced by the Wildcats win over Purdue tonight in Evanston. Still, you have to feel good about how this team is playing with Turner back in the lineup.