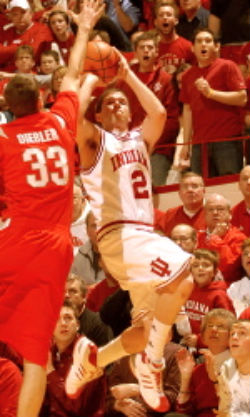 With David Lighty and William Buford stepping up their games in the middle of December it seemed the Ohio State Buckeyes would survive a rough Big Ten slate without their leader Evan Turner in the line-up. That thought lasted until the Bucks actually hit the road for their first two conference games against Wisconsin and Michigan, two games they dropped, and are now 3-3 without The Villian running the show.
There is hope, however, as word has surfaced that ET may return to the line-up tonight against the Hoosiers, but whether the Buckeyes' Naismith Award Candidate actually plays should not have an effect on the outcome against Tom Crean's squad. The Hoosiers have had an up and down season, currently sitting at 7-6, but opened up their Big Ten schedule with an upset victory over Michigan at home. Putting aside that big win, the Buckeyes are the much better team despite trailing the all-time series 101-73, and Indiana is also without their best player Maurice Creek.
The Schott should be rocking this evening as it is the first conference game at home and the impending return of Turner has Buckeye fans buzzing with excitement. The new found optimism could spur the Buckeyes to victory, but they must be able to find offensive continuity and a consistent defensive effort if they want to beat the pesky Hoosiers.
| # | Name | PTS | REB | ASST | POS | # | Name | PTS | REB | ASST |
| --- | --- | --- | --- | --- | --- | --- | --- | --- | --- | --- |
| 4 | P.J. Hill | 5.1 | 1.7 | 1.8 | G | 1 | Jordan Hulls | 4.8 | 2.2 | 1.9 |
| 44 | William Buford | 12.9 | 4.7 | 3.4 | G | 5 | Jeremiah Rivers | 7.2 | 5.6 | 4.5 |
| 33 | Jon Diebler | 14.1 | 3.0 | 1.9 | F | 12 | Verdell Jones III | 12.5 | 3.5 | 3.3 |
| 23 | David Lighty | 14.0 | 5.6 | 3.1 | F | 2 | Christian Watford | 12.9 | 5.8 | 0.6 |
| 52 | Dallas Lauderdale | 7.8 | 5.1 | 0.4 | C | 25 | Tom Pritchard | 9.7 | 6.4 | 1.1 |
Opponent
As previously mentioned, Indiana will be playing without freshman stud Maurice Creek who is likely out for the year with a knee injury. Creek was Tom Crean's go to guy and was averaging over 16 points per game. Without him it was thought the Hoosiers were doomed as the team had already dropped games they should have won at home to Boston University, George Mason, and Loyola (MD) with Creek in the line-up. Crean's team did not back down, though, and secondary players have stepped up for IU.
Last year it was Matt Roth who gave the Buckeyes trouble, but this year it doesn't seem like the little guy will be getting too many minutes against OSU. In Creek's absence it will be freshman Christian Watford and sophomore Verdell Jones III who will be doing most of the scoring for the Crimson and Cream. At 6-8/215 Watford could give the Buckeye front line some problems, as he and 6-9/240 Ohio native Tom Pritchard will look to bang around on the inside, a weakness so far for Thad Matta's team. Jones brings the ability to score to a Hoosier back court that also includes Doc's son, Georgetown transfer, and hero of the Michigan game, Jermiah Rivers, and replacement point guard Jordan Hulls, who is shooting 41.2% from 3-point range this season.
As a team Indiana has done well on offense, averaging about 75 points per contest, but their weakness has come from the free throw line where they are shooting just 66.1%. On defense they are allowing 68.7 points per game and forcing opponents to turn the ball over 17.3 times per game. They are ultimately even on the glass with their opponents, a stat they will need to win tonight if they want a chance to pull off a second straight upset.
Buckeye Breakdown:
Evan Turner's return may indeed happen and if Mark Titus can be called reliable, it will happen. The problem is even if The Villian does play, it may be in limited minutes, thus Lighty, Buford, Diebler, and Lauderdale will have to continue to step up their games. Those of you who think Turner won't miss a beat after fracturing his back are in for a rude awakening, but it is certainly good that ET may get a chance to work his way back (no pun intended) into the flow earlier rather than later.
The Buckeyes have had two big problems over their stretch of 6 games without Turner: winning the war on the glass and finding offensive consistency. Talking about the former, it will always be hard to stop bigger opponents on the inside when you play with four out and one in, but the Buckeyes need to find a way to box out their men and limit as many points in the paint as possible. Even more importantly may be keeping Dallas Lauderdale out of foul trouble as there is not much depth you can rely on other than Kyle Madsen coming off the bench at center. Taking on the latter issue, it seems the Bucks just can't find a rhythm on a regular basis without Turner running the point. Jon Diebler has noticeably had trouble getting his looks with ET out and while Buford and Lighty have each had their moments, the Michigan game showed that the Bucks need a go to guy of their own when in the stretch of a tight game. We keep waiting for Buford to be that guy, but it seems he is not ready yet.
The bottom line is that the Buckeyes should be able to win this game with or without Turner as they are simply the better team, but the spirit of the team could certainly use an uplifting before tonight's contest. This game is a must-win at home and the Bucks need a conference win before heading on the road for two straight tough games against Minnesota and Purdue. It will certainly be good to see #21 in the game tomorrow, but even better would be to see this team pick up some confidence as their season carries through a tough stretch in the coming weeks.
Etc
David Lighty has reached double-digit scoring in seven straight games, a record for the veteran forward.
In each of the last three seasons the season series has been swept (OSU in 2007, IU in 2008, OSU in 2009).