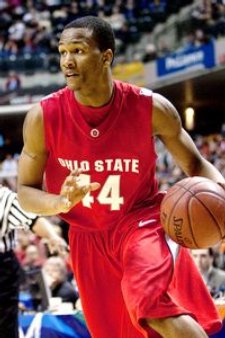 Though the Buckeyes wilted in the second half against Chuggy Bear's Mountaineers, they pull into Iowa City with eyes on extending a three game conference winning streak. A statement win at Purdue followed by dominating home victories over Wisconsin and Northwestern reinvigorated a team and fanbase searching for answers in the wake of a 1-3 conference start after Evan Turner starred in Brokeback Rim Attack.
Illustrating just how tough it is to win on the road in or out of conference against legit teams, the Buckeyes actually moved up one spot to #24 in this week's coaches poll following the WVU defeat. In fact, the squad still seems poised to make some noise in the conference race as they enter their most forgiving stretch of the slate starting tonight in Carver-Hawkeye followed by home dates with Minnesota, Penn State and Iowa before back to back roadies at Indiana and Illinois. Only the Illini have a winning conference mark (4-3) with the rest combining for an 9-20 record. Like I say, it's movin' time.
| # | Name | PTS | REB | ASST | POS | # | Name | PTS | REB | ASST |
| --- | --- | --- | --- | --- | --- | --- | --- | --- | --- | --- |
| 21 | Evan Turner | 18.6 | 9.8 | 5.4 | G | 3 | Cully Payne | 8.4 | 2.8 | 3.7 |
| 33 | Jon Diebler | 13.4 | 2.7 | 1.9 | G | 25 | Eric May | 8.9 | 5.1 | 1.7 |
| 44 | William Buford | 13.5 | 5.0 | 3.2 | F | 5 | Matt Gatens | 12.8 | 4.8 | 3.4 |
| 23 | David Lighty | 12.7 | 4.6 | 2.9 | F | 24 | Aaron Fuller | 7.9 | 4.8 | 0.7 |
| 52 | Dallas Lauderdale | 7.4 | 5.1 | 0.3 | C | 50 | Jarryd Cole | 8.5 | 5.5 | 0.5 |
Opponent
The Hawkeyes have won three of their last four with the wins coming against flaccid competition in the form of Tennessee State, Washington Generals, Penn State and at Indiana. The 58-43 victory over the Hoosiers was more of an epic fail on the part of Indiana than a stellar performance by the Hawkeyes leaving BHGP unimpressed. Of course, even the biggest of homers would struggle to be wowed by 20 turnovers in 58 possessions though they did hold IU to 0/9 from distance and maimed them on the offensive glass leading to 20 second chance points.
The Todd Lickliter Experience has been a virtual stinkfest with the Hawkeyes posting a 36-48 mark (43%) since his arrival from Thad Matta's old joint, Butler, in 2007. In conference play, Iowa ranks last in scoring offense (59.0) and steals (3.83), 10th in turnover margin (-3.29) and 10th in FG% defense (45.7%). Basically, they suffer from CACO Syndrome (Cracka Ass Cracka Overload).
From a personnel standpoint, the Hawkeye roster features just two guys averaging double figures and one of them, Anthony Tucker, has been suspended since mid December after the fuzz popped him for his second public intoxication arrest in 13 months. Matt Gatens leads the team with 12.8 ppg though he's shooting just 38% on the season. He was held to seven in the win over IU but had reached double figures in the four games prior including 17 in a seven point loss in the Breslin Center last Wednesday. Gatens went for 22 and 11 in two losses to OSU last season.
Iowa predominantly uses an eight man rotation with Devan Bawinkel (37% 3FG), Brennan Cougill (48% 3FG) and John Lickliter seeing time off the pine. You might remember Bawinkel from last season when the 3.3 ppg scorer lit up OSU with eight triples in a 60-58 Buckeye victory.
Buckeye Breakdown
A projected win over Iowa would allow the Buckeyes to gain a game on either Wisconsin (6-2) or Purdue (4-3) as the Boilers host Wisky Thursday night. Of course, no conference roadies are locks in this league but a focused Buckeye squad should have more than enough to dispatch of Lickliter's boys.
As we know, less than athletic teams often bring out the best in Jon Diebler so he could be primed for a big game after reaching double figures in back to back games (11, 17) following a three game stretch in which he averaged seven points on 6/18 shooting. Further, the spot up shooter scorched Iowa in the first game last season scoring 27 points on 7/10 from distance before adding 12 points in the 60-58 must win late in the conference slate.
Regardless of whether or not Diebler shows up, Evan Turner will obviously be the key to this one. The conference's best player destroyed Iowa late last year with a 22 point, nine dime, five board effort and is fresh off back to back double doubles against WVU (18/11) and the Tri-Lambs (20/13). His ability to drive and dish should spell trouble for the Hawkeyes as they'll either have to collapse and surrender kickouts to Diebler and the WB, or watch him score in the paint.
Speaking of Buford, look for him to keep the midrange game going following a blistering afternoon from the floor against WVU in which he hit 9/13 including 7/11 from inside the arc. As we know, the kid can be streaky and he's brimming with confidence after such a strong showing on the road in front of a roughly 37.3% inbred crowd in Morgantown.
Bottom line, if the Buckeyes come out ready to play they should escape Iowa City with a 10 point victory. It would be their second straight conference road win after dropping the first three.
Etc
The 60-58 barnburner last year in Iowa City featured 14 lead changes before ending a three game losing skid. The win served as a launching point of a four game winning streak that earned OSU a spot in both the Big Dance and the conference tournament final.
Ohio State is just 20-47 all time in Carver-Hawkeye but has won four of the last five.
The Buckeyes are 3-6 at Iowa when OSU is ranked in AP Top 25.