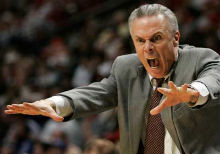 Much has changed since these two teams meet to open up Big Ten play on Dec. 31 in Madison, where the Buckeyes suffered a 22-point smackdown at the hands of the Badgers.
Back is Evan Turner and gone is Jon Leuer, who is out for two months with a fractured wrist. Leuer was the Badgers leading scorer and rebounder, averaging 15.4 and 6.2 respectively. Wisconsin won a roadie, 60-50 at Evanston Wednesday night, to keep pace with the top tier of the B10.
The Buckeyes will look to maintain the momentum they built in the second half Tuesday night and keep their perfect home record. At time of writing, the game was nearing a sellout, so hopefully this team finally has a 6th man, because Thad doesn't seem to have one on his bench.
| # | Name | PTS | REB | ASST | POS | # | Name | PTS | REB | ASST |
| --- | --- | --- | --- | --- | --- | --- | --- | --- | --- | --- |
| 21 | Evan Turner | 18.8 | 10.8 | 5.6 | G | 3 | Trevon Hughes | 15.8 | 5.1 | 2.8 |
| 33 | Jon Diebler | 13.6 | 3.2 | 1.8 | G | 12 | Jason Bohannon | 11.1 | 3.6 | 2.1 |
| 44 | William Buford | 13.7 | 4.9 | 3.2 | F | 11 | Jordan Taylor | 9.3 | 2.7 | 3.4 |
| 23 | David Lighty | 13.1 | 5.0 | 2.9 | F | 24 | Tim Jarmusz | 3.0 | 3.5 | 0.9 |
| 52 | Dallas Lauderdale | 7.0 | 4.8 | 3.0 | C | 52 | Keaton Nankivil | 7.2 | 4.4 | 1.0 |
Opponent
Jordan Taylor has slipped into the starting lineup with Leuer out, switching the Badger offense to a 3 guard look. Taylor, who scored 23 against Purdue last weekend, scored 10 points and had 7 assists against 0 TO's in his first start on Wednesday. Ohio State might be best served letting the 6'1" sophomore shoot from the outside, where he is shooting 32 percent on the year and is 3 of his last 13.
Bo Ryan has the highest winning percentage of any coach in the NCAA who has coached at least 20 years. The dude is a flat out stud and his Badgers once again lead the conference in scoring defense, giving up just 56.5 points a game, which is 5 points better than any other team, while holding teams to 39.5 percent shooting.
In the first meeting, Whisky shut off all driving lanes and held Ohio State to 14-43 shooting and just 5 assists. The Buckeyes could only manage 2 offensive boards, but only turned it over 11 times. Expect much of the same tonight even though the Badgers lost their leading scorer, Ryan might run with his starting 5 for most of the game.
Buckeye Breakdown:
That second half comeback at Purdue will only be worth it if the Buckeyes pull off the victory tonight. Don't get me wrong, I loved watching it and it showed Evan Turner is the POY and that this team has heart. But they needed the comeback to avoid a 1-4 conference start, so losing tonight would set them up in a similar spot at 2-4. Depending on the weekend outcomes, a win put the Bucks back into the top half of the standings.
Don't expect the needed scoring to come from Jon Diebler tonight. In 4 career games against the Badgers, Diebler has a total of 19 points and 8 of those came in the last meeting. On the other hand, William Buford has scored 34 points in 3 games against the Badgers. After his slow start, Wil has hit double digits in 10 straight.
One of the keys for tonight is Turner staying under control against the Badger defense. He got his groove back in West Lafayette, but sometimes he still gets a little rattled if the game gets physical and calls don't go his way. Tonight will be on of those games and even though Turner averages 15 points against the Badgers, he has only faced them 3 times.
Another key is getting some scoring out of David Lighty. He has reached double digits in one of his last three games and was just 2 of 7 in 37 minutes during the first meeting. Lighty drives the lane with force, but the Badgers do such a good job of cutting those lanes off, he can't settle for a bunch of outside jumpers. He has to stay aggressive and see if he can get one of these Whisky big men in early foul trouble.
I think the crowd will finally be a factor in tonight's game. The late start bodes well for the casual fan and students having time to find their way over to the Schott. The players have been begging for it this week and their play on Tuesday allowed them to be justified in their pleas. The Bucks are 50-21 at home against the Badgers and have won 3 of the last 6 when UW is ranked and the Bucks aren't. I have a good feeling about this one, especially with Leuer out and Turner back. It will still be a low scoring affair, but the Bucks come out on top 62-54.
Etc
The win Tuesday was OSU's first since 1997 over a top 10 team when they are not ranked.
Their 83% from the line was their second best effort all year.
Tom Hamilton and JJ rock the mic tonight for the BTN.