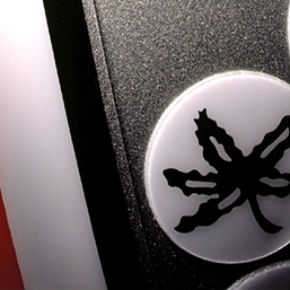 With just 6 days until National Signing Day, there are still some prospects yet to make decisions, leaving many in Buckeye Nation on the edge of their seats as they wait to see who will fill out the class of 2010.
There are currently 17 members of the class of 2010 verbally committed to Ohio State and there are 18 players in total in the class, as Carlos Hyde, a class of 2009 member who didn't academically qualify in time for fall, has already enrolled at the school. There seems to be room for about 2-3 more prospects, and while some pressing needs have been met by the current commitments, there are some gaps to close up with those still up in the air.
Still yet to announce their intentions are Jordan Hicks, Seantrel Henderson, Matt James, Chaz Green, Dominique Brown, and Morgan Moses. We have some scoop on those prospects and some chatter on the 2011 recruiting class in this segment of the 11W Recruiting Notebook.
Christian Bryant of Cleveland Glenville became the 18th member of the class and his announcement was a big one for Ohio State. Not only did Bryant continue the Glenville pipeline to OSU, but he also provided a big need in the secondary as a player who can turn out to be a very solid corner or safety at the next level. I think Bryant will come in as a corner, but eventually move over to safety as his career advances, much like Kurt Coleman did early on.
We have word out to Bryant and are awaiting his response, but there has been some chatter his buddy and secondary mate at Glenville, Latwan Anderson, could end up in Scarlet and Gray. It is becoming more clear that the Bucks weren't sure if they had room for Latwan and are kind of in wait and see mode about other prospects before they are willing to re-open their arms for him as the week winds down. Anderson is visiting USC this weekend, and while he remains committed to West Virginia, don't be surprised if he ends up at Southern Cal or even Columbus (room permitting) come signing day.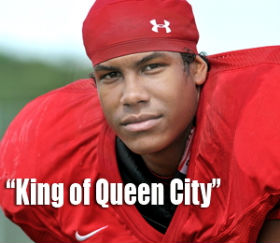 Jordan Hicks will be announcing his decision tomorrow at 12:30 PM at a press conference at Lakota West. Hicks will decide between OSU, Texas, and Florida, and while he has been keeping things close to the vest, early indications have shown that he is a Texas lean. I expect Hicks to sign with the Longhorns with the Buckeyes finishing in second, but don't be surprised if he stays close to home and picks the home state school in the end. Jim Tressel took a trip to Hicks' school yesterday so hopefully he was able to make a last minute impact on the stud linebacker. Keep your fingers crossed Friday and stay tuned, as we'll try to get news of his decision up as quickly as possible.
Seantrel Henderson is my #1 choice to finish this class out, as I feel our offensive line depth is thin and Henderson is someone who can contribute, if not start, from day one he arrives on campus. He is down to OSU, Notre Dame, USC, Florida, Miami (FL), and Minnesota, but many see it as now a three horse race between the Bucks, Irish, and Trojans. I personally think Lane Kiffin isn't giving USC a better chance and this one comes down to ND and Ohio State. Brian Kelly is bringing out all the stops for the big man from Minnesota, but I think in the end the stability in Columbus wins out and Henderson signs the letter Tressel brought him on his in-home visit.
Matt James has said for a few weeks now that the Buckeyes are his leader, but something just doesn't seem right about this. He is making his visit to Notre Dame this weekend and that could change his mind, and I likely think he ends up in South Bend. He had a good relationship with Brian Kelly when he was at UC and many thought Kelly would be able to get him to stay home and become a Bearcat. I think Kelly to Notre Dame ultimately sealed the deal and it was a matter of formalities in visiting the school and what not before James became a member of the Fighting Irish.
I'll keep the news on Chaz Green short and sweet. I don't think he becomes a Buckeye. By don't think, I'm saying theres about a 1% chance. I see him picking the Gators over the Bucks and USC and would be shocked with any decision other than UF or the Trojans.
Dominique Brown of Winton Woods grew up a Buckeye fan, but his passion to play quarterback at the next level may keep him out of Columbus. The Bucks have been honest with him in that he will be an athlete and most likely a slot receiver at OSU, forcing Brown to look at his original pledge of Cincinnati, as well as Louisville and Georgia Tech. I can understand Brown wanting to play behind center, but if he wants a shot at the NFL the smart move would be to come to Ohio State. Tressel also stopped at Winton Woods this week to make a pitch to Brown, but in the end, don't expect him to make the smart move for his future and expect him to pick the Bearcats.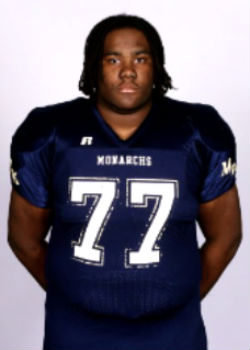 We did a piece on Morgan Moses last week and it seems the big lineman from Virginia is down to UVA, LSU, OSU, and Florida. Moses will take a visit to OSU and the question may not be when he can enroll, but if he can enroll. There have been rumors swirling that Moses will still not be able to qualify and sign on time, but all things I have heard and spoken to Moses about point to him being ready to enroll for OSU's spring quarter at the end of March. Don't expect Mount Moses to declare on NLOID where he will be going as he wants to take his finals two visits and make a decision, but do expect the Buckeyes to be in it right up until the end.
Finally, come every signing day, the Bucks usually get some good news from members of the following class. So far, the Bucks have secured verbal commitments from Ohio defensive ends in Steve Miller and Kenny Hayes, but have many of the state's and nation's top players on their radars once again. The top target is QB Braxton Miller, who we caught up with last week. It seems the Bucks have made Miller their #1 target at the position and the top candidate to be the heir to Terrelle Pryor, but will have to battle Florida, Georgia, Notre Dame, and Alabama for his services. It seems Tress wants at least two signal callers in the class, as it has been reported an offer is out to Hollywood, Florida's Jerrard Randall. Many fans want the Bucks to jump on Glenville's Cardale Jones as well, but as of now it doesn't seem he is going to land an offer anytime soon.
Other top players in the 2011 class to keep an eye on are TE Ben Koyack, LB Lawrence Thomas, LB James Vaughters, LB Trey DePriest, CB Doran Grant, WR Phil Dorsett, WR Shane Wynn, WR Evan Spencer, and S Jeremy Cash. All of these players are being recruited by the nation's top programs, but the Bucks seem to be near the top of all their lists. There is the possibility of Cash announcing for the Bucks next week, but other than that, don't hold your breath, as the rest of the prospects will probably wait things out a bit longer.
All in all it should be an exciting week leading up to signing day, and as always there are some things that will make us smile and some things that will make us sad. Expect the Buckeyes to finish strong with 2-3 more players in this class and get a good start on the class of 2011. Be sure to keep checking back to 11W as we will try to bring you as much news as we can as fast as we can regarding the remaining players left on the OSU wish list.