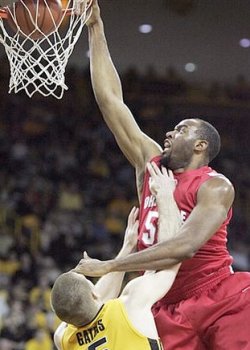 In one of the most painful wins I've ever witnessed, Ohio State overcame a seven point deficit thanks largely to 18 second half points from David Lighty combined with Iowa realizing they were Iowa in a 65-57 win tonight in Carver-Hawkeye Arena.
Things looked bleak as the Buckeyes fell for Iowa's successful attempts to slow tempo leading to a 45-38 disadvantage with 8:18 to play but then the Lights came on. David Lighty triggered a 27-12 run to close the show including eight points in a 10-3 blitz that turned a 44-47 hole into a 52-50 lead with 2:46 left which OSU wouldn't relinquish. Evan Turner took over from there scoring eight points down the stretch after scoring just two points in the first half.
While it's easy to say a road win is a road win, this one shouldn't have been the nailbiter the score fails to indicate as the Buckeyes came out lifeless against an Iowa team content to walk it up. Not so shockingly, Thad did virtually nothing to increase the tempo and when Turner picked up his second foul with 9:18 left in the half followed by a 9-0 Iowa run, OSU looked dead in the water. Luckily, Iowa simply isn't a very good team and they weren't capable of swinging the dagger allowing the Buckeyes to trail only 25-20 at intermission.
Despite the first half foul trouble holding him to two points, Turner added 14 in the second to finish with 16 points, 12 boards and seven dimes against just one turnover. The effort complemented Lighty's 20 points (7/11) and eight boards. Wil Buford struggled from the floor (4/14) but he continued to work the glass pulling down eight rips to go along with his 11 points.
The big game I sort of expected from Jon Diebler never materialized as he got off just six shots, hitting one, in a six point, seven rebound performance featuring some statuesque defense against a decidedly pale Iowa offense. Dallas Lauderdale helped keep OSU in it early scoring eight first half points on his way to 10 on 5/5 shooting but as we've seen all too often, he gave the Bucks nothing on the glass recording only two boards. Basically, the strongest and tallest guy in red finished 4th on the team in rebounds. If not for the offense early, I'd be forced to bring back the Invisidale moniker. Seriously, he needs to man up on the glass, pronto.
For the game, OSU shot just 42% from the floor, 25% from distance and 65% from the stripe (13/20). And they won? Much of that credit goes to Lighty, low turnovers (5) and a defense that held Iowa to 36% from the floor and limited leading scorer Matt Gatens to six points.
Again, we'll all take the win but what do you think about Thad's effort tonight? I like his patience but this was at least the fifth game where tempo was an issue and he either did nothing to influence it or waited to react until the game was nearly over. Don't get me wrong, I love Thad as a recruiter and don't want him going anywhere but his X's and O's aren't in the same league as Izzo or Ryan or, well, Jim O'Brien. It's just a fact, but one that I'm willing to live with because he fields talented teams that typically play a fun brand of hoops to watch. Only problem is, when it comes to beating teams with superior talent, OSU will usually come up short.
Whatever. For now, OSU improves to 5-3 in conference with a Sunday matinee against Minnesota looming.
Revenge
will be sweet.