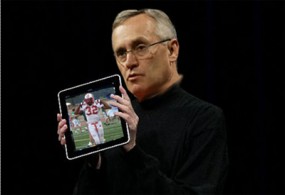 COLUMBUS -- Just after 12:30 p.m. this afternoon, Ohio State revealed its latest so-called game changer,
Jordan Hicks
. The linebacker is expected to make his debut for the Buckeyes after many recruiting analysts had projected him accepting a scholarship from the higher pegged University or Florida or University of Texas.
Hicks, which is larger in size but similar in design to Ohio State's popular linebacker Brian Rolle, was billed by CEO Jim Tressel on Friday as "so much more intimate than a linebacker and so much more capable than a safety."
Commenter HolyBuckeye02, after scoring some face time with who some are calling the "messiah linebacker" wrote: "He's substantial but surprisingly light. Beautiful yet rigid. Good makeup. His handshake was a little rubbery but it could have just been my sweaty hands. And did I mention he's fasssssttt?" The blog commenter who's work also regularly appears underneath YouTube videos seemed impressed with the speed of the linebacker, but also pointed out that his pass defense lacked a certain flash. "His mostly empty boxes of coverage in the middle of the field left a little something to be desired" he added. One premium site contributor whom asked to remain nameless liked the linebacker, but warned the "bashers" to hold off on judging the player before seeing him up close and personal in pads. He told 11W, "Over all, the kid seems like a dream off the screen for reading the quarterback's eyes and watching the plays develop -- at some loss of convenience of usual linebacker on the field play input. True, there's alternate ways to get the plays into the huddle, but Hicks doesn't seem to interpret these the way usual players do."
A popular Ohio State blogger who live-blogged the event added "But will this drive Ohioans to buy season tickets in droves? Is there any room for a linebacker between Rover and Sam? That I don't know -- I've always been skeptical there's room for a third defensive category in there. But if there's a contender for the space, Jordan Hicks is the guy."
However not all followers of the program walked away from Friday's presser with a glowing recommendation. One Ohio State season ticket holder had a few reasons why he'd take a wait and see approach to the Buckeyes' latest defensive "gadget": "Well for one, Penn State's linebackers are designed for hard-core defensive football fans. Sure they have their limitations, but for people who like to see pro-style defense, the fact that their uniforms are mono-chromatic and the blitz packages do not turn on a dime really isn't that big of a deal."
---
With a painstakingly long off-season ahead of us, it's important to remember that the lack of football means it's okay to learn to laugh again (the Buckeyes won the Rose Bowl people). Meme's are the internet's way to cope with all of life's absurd stresses and injustices (such as no meaningful tackle football for 8 months) and do just that. One recently popular cultural fad sweeping those of us who are ~13 year olds trapped in grown people bodies can best be explained over yonder (that site contains potentially NSFW language and links). Because college football is way too stirring to take exclusively serious, we elect to beat a dead horse with a scarlet & grey-tinted lash. Presented without further commentary, "You've Been Dick Tressel'd":