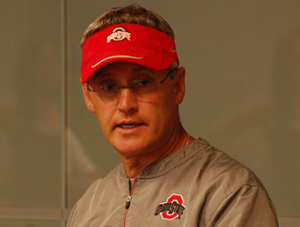 The team held their pre-travel media event yesterday and Tressel opined on a great many things without ever really saying anything. I'll pause for a second so you can recover from the shock you're undoubtedly in.
At this point in the Vest's tenure, I've almost given up on trying to parse his responses, but do see value in the questions the beat pool lobs his way as they're typically a solid barometer of the current scene in Columbus. And by scene, I mean the community's anxiety at large.
On the heels of a rumor swirling about the eligibility of certain receiver that happens to be the son of a legendary wideout, the first question passed to Tressel was about grades and whether anyone on the team appeared to be in jeopardy. The response:
Well, at 5:00 this afternoon, I'll know that for sure. I assume everyone's in major jeopardy until I see -- until their things come true.
As you can imagine, there wasn't a friendly 5pm update. If there are academic casualties, we're probably still a couple of days away from finding anything out.
Next came a question concerning the health of the team and Tressel implied that all of the walking wounded from late fall were back to full health, with the exception of Jamaal Berry and that delicate, delicate hammy of his. Hines, Pryor, Shugarts, Boren and Larimore were participating in Monday's practice. The team will conduct film/weight sessions today and Thursday with practices scheduled for Wednesday and Friday, carrying over into some weekend work before releasing the players for Christmas after a session Monday.
Additional good news came when Tressel revealed kicker Aaron Pettrey to be ahead of schedule and "back kicking it a little bit." His leg could certainly come in handy in game where the Buckeye offense will likely need everything they can get, assuming he continues his quick heal.
Next up was the now annual inquiry on how the team was planning to handle the layoff and how the team would manage preparation. After discussing hitting philosophies, The Vest pointed out this layoff is in fact, shorter than the previous three:
We're not doing things extraordinarily different than we have over the last few years. We're playing a little bit sooner, we have a little bit less layoff. In fact, our coaches and players feel a little bit cramped. Really, it's amazing? "We only have this many practices left? I don't know how we're going to get --" So you know, January 1st, be ready.
When asked what the team could "definitely get better at over these four weeks", Tressel pointed to the need to connect on some of the deep matchups the run-oriented offense sees:
Yeah, I think we've got to be more efficient and I think we've got to strike when there's opportunities to strike. We had a couple chances in the last game where we could have hit a homerun and we didn't and I think you have to have that as part of your arsenal because then if you do indeed run it pretty well, you think back to the Oregon State/Oregon game, one of the key play his, although they ran for 103 some yards was the 76-yard play on the third down where they had people in the box and people were out there one on one. You have to hit those.

So I think we have to be able to hit homeruns when people decide they're going to put X amount of people in the box to stop your run. That's the balance you like to have and we've got to get a little bit better at that.
That balance he'd like to have is essentially the offense we saw for about 90% of the 2007 season: Beanie destroying dudes between the tackles and Boeckman burning defenses over the top when the box ratio was remarkably uneven. For all that frustrated us with Boeckman in the pocket, he usually had nice touch on his deep throws. If Pryor can add that element to his game, this is a pretty scary offense. If he can add it to his game by January 1st, all the better.
On his memories from his last Rose Bowl visit, as an assistant in 1985:
I remember we jumped offsides when it was first and goal at about the three, vividly remember that. We ended up settling for a field goal and then I think we lost by a field goal. But that's just the coach in me. I remember Cris Carter caught a bunch of balls. I remember we threw some interceptions, but outside of that, I don't remember much. I remember being busy out there. On the day we went to Disneyland, by the time we got in, kids rode one ride and it was time for a recruiting meeting, I remember that.
On the feeling of the team's responsibility or pressure heading into the game:
They know
Oregon is as good a team as any team in the nation. So they know the challenge and I think they also feel or know the responsibility, if you will, to represent their conference because guys want to have a 6-1 bowl record rather than a 1-6 because they're part of a conference and so forth, but our guys, I've never been disappointed with their sense of responsibility.
When asked about meeting Chip Kelly for the first time recently at the National Football Foundation banquet and whether he seems like an aggressive guy, the well-dressed comedian offered up this gem:
From a coaching standpoint, offensively they get after you and defensively they get after you, so I would say that that would be a fitting label that they're an aggressive put pressure on you group. As an individual, he didn't seem that, but we were both in tuxedos and we were probably both on our best behavior. He didn't take me down and pin me or something, so he wasn't that aggressive. He seemed like a good man.
Finally, Tressel revealed that the staff sent in paperwork for 10 juniors, but wouldn't disclose names:
I'm sure you can guess who. All of them are starters.
Let's see. The latest, always 80% accurate depth chart lists 10 junior starters: Gibson, Heyward, Homan, Rolle, Chekwa, Torrence, Saine, Sanzenbacher, Browning and Boren. But Hines isn't listed as a starter and he might have the most NFL potential in the secondary outside of Coleman. And then there's Larimore, who isn't anywhere in the Michigan two-deep because he was injured. Out of those 12, who are the two that didn't have paperwork submitted? Browning and Sanzenbacher would be a good guess.
I'd be surprised to see anyone beyond Gibson and Heyward actually testing the waters in any serious manner, but we'll have plenty of time to worry about early departures after the 1st.