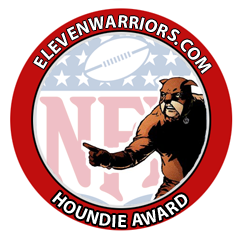 The Houndie is an award formerly known as the Buckeye NFLer of the Week. After 2 years of existence, we searched for a catchier name, so with the help of a well placed typo and the ensuing 11W comments, the current title was created.
That whimper you just heard wasn't just the dignity of Redskins' fans everywhere, but rather the NFL's Week 15 ending rather unceremoniously. The postseason fates of 6 clubs (4 NFC, 2 AFC) are firmly entrenched, where as 2 more (the 9-5 Pats and Bengals) have positioned themselves very nicely to wrap things up come next weekend. The action in the AFC is getting particularly interesting, with an astonishing 6 teams deadlocked neck and neck at 7-7, all possessing still very much alive playoff aspirations.
We start with one of those 7-7 clubs, the resurrected from the gurney Tennessee Titans, courtesy of 1700 volts from a Vince Young make and model EKG. Tennessee moved to .500 on the season and kept their playoff hopes alive on the foot of Rob Bironas defeating Miami 27-27 in OT. Buckeye alum Teddy Ginn was limited to 2 catches for 38 yards, but did contribute a 23 yard kickoff return at one point in the action. Rookie Brian Hartline made a strong case for this week's Houndie, taking an end around for 10 yards and adding 2 receptions totaling 96 yards in the losing effort.
The Pittsburgh Steelers ever so narrowly kept their playoff aspirations afloat as well, surviving a bold, late onside kick gambit by head coach Mike Tomlin to win as time expired 37-36 over the Green Bay Packers. Former Silver Bullet A.J. Hawk capped a fine evening with three tackles and three assists. Former Buckeye DT Ryan Pickett also added a tackle in the loss. In the winning locker room, defending Super Bowl MVP Santonio Holmes celebrated his three receptions for 77 yards.
Staying in the AFC, longtime NFL vet and former Buckeye Mike Vrabel showed he's still more than capable of performing at a high level, recording 3 tackles in the Chiefs disappointing 41-34 loss at the hands of invincibility star possessing Jerome Harrison and the Cleveland Browns. Another ex-Buckeye star defender also saw his club come up short on the losing end an upset. Former DE/DT Kenny Peterson had 2 tackles as his Broncos were JaMarcus Russell'd 20-19 by the Oakland Raiders.
Wrapping up the AFC side of things, the 17-10 New England victory over Buffalo saw stud ex-Buckeye Donte Whitner tack on 3 tackles to an already outstanding season. On the opposing side of the ledger, Shawn Springs saw action for the first time in a number of weeks, adding two tackles in limited duty for the Pats. Troy Smith also merrits a hat tip, going 2/4 for 10 yards and adding 6 rushes out of the wildcat for 17 yards in the Ravens' 31-7 destruction of the Bears.
Switching gears and moving over to the National Football Conference, we're left with but two obvious contenders for pro football's most storied award. In a game yours truly languished through to the tune of 3.5 hours of snooze, "Little Animal" James Laurinaitis padded his defensive rookie of the year campaign with an outstanding 5 tackles in a close 16-13 loss at the hands of the Houston Texans. Another Buckeye you may have missed making his return to the league was none other than Buckeye legend Mike Nugent. Filling in for the injured Neil Rackers, Nuuuuuuuuge nailed a 48 yarded in his only 3 point attempt of the day, and knocked out all 4 of his extra point tries in the Rams' 31-24 victory over Detroit. But while we're glad to see the man who once occupied #85 for the Scarlet & Gray update his resume, the Houndie goes to none other than Nuge's Cardinals teammate, one Chris "Beanie" Wells. The outstanding Mr. Wells capped the finest afternoon of his pro career, ripping off 17 carries for 110 yards and a score. The dynamic halfback also added a 13 yard reception as he continues to make a late case for voters to consider an alternative to Denver's Knowshown Moreno in the offensive rookie of the year race. Enjoy the victory, Mr. Wells. Something tells me it won't be your last.