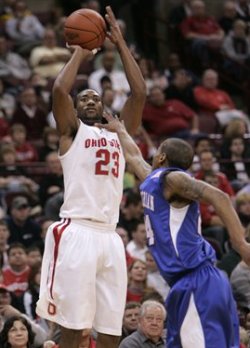 Though Matta's boys put it in cruise control in an uninspired second half, they still put four in double figures thanks to a blistering opening 20 minutes on the way to a 78-48 win over the Presbyterian Blue Hose tonight in the Schott.
Looking to wipe away the taste from Saturday's road loss at Butler, the Buckeyes started the contest on a 26-5 blitz subsidized by a collective 10/16 shooting, nine points from Wil Buford and a defensive effort that forced eight Hose turnovers and 2/9 shooting, essentially putting the game out of reach at the 10:37 mark of the first half.
The balanced sharpshooting would last throughout the remainder of the half as the Buckeyes built a 53-21 lead on the strength of 63% from the floor (20/32) and a scorching 53% from deep (9/17) thanks to excellent ball movement yielding 14 assists on 20 field goals. While no Buckeyes reached double figures in the first half, each of the starting five had at least six led by Buford (9), Jon Diebler (9), P.J. Hill (9) and David Lighty (8) as Ohio State built a 19-4 scoring edge in the paint. Buford was particularly impressive early in his continued effort to make up for Evan Turner's absence as he corralled 4 boards while dishing five assists. Further emulating ET, he also had three first half turnovers but there's no doubt he's shaken off his early season slump and is playing with plenty of confidence.
The second half was an entirely different story as OSU failed to maintain intensity at the defensive end while struggling to execute their half court offensive sets allowing the Blue Hose to "win" the second half 27-25, a point not lost on Matta, who was clearly frustrated with his squad's effort over the final 20 minutes. Buford was one culprit as he recorded just two second half points on 0/5 shooting with another two turnovers (5 total) while Diebler added only two points (1/2 FG), no boards and an assist.
The pulse of this team, David Lighty, was the one Buckeye who played a complete game scoring 20 points (7/12) while pulling down six rips to go along with three assists and three steals. Lighty continued his season long mission of driving to the rack with authority leading to countless layups as well as eight trips to the line though he hit just five. Lighty also saw more minutes at the point, or at least as the primary ball handler bringing the ball up the floor, even with Hill in the lineup as Matta continues to figure out his Turner-less rotations.
Dallas Lauderdale continued his recent offensive explosion reaching double figures (10) for the second straight game and for the 4th time in his last six outings thanks to a 5/5 night from the floor increasing his season FG% to a ridiculous 90.6% (29/32). Sure, most of his shots are dunks but he did flash a nifty left hand jump hook twice tonight causing me to salivate profusely unless I'm mistakenly taking credit away from the box of Cello's chocolate covered cherries that I ransacked during this lopsided affair.
Speaking of salivating, BTN announcer and former Buckeye Tony White got a little to excited by the fact Jon Diebler actually drove the lane a couple times but if there's one thing we've learned it's that a rare Diebler drive sighting is usually reserved for opponents like the Hose. Don't get me wrong, I loved seeing it but I hesitate to think we should expect Diebler to effectively get in the paint during conference play. On the night, Diebler scored 12 points with eight of his 10 shots coming from beyond the arc.
Just like Hill, Jeremie Simmons scored all his points (8) in the first half with Kyle Madsen adding six and three rips in an active 14 minutes.
For the game, the Buckeye man defense held Presbyterian to 33% shooting and posted a 35-25 edge on the glass. At the other end, OSU shot 53.7% including 43% from deep (9/21) but again appeared to shoot their free throws blind folded going 11/19, good for 58%.
Next up: Delaware State this Saturday at 4pm in the Schott.