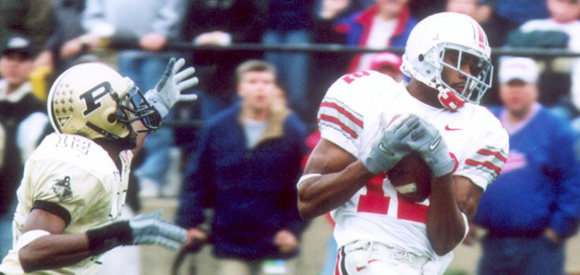 It's been a bountiful decade for the Ohio State football team. Despite the 15-9 start that spanned the final season of the Cooper era and Tressel's first campaign, the Buckeyes trail only Boise State (111), Texas (110) and Oklahoma (109) with 101 victories since the world did not end and people were safely able to consume their stockpiles of rice and potatoes.
The decade includes the miracle run of 2002, six Big Ten championships and 18 All-American awards. We've seen Buckeyes take home the Butkus, Nagurski, Lombardi, Groza, Guy, Camp, O'Brien, Thorpe and Rimington awards. And then there was the national-best 7th Heisman Trophy, captured by Troy Smith in 2006.
Now it's time to pick the best of the bunch. The following team represents our consensus on an all-decade offense. We stretch the squad a bit with three receivers, two running backs and the five linemen selected with no particular respect paid to true position. We wanted to name the best of the best and we felt this way best achieved that.
Backs
QB: Troy Smith (2003-06)
Though Craig Krenzel has the crystal and a sterling 26-2 mark as a starter, Smith is the guy you'd take if you actually wanted to deal damage from the quarterback spot instead of just managing the game. Besides, Smith's 25-3 mark as a starter (including three monster Michigan games) weren't so shabby either and his record 30 passing TDs in 2006 is probably safe for as long as Tressel is in Columbus.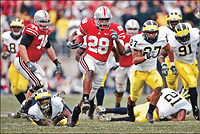 RB: Beanie Wells (2006-08)
Undoubtedly the most talented Buckeye to line up at running back this decade, Wells saw action right away, finishing with one sick spin move and a 52 yard touchdown against the Wolverines on the way to 576 yards as a frosh. His sophomore season, despite playing injured, he racked up a school sophomore-best 1,609 yards and 222 yards in the Michigan game. Injuries took a heavier toll his junior year, but he still averaged 5.8 yards per carry on the way to 1,197 on the season and many, many, highlights. (Let's face it, if you put Wolverine's Adamantium skeleton into Beanie, you have the perfect back.)
RB: Antonio Pittman (2004-06)
Pitt was a model of consistency as he became the first Buckeye since Eddie George in the mid-nineties to string together back-to-back 1,000 yard seasons. Though his 2,945 yards on the ground are good enough for just 9th place in the career books, his 15 100-yard games are good enough for 4th all-time. The second Akron product in our backfield also earns points for being one of the only players to show up for the Florida game.
Receivers
WR: Michael Jenkins (2000-03)
Every time Krenzel and the Buckeyes needed a bailout in the '02 season, Jenkins was there to provide it. The two biggest examples being the 4th and one beauty at Purdue and the 17 yard strike he hauled in on 4th and 14 in the first overtime of the Fiesta Bowl. C-L-U-T-C-H. His 2,898 career receiving yards top the Ohio State books and his 165 career receptions are good enough for third (behind Boston and Carter).
WR: Santonio Holmes (2003-05)
Picking up where Jenkins left off, Holmes led the team in receiving his sophomore and junior seasons. The second of which, occurred while Smith was coming of age as a junior quarterback and saw the Florida native finish with 53 receptions for 977 yards. Before turning pro early, Holmes set a Fiesta Bowl record with an 85 yard touchdown haul against the Irish to provide for the eventual margin of victory in the blowout win.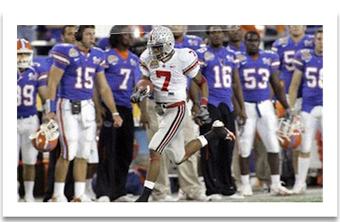 WR: Ted Ginn Jr (2004-06)
Though he wreaked havoc as a freshman and a sophomore, Ginn played second fiddle to Holmes in the offense and wasn't counted on to do anything more than stretch defenses and pluck the occasional bomb from the sky. That only made it that much more enjoyable to watch him blossom into a viable receiving threat throughout all levels of the secondary when he was finally called upon to be the man in the receiver corps as a sophomore. Though his last game will go down as one of the weirder exits in Buckeye football history, perhaps no player caused opposing defensive coordinators more headaches than Ginn did during his stint as a Buckeye.
Line
Rob Sims (2002-05), Shane Olivea (2000-03), Nick Mangold (2002-05), LeCharles Bently (1998-2001), Kirk Barton (2004-07)
Linemen don't have statistics upon which to draw comparisons (outside of the sporadically-tracked pancake), but all of the preceding were NFL draft picks -- which is something you can't say for some of the more hyped Buckeye linemen of this decade. This group also slants more towards the Cooper era than any other group on the team and you're free to draw your own Jim Bollman conclusions on that nugget. In Bentley and Mangold, you have two stars, while Olivea and Sims were very good contributors on their units. Finally, Barton netted all-league and All-American honors in 2007 before sliding to the 7th round of the draft that year.
Just Missed
All good teams deserve honorable mentions and this one is no different. Starting at quarterback, Krenzel was a winner, pure and simple. At running back, we have Jonathan Wells and Maurice Clarett. Yes, that guy. For all of the bad off the field, he was that good on the field. Anthony Gonzalez deserves some love at wideout, as does Brian Robiskie. Jermil Jamar Martin would have been our fullback had we named one, as would Ben Hartsock at tight end. Finally, Dough Datish, Alex Stepanovich and Alex Boone earn recognition for their play on the line. With Boone, it's easy to point out his follies against the elite ends in the game, but he also spent a good part of his career owning the guys he was supposed to own.
What do you think?