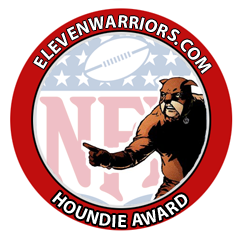 The Houndie is an award formerly known as the Buckeye NFLer of the Week. After 2 years of existence, we searched for a catchier name, so with the help of a well placed typo and the ensuing 11W comments, the current title was created.
Outright, undisputed champions of the Big Ten. So what if 2 certain Ohio based professional teams failed to live up to their end of the bargain in the most gut wrenching fashions possible? This was a hell of a weekend for Ohio football regardless as an Ohio State victory over Michigan over shadows all else.
Week 11 in the National Football League meant the bye week has come and gone in 2009, and it's time to buckle down, and play some football (brief aside: have you ever noticed how every professional color guy drops 'football' as a positive qualifier atleast a half dozen times per quarter? i.e. "This guy is one heck of a football player!!", "this young man's football IQ is just off the charts", "this kid just knows how to play the game of football." This football writer digresses). Former tOSU great Nate Clements most notably is still recovering from an injury, but virtually all other notable Buckeye alum were at in an exciting Sunday afternoon and evening of pro ball.
Longtime goat (and not of the greatest of all-time vernacular) Bobby Carpenter continues to play the best season of his young professional career, contributing two solo tackles and one assist in the Cowboys' dramatic defensive keyed victory over rival Washington 7-6. Former Silver Bullet battery mate A.J. Hawk saw added playing time with Aaron Kampman done for the season, chipping in an identical line of two solo tackles and an assist in the Packers' more comfortable than it appeared 30-24 victory over the Niners. Packers teammate but Buckeye predecessor Ryan Pickett added a tackle in the effort.
Staying on the defensive side of the ball, Donte Whitner chipped in a modest two tackles in a frustrating 18-15 loss for Buffalo to Jacksonville. Former ally in the Buckeye secondary Malcolm Jenkins had a break out game with his playing time increased due to various injuries. Jenkins had a career high five tackles, an interception, and two assists in New Orleans' 38-7 demolishing of Tampa Bay. Teammate and fellow former Ohio State great Will Smith continued a great year with two tackles and an assist.
To the skill position players, Cardinals rookie halfback Beanie Wells followed up a career day a week prior by rushing 74 yards on 14 carries, including the decisive touchdown, a hard fought 1 yard effort in a
21-13
victory over division rival St Louis. From a former Steelers coordinator turned head man to the Steelers themselves, defending Super Bowl MVP Santonio Holmes had himself an afternoon, recording 7 catches for 87 yards in a
27-24
overtime defeat at the hands of Kansas City.
Finally to this week's runner-up for the most prestigious award in all of sport: while this may sting close to the heart of some 30-40% of our readership, take solace that in the Bengals heart crushing 20-17 defeat at the hands of the Raiders, former Buck Jay Richardson put together one of the most productive afternoons of his career. Richardson totaled six tackles and an assist, not to mention getting in Bengals QB Carson Palmer's face all afternoon. While Richardson's performance deserves the obligatory hat tip, the pro-Buckeye baller du jour is none other than Little Animal. JL racked up an absurd 16 tackles in a losing effort for the aforementioned Rams. Aside from one bad angle which resulted in a sizable gain for Cardinals receiver Anquan Boldin, the-beast-who-once-occupied-#33 was all over the field on virtually every play for St Louis, showing just why the first year linebacker is a front runner for the NFL's defensive rookie of the year, an award that would undoubtedly measure close behind his Week 11 Houndie. Don't ever change, JL.