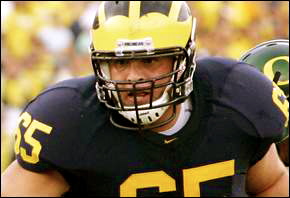 Ah, the smell of roses is still fresh, but Michigan Week is here and you know Jim Tressel loves nothing more than he loves beating that team up north. In his weekly press conference Tressel discussed the tough November slate that the team has had to face this year, including the past weekend's game against Iowa and the upcoming matchup that displays the best rivalry in college football.
Tressel started out discussing the team's tough November schedule that has included a 24-7 win over Penn State in Happy Valley and Saturday's 27-24 overtime victory against Iowa. Of course, The Game is coming up this week and Tressel has marked this game the "toughest" of the stretch. Here's what The Vest had to say about his team's performance of late and what they face as they head to Ann Arbor this weekend:
Someone described this month as tough, tougher and toughest. And we've battled through the tough and the tougher, and now we're excited about the toughest and there's just a special feeling about this week. Anyone that's been a part of it would probably agree and not be able to describe it that well, but it's an exciting time coming off of a tough football game with Iowa. Iowa is a very good team and you knew they were going to play to the whistle and to the final tick on the clock and then some and that's what they did.

Now we go on the road, on the road in the Big Ten, on the road to Michigan. So our people are excited about it. It's exciting for, I think, a lot of reasons. One is it's Ohio State /Michigan and there's nothing like it. And, two, it's your last regular season game and you'd like to think that you're going to be playing your best football in all phases, offensively, defensively, special teams, and we've certainly got a lot of work to do for that to be the case, but we're looking forward to a great week of preparation. Our kids are excited, and let's go.
The Bucks better be playing their best football this weekend, because a loss to Michigan would really put a sour taste on what has become a successful season after losses to USC and Purdue earlier in the year. The Michigan game always brings out the best in Tress and it's good to see how energized he is coming into this week. If you haven't already noticed, this week's presser was held on Monday instead of Tuesday for a reason, as Tressel likes his full concentration to be on his biggest rival. Rich Rodriguez should (or let's hope won't) take a page out of JT's book when it comes to this rivalry, as he understands why this game is so important. This has in no doubt lead to his success against the maize and blue, as the Buckeyes shoot for a record sixth win in a row against the Wolverines.
This game does worry me a bit, as anything can happen in this rivalry, especially after OSU has clinched a Rose Bowl birth and a share of the conference title, while Michigan is trying to avoid their second consecutive season without a bowl game. Michigan has everything to play for, and while this game is enough in itself to get up for, it is a worry amongst Buckeye Nation that Ohio State will come into this game too complacent. This game usually has a lot more riding on the line and Tressel discussed how his team would motivate themselves to get up for The Game and went on to describe what was at stake when a reporter brought up the fact that the Rose Bowl and Big Ten title were already locked up:
Well, there's a reality in life that if you take anything for granted, you're probably not thinking right. We talk about a lot of things that we shouldn't take for granted. Maybe some things that aren't even that real to us, but when you talk about the Ohio State /Michigan game, that's very real. So I'd like to think our guys don't take anything for granted, although I'm sure we all do take things for granted, but this wouldn't be one of them.

Well, it's Ohio State /Michigan and I'm sure you could talk to some people who have participated in this game as a player or a coach and they could tell you that probably in the forefront of their mind of their memories of their time here, more so is the Ohio State /Michigan things that flow through their head than it is which bowl did you go to and where were you ranked and this and that, so what's at stake is Ohio State /Michigan.
If you're going to tell me Jim Cordle is sitting in that locker room and doesn't want his fifth pair of gold pants you are crazy. The Buckeyes always seem to know how to get up for this game, and while the result may not be like last year's 42-7 thrashing, the intensity will certainly match it, if not up it a notch. Michigan is certainly going to come out firing as they are trying to avoid dropping to 1-7 in the conference and missing a bowl game for the second of two seasons under Rich Rodriguez. This game may not be the blow out Buckeye fans are expecting and hoping for, but I can bet one thing and that is that the Buckeyes will not come out complacent.
An added spice to the rivalry this year is the addition to Justin Boren as one of the good guys. We all know the story of how Boren left the UM program after the Rodriguez regiment came in to Ann Arbor and transferred across enemy lines. Boren had to sit out last season's game due to NCAA regulations, but gets to suit up in Scarlet and Gray this season. Tressel discussed Boren's opportunity to play in the game from the OSU side this time around:
Justin's the kind of guy that focuses hard on what he has to do and he was fighting a couple weeks there in the middle of the season when he was banged up and when you don't practice, you just don't perform like you would like to. Fortunately he's healthy and, I thought, played one of his better games Saturday. I really did. I'm sure he'll be excited. I'm sure it will be difficult in some ways because he has great feelings for both teams that are going to be on the field and a lot of great memories up in The Big House with his dad and himself and all the rest, but his focus will be on what can he do to help his team.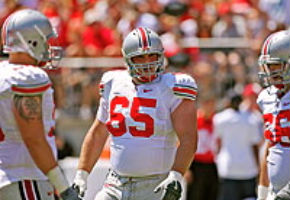 Classic Tressel-speak here. If you have ever seen Justin Boren, either on or off the field, you know there is nobody as competitive in college football. Boren has brought a nasty streak to the offensive line with him this year and after leaving the Michigan program with a sour taste in his mouth for Rich Rodriguez and his staff, you better bet he is going to be ready to go on Saturday. Don't be surprised to see Boren tangled up in the bottom of some piles, as he will bring a even more physical brand of football to this match up. As a side note to the Boren issue, good thing I will be at the game, because one thing I can guarantee you will see on TV is plenty of shots of Mike Boren (father), whenever Justin or Zach are involved in a play.
In addition to the Borens being Buckeyes for the rivalry this year, there is another new wrinkle to this year's game. The cat did get out of the bag a bit early, but nonetheless, the Buckeyes will be wearing Nike Combat Uniforms as part of the Rivalry campaign. The jerseys will be a one-time deal and will tribute the 1954 National Championship team. Tressel, ever the traditionalist, discussed his thoughts on the get-ups for the big game this weekend:
Well, it was a -- I think it was kind of a nationwide initiative that Nike was a part of with their schools. I think there are eight or nine schools that have done it already during the course of the year and they kind of pick the game for you and we were able to pick the team. We went through a group of -- actually I was out of town. I don't know if I was in Iraq or where I was, but I guess they gave us a bunch of different examples and so forth and we had a couple players and a couple coaches and administrators and whatnot and we got to choose which way we would go. And that seems to be kind of a thing that's done all over the place now. I'm a little old school, but even I'm trying to mature a little bit and embrace things like that, but to me, it's an awesome responsibility to play in the Ohio State /Michigan game and it adds a little bit more when all of a sudden you're wearing what the people did that were extraordinary in a given year so it will be exciting.
.......and when asked if his traditional sweater vest outfit would have a new look, JT responded:
If it does, I don't know. I might be wearing one of those trench coats and a little Paul Brown hat. Not sure. Throwback sweater vest, I don't know, with buttons in the front, I don't know. I don't know. Whatever they give me, I wear.
Tressel clearly prefers the Scarlet and Gray clad unis that the team rocks on a weekly basis, but hey, if the 1954 team wore them, they'll have to work for Tressel. I really love the sweater vest look, but it would be awesome if Nike put together a Woody-esque outfit for Tressel on Saturday. Some glasses, the black hat with the red block-O, a short sleeved button down shirt with a black tie, and some slacks would definitely do the trick. I would say it would be awesome to have Michigan in throwbacks and Rich Rod dress up as Bo, but there's a good chance Rodriguez doesn't even know who Bo Schembechler is.
Back to football, we can't mention this past week's win without some of the negatives. The team was indeed up 24-10 before a kick return and some Tresselball lead the Hawkeyes to tie it up before Devin Barclay played hero in overtime. Tressel's late game play calling has been the subject of criticism of many writers and fans across the country, and The Senator defended his strategy on Monday:
Well, it's a little bit easier to back it up when we ended up winning. Certainly arguments, people take on statistics and whatnot and say, hey, if they would have done that, they probably would have come out better, but we talk a lot about the fact that we do want to make sure that we're a part of each other, offense, defense, and special teams. And our defense did come out and probably play their best three or four plays of the game and our special teams hadn't done great, but we had every confidence that we could do the normal stuff, nothing out of this world. I would have liked to pound it down there a little bit closer, but we didn't get that done and I don't know what it ended up being, a 40 something?
If you haven't noticed, Tressel loves playing conservative, hard-nosed, old-time Big Ten football, especially in the month of November. If he had his choice he would probably never throw the ball and in all reality he basically didn't against Iowa. I like the fact that the Bucks are controlling the line of scrimmage and the game clock, but sooner or later Terrelle Pryor is going to have to be let go to make plays to help this team win a game. Right now he is just a game manager, limiting mistakes so that Tressel can play the way he wants-mistake free and in control. That may fly again this week, but against a team like Oregon in the Rose Bowl, Tressel is going to have to trust Pryor to win him a game. He had the perfect opportunity to do so with a little over two minutes left against Iowa and chose to play for overtime. If he does that in Pasadena, you can forget about breaking the three-game bowl losing streak. This is the Michigan game though, and JT always holds some plays back, so here's hoping for the creative Tressel on Saturday.
Finally, one the plays Tressel has broken out recently has been the Wildcat Formation run that Boom Herron used to score a touchdown against the Hawkeyes. The play has been somewhat successful, but there has been no men in motion to trick the defense and not once has the option to pass even appeared. Tressel discussed his new formation, how the idea came about in Columbus, and if TP has been receptive to lining out at wide receiver on some of the plays:
I think the first discussion of it came up when Terrelle was a little banged and our tailbacks were a little healthy. All of a sudden you had three guys. There was a time in the season where you didn't really want to do that because you didn't have -- Terrelle was healthier than a couple of backs. And we look at it as if we've got four different runners and at the moment we worked it, the running backs were healthier than Terrelle. The good news is, I'd like to think we'll go into Saturday and all four will be healthy.

I think so. He's happy for us to throw it to him. You know how that is. He thinks he's a great route runner. I said, well, you've got to have somebody who can throw it. So I think he's reminiscing about when Todd was throwing to him. Todd's not here, so any little thing we can have to add preparation time for people to add pressure to our opposing defenses we think is good.
It really seems that Pryor was hurt a lot more than we all thought, perhaps showing why Tressel hasn't relied on him as much the past two weeks as he did the previous nine. If he is healthy now, watch out as the wildcat can be an even deadlier formation and the Bucks can utilize Pryor's athleticism to their advantage more often. Similar to the Fiesta Bowl play where TP caught the touchdown from Boeckman, don't be surprised to see Herron or Saine roll out from the wildcat and throw a jump ball to Pryor in the end-zone against Michigan if the opportunity presents itself. Obviously Tressel wants to give UM all they can think about when game planning in practice this week, but as this rivalry goes, anything can happen, so don't be shocked to be taken out of your socks this weekend.