Depending on whether or not you believe in that sort of thing, the SI cover jinx conspired with Northwestern's brilliant "injure Ricky Stanzi" scheme to kill whatever MNC hopes the Hawkeyes had. At any rate, it was one brutal way to end what had been a magical unbeaten season.
The good news, if you're Iowa, is that you waited to lose your first game until the 10th week of the season, leaving a coveted Rose Bowl invitation well within reach. However, in order to lock up a trip to Pasadena for the first time since 1991, college football's feel-good story of the year will have to win a tough game, on the road against a stellar defense, and starting a redshirt freshman with all of 30 career attempts.
Despite the occasional Stanziballs, no Big Ten quarterback was more clutch than the Manzi, and despite lesser expectations for his replacement, James Vandenberg, especially in light of his 9 for 27 performance against the Wildcats, the truth is, it's hard to get a read on a guy based on three quarters of work. Especially when that those snaps were probably played under somewhat of a state of shock -- best indicated by the interception Vandenberg threw on his first pass of the game.
Watching the highlights of the game, it doesn't look like the trainwreck of an appearance the 9/27 would indicate and Iowa observers seem to agree, highlighting the fact that he's been a quick study and seems to have the playbook down:
I guess what I am trying to explain here is that Vandenberg ran at least 34 plays from 10 formations before the last drive. Most of those were passes, and several were runs that I hadn't seen very often if ever from this Iowa staff. To put that into perspective- Stanzi ran 15 formations, 45 different play calls in an entire game last week. There was only one formation that Stanzi ran in this game that Vandenberg didn't and it was a 2 tight end I formation that Iowa has shown one pass out of all season. He seemed to understand what he was doing running the offense. I didn't see any fumbled snaps or poor timing on hand offs. He has some coachable flaws. His grasp of the offense doesn't seem to be that much of an issue. It looks like he prepares very well.
That same assessment goes on to point out some of his shortcomings, especially those that relate to decision-making and the expected troubles young quarterbacks have with that. He won't exactly be getting the best defensive front to learn and grow against this week and after a play or two, there will be no doubt in his mind about the difference in speed between the Ohio State and Northwestern defenses.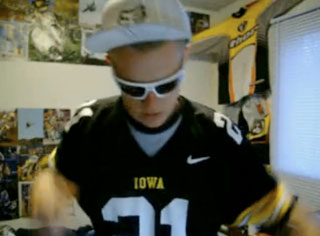 For the de facto Big Ten championship game, Vegas doesn't even think this one will be close. Ohio State is coming off an impressive win in State College and beyond quarterback, Iowa is banged up across the board. The Buckeyes have suffered their own spate of injuries this season -- more so than in recent years -- but nothing compared to the carnage the Iowa training staff has had to sort through. Multiple running backs, the offensive line and the receiving corps have all been hit.
Still, I'm having a hard time thinking the Buckeyes will win this one going away. Iowa still has quite a few things going for them:
Vandenberg is still relatively unknown. He has a good head on his shoulders, decent size and a cannon of an arm and Ohio State has about 18 minutes of film on him to study. Part of what makes sports so insanely fun is the unexpected. The guy starting in place of an injured star that goes into a hostile environment and picks apart the favored team by completing short, underneath passes all day. That happens, and more than most think.
If Purdue Harbor taught us anything, it's that if you make enough mistakes, you can get beat by any team in the Big Ten. The Buckeyes are young and incredibly talented, but young teams often lack focus or the tenacity to finish an opponent. An Iowa team still in the game in the 4th quarter is a dangerous Iowa team.
The Iowa defense is still solid. They play a very, very physical game and Pat Angerer, the team's star linebacker, likes to relax by choking his backup quarterback. They will take it to the Buckeye offensive line early and often and if the line decides Saturday might be a fine time for a down week, we could be in for a long, nerve-wracking afternoon.
Finally, this is the best Ferentz team since 2004. Most of you will remember that team thanks to the 33-7 beat-down the Hawkeyes handed out to Ohio State at Kinnick. Sure, we got the emergence of Troy Smith out of the soul-cleansing, but that loss still sticks out as Tressel's most lopsided in Big Ten play.
Lest I get too Lou Holtz on you, I still think the Buckeyes prevail. I just don't know if it will be the walk a lot of fans on both sides are envisioning.