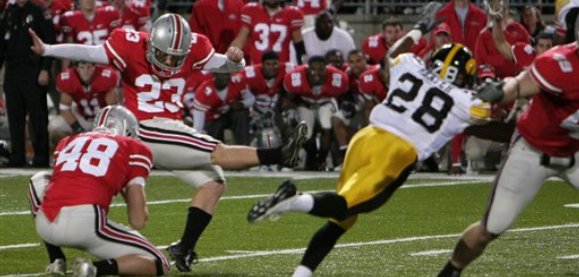 Running Game Punches Ticket to Pasadena
After racking up 228 yards on the ground last week in State College, the oft-maligned offensive line backed that effort up with another 229 yards rushing against a legit Iowa defensive front seven led by stud end Adrian Clayborn and LB Pat Angerer.
Similar to last week, the stout 4.5 yards per carry average is made even more impressive by the fact everyone in stadium knew the run was coming but Iowa could not consistently stop it. Ohio State ran the ball on 75% of their snaps (51/68) with Tresselball in full effect. Hell, even the 17 passes did little to take pressure off the line since they were typically short and wide further encouraging Iowa to crowd the line of scrimmage.
They've been in my cross hairs all year so props to them for stepping up, especially Marcus Hall as he made his first of many starts at right tackle. Funny though, the one lineman getting all the limelight is Jim Cordle yet I can't help but feel he's by far the least responsible for the ground success.
Also, with Pryor obviously still banged enough to force the Wildcat into the playbook, it was great to see Boom and Zoom run with such purpose. I know some of you knock Boom for his lack of big play ability but he was the workhorse carrying a career high 32 times for 97 yards and a touchdown. That's just a 3.0 yard average but he did his part to not only wear down the Hawkeye defense but also to keep Saine fresh which paid dividends as Zoom hit a 49 yard home run and weaved his way 22 yards for another score en route to an 11 carry, 103 yard night. With TP only getting carries by way of scrambles and otherwise being shackled by Tressel, the 43 carries and 200 yards from Boom/Zoom and the o-line stands at the top of reasons why this team clinched a trip to Pasadena.
Tresselball - AKA Anginaball
At the risk of some of you getting all worked up, I don't know how an objective fan can simply look the other way when it comes to evaluating some of Tressel's moves just because OSU was able to escape victorious. I love Tressel and OSU football just as much as the rest of you but I refuse to overlook some warning signs that could eventually be exposed (in the Rose Bowl).
Look, I get the magic of Tresselball and buy into its principals but aren't you the least bit concerned that Tressel appears to have little confidence in Pryor? I'm all for minimizing mistakes and keeping Pryor from costing OSU the game but I thought he looked as poised as we've seen him in a first half in which he went 8/11. I only charted one attempt as a poor throw / bad decision which was a 2nd and 8 incompletion over the middle on OSU's second drive. On the following drive that saw OSU tie the score at 3-3, Pryor was a beast going 4/4 including three 3rd down conversions through the air featuring a nice 6 yard slant to Dane (3rd & 5), a well timed and placed 15 yard out to Posey (3rd & 8) then a short 6 yard toss to Saine on 3rd and 3 at the Iowa 24. His only incompletion on the drive was a smart throw away on 3rd and 5 at the 12 yard line. His reward for the excellent play? Seven more attempts over the final 38 minutes.
One series in particular that puzzled me occurred after Iowa's KO return for a TD closed the gap to 24-17 with 10:56 to play. Needing to answer Iowa's counter punch to Saine's long TD that caused a huge momentum swing, the Buckeyes were handed a golden opportunity when Iowa's Daniel Murray booted the ensuing kickoff out of bounds before an Iowa player was whistled for a personal foul giving OSU the ball at the Iowa 45 yard line. It was like the USC game all over again as the golden opportunity was squandered thanks to Tressel's uber-conservatism. The Vest would dial up six straight running plays capped by a 3 yard loss on 3rd and 8 at the Iowa 27. The lost yardage on a play the entire country knew was coming extended the field goal try to 47 yards which Barclay promptly hooked.
Again, I'm just as happy as the next guy that OSU won and I can't think of another coach out there that I'd want in his place but damn does he make it frustrating sometimes. Clearly, Tresselball is good enough to own a bad conference for a decade resulting in 5 straight conference crowns and BCS games out the wazoo but it's hard to fathom this offensive game plan would stack up favorably against a truly elite team. I guess that's a moot point this year considering it doesn't appear they will play one elite team all season.
Dane Does It Downfield
When you play receiver in an offense that only throws the ball on 35% of the snaps (261/730), I would imagine it might be difficult to consistently keep your head in practices and games. Thankfully, OSU receivers have always prided themselves on being excellent downfield blockers at the behest of wide receivers coach Darrell Hazell.
This year is no different as the WR's have played a significant role in a rushing attack that his gone for over 200 yards in 7 different games this season. In fact, with another big day on the ground next week in Ann Arbor, this year would mark the first time under Tressel that the Buckeyes have eclipsed 200 yards rushing 8 times in one season.
Of this year's crop of blockers with hands, Dane Sanzenbacher is clearly the most polished and though he had only 2 catches Saturday, he was a major factor in the game. Dane kept his assignment on Saine's shifty 22 yard TD wiggle staying with his man as the Buckeyes took a 10-3 lead and he was even more impressive on Boom's 11 yard TD. Split wide right, Dane locked up his defender and effectively sealed the corner allowing Boom to waltz in untouched giving OSU a 17-10 lead. That particular play was textbook but he wasn't done yet as he helped Saine complete his 49 yard TD jaunt by shielding a defender from the 15 yard line to the endzone. Great stuff from a guy who knows his role and does it well. I wonder if he can play left tackle? (Ok. Sorry. That was probably unnecessary.)
Field Position Football Requires A Punter
Tresselball is a little easier on the ticker if the punter shows up. Maybe that's part of the reason why Saturday shaved a couple years from our lives because clearly Thoma was a no show. In five punts, He averaged just 35.8 yards with none inside the 20. Worse yet, Iowa's average starting field position was their own 41 while Ohio State's average starting field position was their own 26.
His night started off with a bang as he flipped the field booting a 48 yarder with no return moving the ball from the OSU 27 to the Iowa 25. He stunk it up from there, however, helping put extra pressure on the OSU defense. Thoma's second put went all of 27 yards giving Iowa great field position at their 43 which they turned into a 32 yard field goal and a 3-0 lead.
After a 38 yarder went without negative consequences, Thoma's next punt midway through the 3rd quarter traveled a meager 31 yards allowing Iowa to set up shop at their own 44. Again, the Hawkeyes would take advantage of the short field with Vandenberg hitting Marvin McNutt for a 9 yard TD to tie the game at 10 apiece.
Thoma's last shank of the day, a 36 yarder that gave Iowa the ball at their own 33 with :52 left, could have been a major problem but thankfully Ferentz is just as conservative as Tressel and opted to run out the clock even though he had 2 timeouts.
I don't know if Thoma even needs to make the trip next weekend but here's to hoping he can get back on track before the bowl game. He's certainly had his share of positive moments this year so at least we know he's capable but Saturday was definitely not his night.
Rough Night for the Corners
Personally, I've been pleased with the performance of Chekwa and Torrence this year though I'm not blind to the fact the defensive line's ability to get pressure has certainly helped the entire secondary look good. Saturday, we saw what can happen if the defensive line doesn't get consistent pressure thus allowing the opposing QB to sit back in the pocket and scan receivers for an extended period.
Don't get me wrong, the secondary showed up when it mattered most and eventually took advantage of a freshman QB's mistakes but I don't think you can argue Chekwa and Torrence had a rough night in coverage. Torrence was guilty to a much lesser extent though he did bite on play action allowing DJK to get behind him for a 55 yard completion. Chekwa, however, might have played his worst game as a Buckeye.
He was continuously beaten to the spot especially on slants and he also gave up some big plays as Vandenberg picked on him all night. Iowa's first TD drive saw Chekwa give up the seam on a 32 yard toss to McNutt. Two plays later, the same connection would victimize Chekwa to tie the score although I have to give Vandenberg some credit for threading the needle.
Chekwa's struggles continued especially on Iowa's TD drive to force overtime. First, Chekwa missed an interception, instead tipping the ball as he was hit by Rolle, allowing Iowa's Tony Moeaki to make a 16 yard grab. Two plays later on 2nd and 7, Chekwa was again beaten on a 14 yard slant by McNutt giving Iowa a 1st down at the OSU 13. It only got worse from there as McNutt hauled in a 10 yard fade for a TD over the top of Chekwa who failed to turn and make a play on the ball. As we've seen here and there in the past, Chekwa had good coverage but had no idea the ball was in the air.
As with Thoma, the good news is the Buckeyes survived Chekwa's rough night. Further good news is that we've seen Chekwa play much better than this for the balance of the season so hopefully he can put this one behind him because OSU will need a confident Chekwa come January.